A new Collection Event is starting in Respawn Entertainment's Apex Legends soon and with it comes a rather interesting feature in the latest set of patch notes. In addition to a rather unnecessary Seer nerf, Apex Legends has officially implemented third-person support. But, and it's a rather big but, there's a catch. Just like the exploit, you can only actually use this 3rd person POV in the Firing Range. So, at least for the time being, you wont be able to use it to climb Apex Legends' ranks – as much as we'd like to.
In the Dressed To Kill Collection Event, which kicks off on Tuesday, June 20, Apex Legends players will be able to "switch to [third] person" mode in the Firing Range – as explained in the official patch notes post here. While there isn't any information about how this will work, and how Respawn Entertainment has adapted this feature for it's first-person shooter, it is quite interesting that this comes just weeks after the new Firing Range was exploited to allow players to experience Apex Legends from a third-person perspective.
You can check out one-such exploit in the video below, as an example of what we mean.
We'll have to wait until the collection event begins and the update itself is implemented to actually know how it all properly works, but it's certainly an interesting mechanic to introduce. It's the first time Apex Legends has had official third-person support, although this was something Apex Legends Mobile players could check out – before it was sunset.
In addition to this, players will be able to add a general-purpose timer to their Firing Range and match the dummy's helmet level to it's shields – to help you practice your headshots against high-rarity helmets.
Apex Legends is always in the conversation when it comes to the best battle royale games, but is this something that's really going to improve your experience? Well, without jumping into things, it's quite hard to say. Running around the new and improved Firing Range in third-person is a lot of fun, and you can certainly appreciate the unique animations each legend has a lot more. However, this isn't going to help you play the battle royale. As it stands, this is one of the best competitive FPS games – and, at the moment, that isn't changing. Armed and Dangerous is the featured LTM this time around.
However, the addition of this feature in the Dressed To Kill Collection Event could very-well tease that a third-person LTM is coming to Apex Legends in the future. It would certainly make some sense to test this feature in the Firing Range ahead of releasing a whole new game mode utilizing it. Take that with a pinch of salt though, until we find out more.
If you're wondering what else the Dressed To Kill Collection Event is introducing, we have you covered – and there's a cool trailer to check out down below.
As mentioned above, Seer is getting nerfed – despite the fact that he's currently sitting at an average pick rate of just 2.2%, according to Apex Legends Status. This nerf is reducing the range of all three of his abilities, while also removing Heal Cancel and Revive Cancel from Focus of Attention. The scan time of this ability is also being slashed, down to just 2.5s (from 8s), and he will now only be able to throw Exhibit around 15m (was around 50m pre-update). If you're a Seer main, now's the time to jump in. When the Dressed To Kill Collection Event rolls around, we fear he's as good as dead.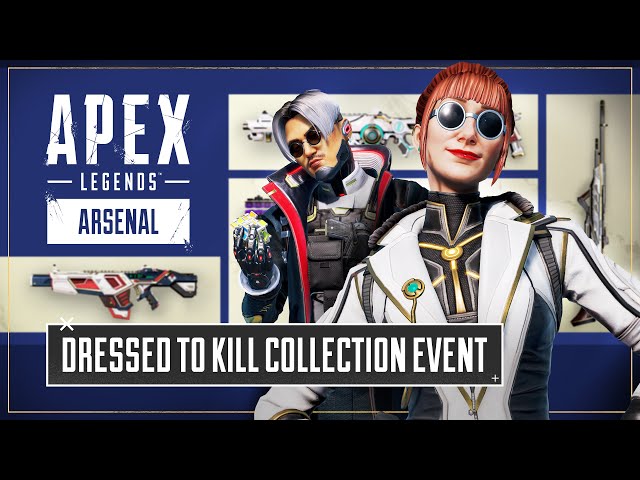 The main prize of this collection event, though, as you'll be able to see below, is the Horizon Heirloom – something that has been datamined and leaked for a while now. Horizon's Gravity Maw is a cosmic one-handed mace that takes full advantage of her ability to manipulate gravity; however, as exciting as it sounds – and looks – it's important to remember that it will work like any other Heirloom item and is largely cosmetic.
With Apex Legends' Season 18 release date on the way, it's starting to become a very interesting time to play Apex Legends. We might already know who's on the cards when it comes to the new Prestige skin, but the rest remains something of a mystery – for now. We expect dataminers and leakers to be already hard at work finding out what's coming up next.