Visual Concepts' upcoming basketball game, NBA 2K24, is bringing more than just new NBA 2K24 locker codes and a new NBA 2K24 cover athlete to the court. From the newly announced NBA 2K24 ProPLAY technology to a new iteration of the unique Takeover abilities in-game, almost every aspect of gameplay has been improved upon. Even if you're not a huge basketball fan, it's hard to deny that this is one of the most exciting upcoming PS5 games and upcoming Xbox games out there. It really does sound like it's going to set a new benchmark for the series – again.
In this brief breakdown of NBA 2K24's new gameplay enhancements, we learn that NBA 2K24 ProPLAY is a new motion-capture technology being employed across the board in the upcoming basketball game. Akin to EA Sports' Hypermotion technology, ProPLAY "swaps the unnatural technology for peak performance" by using real NBA game film to generate "authentic movements that can only be made by some of your favorite players".
As you can see for yourself below, this new technology will make NBA 2K24 "look and feel more believable" while it "reduces the amount of breaks in authenticity". Through this improvement, players on PS5 and Xbox Series X should be able to see an array of new animations for jumpshots, dunks, layups, dribble moves, and more in-game.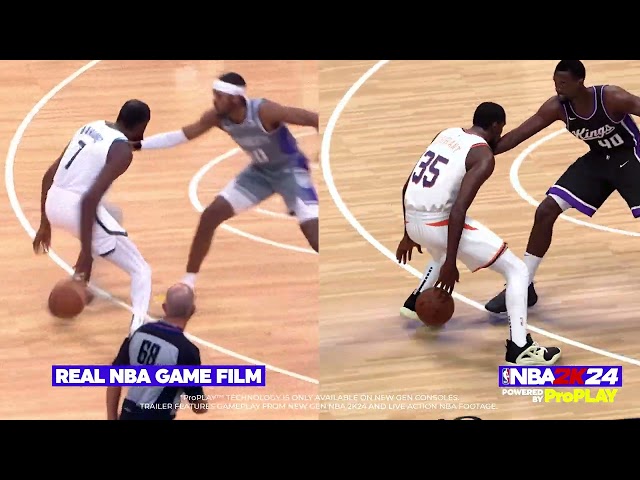 This isn't the only gameplay improvement coming though, of course. NBA 2K24 players can expect to see alterations to the Shot Timing Release Time setting from 2K23 – which will now be called Shot Timing Visual Cue and allow players to release the ball based on animations – and Layup Timing is on by default. If you're on new-gen consoles, you can also "force controllable rim hangs from any two-hand dunk" – which is always dramatic.
NBA 2K24 will also feature new dribble breakdowns, with ProPLAY enhancing new dribble combos even more. Visual Concepts has also redesigned Adrenaline boosts, making them more impactful – when you have them, and when you lose them – on the court. Oh, and you'll also be able to use your Takeover abilities on the fly for more control over the explosive action in NBA 2K24. Sounds pretty good, right?
If you're someone who's more interested in the management side of things, NBA 2K24 brings 2K Smart Play back with a new overlay on PS5 and Xbox Series X. This should make immediate decision-making a lot easier.
Is this going to be one of the best sports games we've ever played? Well, if you like the NBA and basketball, then it might just be. It's certainly shaping up to be one of the most interesting iterations of this series yet.
If you're looking forward to NBA 2K24, you can find out more about all the top players in our NBA 2K24 ratings guide here and the latest on all the changes coming to NBA 2K24 MyCAREER right here. We also have everything you need to know about the NBA 2K24 Season 1 release date here – if you're already looking forward to building your NBA 2K24 MyTEAM squad.