How do I reroll in Honkai Star Rail? Rerolling is a hot topic right now as players are looking to get the best start possible. Luckily for you, we've prepared a complete Honkai Star Rail reroll guide so you know how to do it, why, and whether it's worth doing at launch.
The process of rerolling in Honkai Star Rail is heavily centered around the characters available. As such, you're going to want to know everything about the Honkai Star Rail characters. Taking a look at our Honkai Star Rail tier list is also recommended so you have an idea of whether you want to reroll or not.
How do I reroll in Honkai Star Rail?
To reroll your account in Honkai Star Rail you must:
Create a new account
Complete the tutorial to unlock the ability to Warp
Claim all free Warps
Log out and repeat this process with a new account if you don't receive the character you want
This will take around 30-45 minutes each time to complete before you can repeat the process if you're being efficient. This means that rerolling for the perfect account start could take you some time, particularly if the Honkai Star Rail pity system isn't working out in your favor.
With the Guest Login and unverified emails being unavailable in Star Rail, players looking to reroll their account will need to log out and create a brand new account to restart the game. Furthermore, with each new account, you will also have to replay the relatively long tutorial before you unlock the Adventure Log and the ability to Warp.
Once you have finished the tutorial and unlocked Warping you can use one of the following two methods:
Fast but unreliable – 20 pulls on both the Stellar Warp and Departure Warp banners in the hopes of two five-star characters.
Slow but more reliable – 50 pulls (for the price of 40) on the Departure Warp banner for a guaranteed five-star character.
To do this, you will need to claim all the free pulls available at launch on each new account you create and use. This includes the Honkai Star Rail pre-registration rewards and the purchasable Star Rail Passes or Special Passes from the shop using Honkai Star Rail Undying Starlight and Honkai Star Rail Stellar Jade.
This video by 'Volkin' covers their own process for rerolling in Honkai Star Rail, including quests you can complete for extra Warps if you're taking it slow: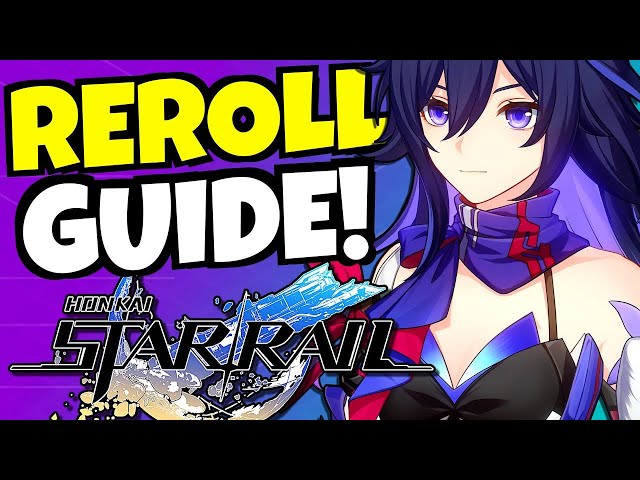 How to make a new account
With the ability to make guest accounts unavailable, the Honkai Star Rail rerolling account process will take you a bit more time and effort.
Nevertheless, to create a new Honkai Star Rail account, you must:
Log out of your existing account on the game's start screen
Select 'Log In'
Select 'Register Now'
Enter a valid email address
Enter the verification code sent to the provided email address
Type in your desired password
Create the account
Once you've provided this information, your new HoYoverse account will be created and you'll be logged into the game. From here, you can begin the Honkai Star Rail rerolling guide over again to get the perfect start that you want.
When to reroll in Honkai Star Rail and is it worth it?
You can reroll in Honkai Star Rail if you don't receive the five-star character(s) you wanted from your limited Warps. With Star Rail being a gacha game, acquiring new characters is highly luck dependent and driven by microtransactions. As such, many players seek to reroll their account if they don't get the character they want.
As for whether rerolling is worth it, it's ultimately up to your personal preference. While it can be annoying to not receive the character you want, you don't need any of the limited five-star characters to beat the game. Even the starter characters can complete the story and endgame activities like the Honkai Star Rail Forgotten Hall.
Nevertheless, that's a complete and comprehensive Honkai Star Rail reroll guide, including how to reroll and when it is worth rerolling your account. Remember that you will have a roster of Honkai Star Rail free characters to make use if you're doing this process.