Elden Ring is packed to the brim with items and gear to find throughout its large world. With Elden Ring's map size being so big it is almost impossible to find everything available in the game on your own.
But if there is one item you want help to find, it is Elden Ring's Golden Scarab. This is one of the best Talismans in the game as it boosts your Rune acquisition, meaning that you can earn more runes faster, allowing you to level up in Elden Ring much faster than you would be able to with normal Rune acquisition.
So, if you are looking to get to the point where you can pick up Runes quicker than ever before, then continue reading for a rundown of Elden Ring's Golden Scarab, including the Golden Scarab location in the game so you can add it to your ever-growing collection of gear.
Elden Ring Golden Scarab
Elden Ring's Golden Scarab can be found at the Abandoned Cave in Caelid, which is accessible from a cliff edge east of the Smoldering Wall Site of Grace. As mentioned, the Golden Scarab will boost your rune acquisition by 20%.
At the cliff edge, you will see a tree branch leading to a cave on the opposite side. This is the dungeon with the Talisman in. You will want to bring some poison and scarlet rot removing items with you as the cave is filled with scarlet rot and the enemies can cast poison spells.
At the end of the dungeon, you will find a Cleanrot Knight boss, with both a spear and sickle variant fighting you at once. Upon beating both of them, you will get the Golden Scarab Talisman.
This Talisman is one of the best in the game and when paired with our best Rune farming spots in Elden Ring, you should be able to rack up levels in no time!
For a video run-through of where you can find this Talisman, check out a video from 'Kibbles' on YouTube.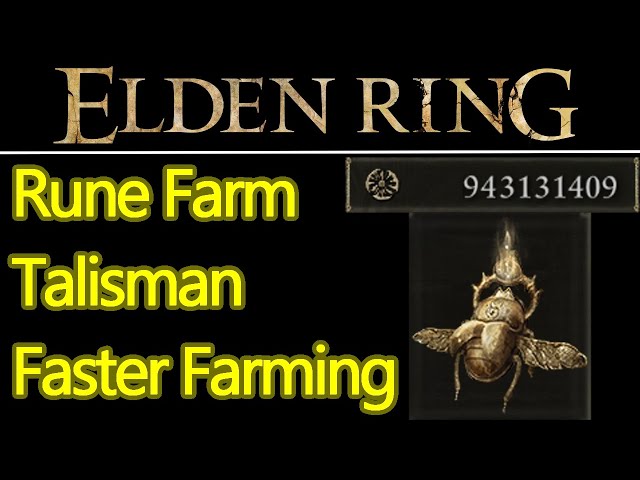 That covers our Elden Ring Golden Scarab overview. For more item locations, check our Elden Ring map locations and other guides with our Elden Ring walkthrough, which is packed with useful information.