Well, Guardians, it's safe to say that there's a lot to unpack when it comes to the latest Destiny 2 expansion – Lightfall – and the content we're going to be getting throughout the Season of Defiance and beyond. One thing we're still thinking about is the final fight with Calus – former Emperor of the Cabal, puppet for The Witness, and all-round bad dude. We're not going to go into too much detail about what happens, in an effort to keep this article as spoiler-free as possible, but it's safe to say that it's quite a boss battle. However, as interesting as the Calus fight is, it looks like it could have been a lot more complicated – and exciting. Bungie concept art lead Tobias Kwan has shared some Lightfall concept art on ArtStation and there are some sketches showcasing possible Calus attacks that didn't make the final cut.
In the tail-end of the Destiny 2 Lightfall campaign, Guardians go toe-to-toe with Calus in a boss battle where he takes two forms – they're known as "Slug Thrower" and "Resonant Severus" on Destinypedia, so that's what we're going with here.
When you're fighting with Calus in his Slug Thrower stance, you have to contend with a series of devastating ranged attacks – from pyramid scale missiles, somewhat similar to the Cabal cluster missiles we see elsewhere, to a barrage of Resonate Sun attacks from his Slug Thrower.
Then, in the second phase, you are forced into close-quarters combat with Calus as he splits his gun into Cabal Severi and starts to fight like a Cabal Gladiator – and, by that, we mean a ruthless onslaught of hard-hitting melee attacks.
If you want to check out this final fight for yourself, you can in this footage from content creator 'Rudex The Invincible' below: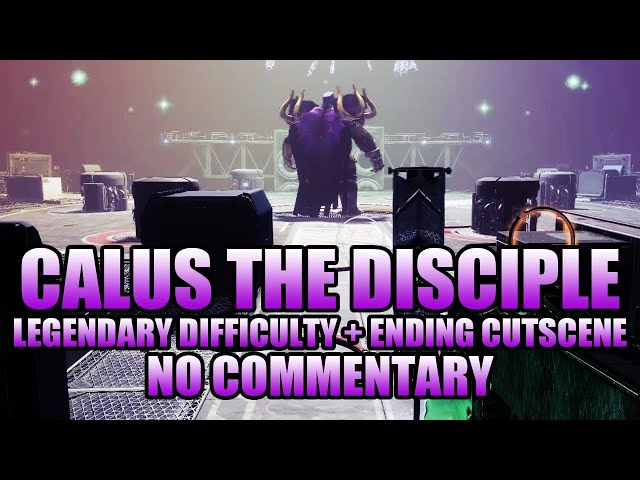 Now, we're not saying this boss battle is a bad one – in fact, we thought it was quite good. However, there's room for improvement and some of the concept art shared by Kwan on ArtStation seems to suggest that quite a few other interesting attacks could have been included in Calus' moveset.
As you can see for yourself in the image below, which is a crop of one of these incredible bits of concept art, Kwan put together rough sketches of Calus with a "laser mouth", and several chalice-based attacks – one of which equates to a flamethrower-type attack and the other a ground-based area-of-effect attack.
We're not sure how effective these would have been in actuality, especially if you consider the grappling abilities of the Destiny 2 Strand subclasses. However, without a doubt, these would have made Calus more unique as an opponent and presented Guardians with new challenges to overcome.
Also, as you can get a glimpse of for yourself below, the "laser mouth" would have just been a very cool thing to see – and, probably, quite a confusing one given the fact Calus is a Cabal.
But, as we now know, it looks like these attacks never made it out of the concept stage. While a shame, we're sure Bungie had its' reasons – and, at the very least, we still have this awesome concept art to look at.
Kwan has also shared a whole page of concept art on Destiny 2 villain Nezarec's design – which you can see on this ArtStation page right here. Another Bungie concept artist, Dorje Bellbrook, has also shared some Neomuna concept art – presenting the Neptunian city swallowed in strange seaweed.
If you're yet to tackle Calus, you might want to look into the best Destiny 2 weapons for PvE right here – and our picks for the best Destiny 2 armor here. We know the Destiny 2 Root of Nightmares has been branded "too easy" amid the Raid's launch, but there's no harm in being prepared for someone like Calus, The Disciple.