If you're looking for a new long-range option to laser beam your enemies on Caldera, Black Ops Cold War's Vargo 52 is a fantastic new option for Call of Duty Warzone players in Warzone Pacific Season 2. The best Vargo 52 Warzone loadout leans into this weapon's excellent fire rate and muzzle velocity to create an overpowered beast. It's one of the best Warzone guns right now – so, don't miss out.
Introduced to Black Ops Cold War and Warzone on March 4, the Vargo 52 boasts one of the highest K/D ratios in Warzone (according to WZRanked) and is making a huge impact on the current Warzone meta. With that in mind, putting together the best Vargo 52 Warzone loadout is a no-brainer.
But, what actually makes up the best build for this assault rifle? What perks do you need to pick and which attachments are going to get the most out of this weapon? Well… We have the answers for you below.
Vargo 52 Warzone loadout
Tyler 'TeeP' Polchow has thrown together the best Vargo 52 Warzone loadout out there and, as a trusted name when it comes to these topics, we're inclined to agree with his selection of attachments. Here's what you need to equip:
Muzzle: GRU Suppressor
Barrel: 18.6″ Task Force
Optic: Axail Arms 3x Scope
Underbarrel: Spetsnaz Grip
Magazine: 45 Rnd Speed Mag
This Vargo 52 Warzone loadout is built to take advantage of the assault rifle's natural strengths and make the most of its predictable recoil pattern. The GRU Suppressor muzzle attachment adds to the Vargo 52's already impressive bullet velocity and increases the weapon's effective damage range.
TeeP has coupled this with the Spetsnaz Grip, offering increased recoil control both horizontally and vertically, and the 18.6″ Task Force barrel, which increases the effective damage range, to create a monstrous long-range option for Warzone players. You don't need to worry about running out of ammo, either – the 45 Rnd Speed Mag should give you enough bullets to finish an enemy off before reloading.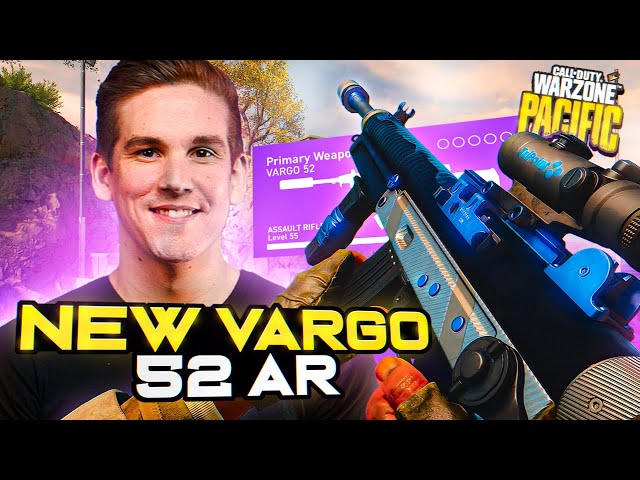 Vargo 52 Warzone loadout secondary
With this Vargo 52 loadout being built with long-range combat in mind, you're going to want an SMG as a secondary weapon to help with close-range encounters.
This Welgun Warzone loadout is a fantastic choice – and a weapon that's currently making its mark on the meta. However, this MP40 Warzone loadout and this PPSh Warzone loadout are both excellent choices if you're looking for something more reliable.
Vargo 52 Warzone loadout perks and equipment
Looking at perks, there's really only a few options that fit with the current meta – we recommend using Double Time, Overkill, and Combat Scout. The Vargo 52 isn't the hardest hitting assault rifle available in Warzone, so Combat Scout is a useful tool for keeping tabs on fleeing enemies at a distance. If you're looking to close the gap, having Double Time equipped should help.
Equipment-wise, we suggest Throwing Knives and the Heartbeat Sensor – although swapping to Stun Grenades is useful if you're planning on getting up-close and personal. If you're looking to play Vanguard Royale, taking Stims into the fight is also a viable option.
Well, there it is – the best Vargo 52 Warzone loadout for Warzone Pacific Season 2. Is this going to cement itself in the meta and become one of the best weapons available? Only time will tell, but we're hopeful.