It's safe to say that there's a lot of options out there when it comes to Call of Duty Warzone weapons and the best Warzone loadouts – and, finally, it looks like the iconic akimbo shotties are back. Raven Software has been tweaking Warzone's weapons a lot over the last few months and now we can confidently bring you the best Double Barrel Warzone loadout out there right now.
You don't need us to tell you about the kind of weapon a Double Barrel is, but we're going to anyway. The Double Barrel is a shotgun that, as the name suggests, can fire two slugs from its two barrels before it needs to be reloaded. With the ability to let loose both barrels almost simultaneously, players can deal a lot of damage with the right Double Barrel Warzone loadout in their hands – and, dropping into Caldera with these in akimbo means you can double up on all of the above.
If that sounds like your cup of tea, keep reading and we'll let you know what you need to know about a Double Barrel loadout, perks and all.
Double Barrel Warzone loadout
Timothy 'TimTheTatman' Betar is known for throwing together some decent Warzone loadouts and he's popped up over the last few weeks with a fantastic Double Barrel setup that is a lot of fun to play. So, here's what you need to know about the best Double Barrel Warzone loadout out there:
Muzzle: M97 Full Choke
Barrel: Sawed-Off
Optic: SVT-40 PU Scope 3-6x
Stock: Removed Stock
Underbarrel: N/A
Magazine: N/A
Ammunition: Buck and Slug
Rear Grip: Pine Tar Grip
Perk 1: Akimbo
Perk 2: Quick
Of course, it goes without saying that you're going to want to equip Akimbo and Quick when it comes to this Double Barrel build.
However, the other attachments might seem a bit unusual – however, they have all been chosen with hip-fire accuracy and run-and-gun tactics in mind.
The Sawed-Off Barrel and the M97 Full Choke help make this a demon at closer ranges with the Buck and Slug ammunition offering four barrels full of damage before you need to reload. We admit, though, that we don't know why Tim has opted to include the SVT-40 PU Scope – but, you're not going to be using them a lot so… It doesn't hurt to have them there.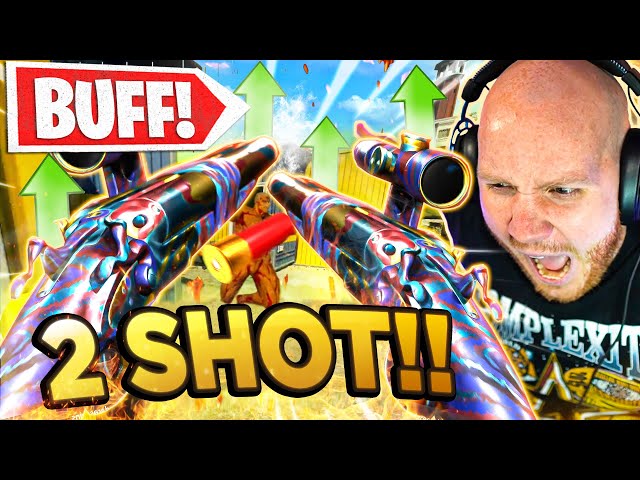 Double Barrel Warzone loadout secondary
As you might expect, this Double Barrel is going to be best-paired with a weapon that can deal damage at a range – otherwise, you'll be caught in a pickle if anyone starts shooting at you from a distance.
With this in mind, we recommend dropping in with this Cooper Carbine Warzone loadout or this STG44 Warzone Loadout – both options are at the top of the game when it comes to Warzone's assault rifles.
You could even drop in with this MP40 Warzone Loadout or this Owen Gun Warzone Loadout – although these would be better suited to the smaller combat encounters you'll experience on Rebirth Island.
Double Barrel Warzone perks and equipment
Looking at the perks you're going to want for this loadout, there's only three options really: Double Time, Overkill, and Combat Scout. Amped would also work, if you're not worried about painting your opponents with Combat Scout – but we would still lean towards recommending the former.
Now, discussing the equipment options on offer, players should look to the Throwing Knives or Semtex for the lethal slot and Stun Grenades or a Heartbeat Sensor for the tactical slot.
Well, that's all you need to know about throwing together a solid Double Barrel loadout for the Call of Duty battle royale. Is it going to top the Warzone Meta? We're not so sure, but they're a lot of fun to use.