We know it won't take anyone too long to get to the most important scene in Assassin's Creed Mirage, but what does that mean when it comes to the actual size of Assassin's Creed Mirage? Well, we've known that the Assassin's Creed Mirage map is going to whisk us all away to 9th century Baghdad for a while, but now we know – roughly – how big it is. If you like older Assassin's Creed games, this might just make it one of the best Assassin's Creed games of all time – especially when you think about the fact that it's going to let you pick your own path to Master Assassin.
As explained by Easy Allies in a recent video, during a private game preview ahead of the Assassin's Creed Mirage release date, Ubisoft reportedly revealed that the size of Mirage's map is comparable to Assassin's Creed Unity's Paris – the capital of France – and Assassin's Creed Revelation's Constantinople – the city now known today as Istanbul on Turkey. To quote the creators discussing Mirage, "[Ubisoft] compared it specifically to Constantinople in Assassin's Creed Revelations and Paris in Assassin's Creed Unity. They said it's about that big".
When you consider this information alongside narrative director Sarah Beaulieu's comments that "it's very similar to the first Assassin's Creed" when it comes to scope, we can all start to get a fairly good idea of how much map there's going to be to explore when Assassin's Creed Mirage rolls around – and it's quite a bit. Don't believe us? Just check out this shot at the end of the latest gameplay walkthrough:
If you want something a little more visual when it comes to the comparisons, though – something with numbers attached to it – we have you covered. However, this doesn't actually help us narrow down how big Baghdad in Mirage is going to be any more than what we know so far. Content creator 'DG VFX' has thrown together a comparison video of every single Assassin's Creed game's map size. Assassin's Creed's Damascus is roughly 0.13km2 in size, as you can see below. However, Revelation's Constantinople is 0.94km2 and Unity's Paris is 2.40km2 – which is quite a difference.
What does this all mean? Well, it means that we should expect to see a map that's roughly 1.5km2 in size – or thereabouts. This pales in comparison to the maps in Origins (upwards of 80km2), Odyssey (over 130km2), and Valhalla (over 94km2), but the map in Mirage looks dense – certainly just as dense as both Revelation's Constantinople and Unity's Paris. So, even though it might be a little on the small size, even when you compare it to Syndicate's London (3.70km2), it should be packed with content.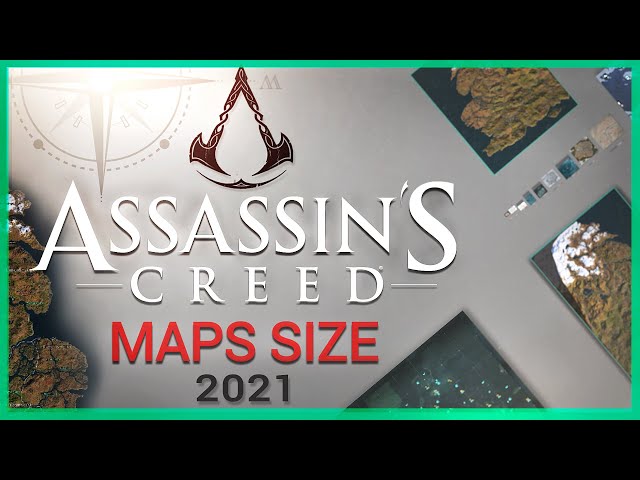 We know we can't wait to bribe our way through Assassin's Creed Mirage, but Baghdad is going to be home to countless other avenues of approach when it comes to taking down your Order of the Ancients targets in-game. In fact, you can check out some of the most exciting things we learned in the Assassin's Creed Mirage gameplay footage right here.
Is this going to be one of the best RPG games out there when it launches? If you like Assassin's Creed games, absolutely. We're certainly confident when it comes to that. What about everyone else? Well, this might actually be the best time to jump into the franchise. The recent releases have been overwhelming, but this modern take on traditional gameplay could be the perfect place to find your feet in this truly epic series.