We all know Ubisoft's upcoming Assassin's Creed game, Assassin's Creed Mirage, is going to pay homage to the series' first release in more ways than one, but that doesn't mean the gameplay is going to be quite as dated as it looks – far from it, in fact. While, personally, I can't wait to bribe my way through Assassin's Creed Mirage, I am also ecstatic with the fact that it looks like you'll be able to crouch freely. Yeah, I know; this isn't the first AC game with crouching in it. However, when you think about the fact that this feature was missing from older games – the very same games Assassin's Creed Mirage is paying homage to – it's fantastic news.
Ahead of the long-awaited Assassin's Creed Mirage release date, during the June 2023 Ubisoft Forward showcase, the series' developer presented us all with some more-or-less raw gameplay from the upcoming PS5 game – and it looks great.
In the footage, which you can get a good look at yourself, down below, we get to see Basim in action as he takes on an Assassination contract in one of the Assassin's Bureau locations you'll be able to visit in this game's iteration of 9th Century Baghdad. We see Assassin's Creed Mirage's Basim take full advantage of the tools and skills at his disposal – and, even learn a few new things about how this game will work.
The one thing, however, that we're all really happy to see is the crouching – as silly as that sounds. If you want to see it for yourself, you can at around the 03:00 mark in the video below: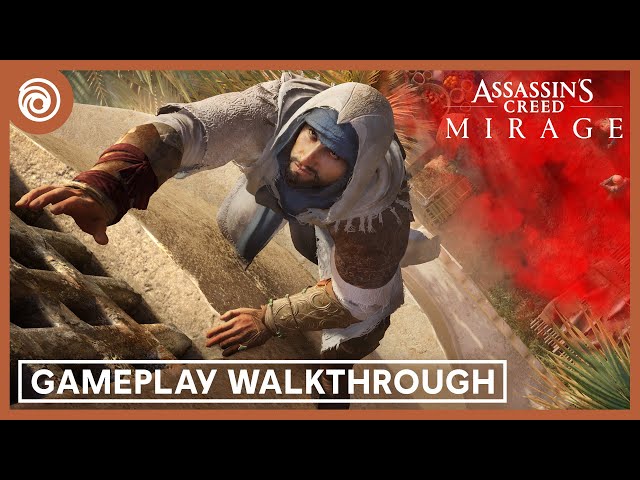 In recent Assassin's Creed games (Origins, Odyssey, and Valhalla), this is something you can do freely. However, in older Assassin's Creed games (the ones like Mirage), this isn't always the case. While Unity does offer players full freedom over crouching – like you would expect from a game about stealth-action and assassinations – Syndicate only offers players a 'sneak' option. This is something that allows players to raise Jacob and Evie's hoods, but it's a far cry from what you could consider crouching in a video game.
Then, when you look back at older games, like Black Flag and Brotherhood, you can't even do that. In a lot of ways, Assassin's Creed's gameplay loop – at least in this era – relies heavily on social stealth and parkour. So, crouching isn't really necessary. However, it's hard to deny that it's a feature we've come to expect from modern games. So, with Mirage being a homage to the original Assassin's Creed game, there was some concern – at least from me – that crouching wouldn't be included in the control scheme.
Thankfully, that isn't going to be the case. While social stealth is still going to be a powerful tool for Basim (and players) to take advantage of, fully crouching while sneaking up on enemies is going to be one mechanic you'll be able to utilize whenever you want.
Is this going to make Assassin's Creed Mirage one of the best Assassin's Creed games of all time? Well, we won't know that until we get our hands on it. However, this is one of the most hotly anticipated upcoming Xbox games and it could very-well be one of the best Xbox RPG games out there when it arrives. It's also shaping up to be one of the best PS5 RPG games, of course.