If you're an Assassin's Creed fan hoping Assassin's Creed Mirage is going to pay homage to the older stealth-action based games in Ubisoft's series, you're in luck. Ahead of the Assassin's Creed Mirage release date and Ubisoft's upcoming Ubisoft Forward showcase on June 12, the developer has confirmed that Assassin's Creed Mirage is introducing a visual filter that pays homage to 2007's Assassin's Creed in a very literal way. Does this make it one of the best Assassin's Creed games yet? Well, we don't want to jump to any conclusions, but it's far from a bad thing.
As explained by Jean-Luc Sala, artistic director at Ubisoft Bordeaux, long-time fans of the series will be pleased to know that they will be able to play Assassin's Creed Mirage using a "nostalgic visual filter" that displays the game through a "desaturated blue-gray color palette" – something that aims to replicate the look of the 2007 release.
If you're looking for comparison screenshots, we have them below. Just to clarify, the first image is Assassin's Creed and the second is from the Mirage video. The original Assassin's Creed does look a little brighter than the filtered Assassin's Creed Mirage, but – for an after effect on gameplay – it's still pretty good.
As you can see at around the 5-minute mark of the video below, right towards the end, it does a very good job at doing exactly what it's meant to: making Assassin's Creed Mirage look like Assassin's Creed.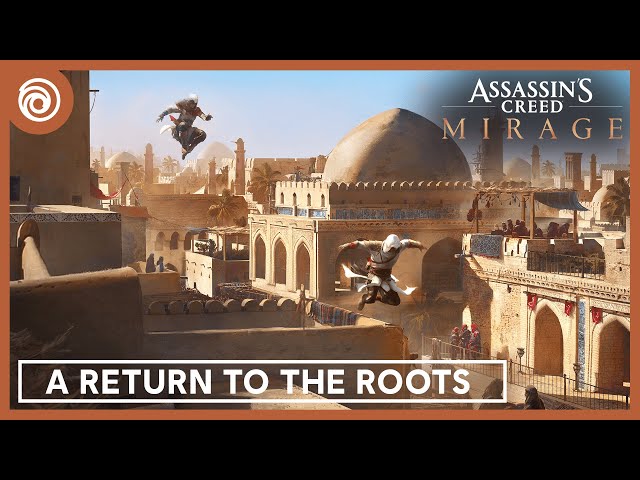 With rumors of an AC 1 remake rife a few months before Mirage was revealed, you have to imagine that this is going to be a popular feature with fans of the series. However, Assassin's Creed Mirage looks very good and we don't think we'll be playing this game using this filter for very long – at least not on the first runthrough.
Assassin's Creed Mirage has the potential to be one of the best PS5 RPG games and best Xbox RPG games available when it drops, but it's important to remember that this might not be perfect. Personally, I can't wait to bribe my way through Assassin's Creed Mirage, and I know that we deserve this Ghost of Tsushima feature in-game. However, I'm not sure we'll be getting them. So, while this feature is a fantastic homage to the original game, don't go into this expecting to be a full throwback to the supposed 'golden age' of Assassin's Creed.