We know it feels like an age since the last collection event in Apex Legends, but Respawn Entertainment is ushering in the new year with a brand new one: the Apex Legends Spellbound Collection Event. With Apex Legends' Control returning and a new heirloom item up for grabs, this is going to be well worth checking out. Here's everything we know about the Apex Legends Spellbound Collection Event start time and what you can expect from this event.
Respawn Entertainment has already shared all Apex Legends' Spellbound skins, which you can check out by following the link, but when does the collection event itself kick off? Well, the Apex Legends Spellbound Collection Event start time is 10:00 PST / 13:00 EST / 18:00 BST on January 10. While absent from Respawn Entertainment's blog post, this is the standard update time for the battle royale and we're confident that this is when the Spellbound Collection Event will start in Apex Legends.
But, what else is coming to this battle royale shooter in the Spellbound Collection Event and its' associated title update? If you don't want to check out the details on offer in Apex Legends' patch notes, we'll run through the exciting stuff below.
Apex Legends' Spellbound Collection Event sees Seer finally get an heirloom item in the form of Showstopper, a pair of sycle-like blades that can be manipulated to devastating – and lethal – effects. However, Apex Legends private matches are finally arriving with the Spellbound update too. So, if you have enough friends, you'll be able to jump into this battle royale with more than just your own squad. We can imagine there's going to be quite a few content creator tournaments coming with this feature.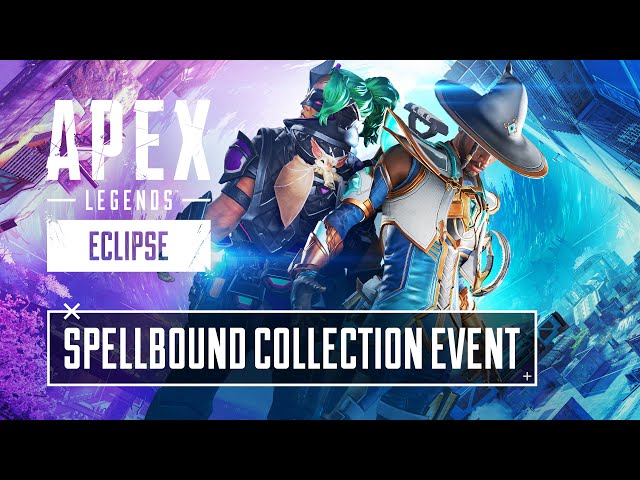 Adding to all this, there's going to be a new reward track available that players can complete to earn a couple of weapon skins and an epic Lifeline skin throughout the event – which runs until January 24. If you want to take a break from climbing the Apex Legends ranks, this could be a great distraction.
It's also worth noting that the G7 Scout has been nerfed slightly, and the Prowler Burst PDW has been buffed slightly, in this update. Howeevr, the G7 Scout has returned to the Crafter alongside the CAR SMG – in place of the Spitfire and Peacekeeper. So, we can't imagine we'll be seeing a lot of it in-game anyway.
Apex Legends is one of the best battle royale games out there right now and this collection event is one reason why. If you want to prepare yourself for it, you should check out our Apex Legends tier list here – and our Apex Legends weapon tier list right here. It's important to know who's on top, right?