Following XDefiant's popular (and surprisingly polished) beta, discourse around Ubisoft's latest free-to-play multiplayer offering has ranged from it being a 'Call of Duty killer' to a piece of live service fodder that will suffer a similar fate to the infamous battle royale, Hyper Scape. In my view, both takes are ridiculously extreme in equal measures, but I really want to talk about the latter. Regardless of how well it does post-launch, I firmly believe XDefiant will not be axed in the same humiliating way Hyper Scape was, mainly because it's a game that will benefit from Ubisoft giving it the Rainbow Six Siege treatment.
The XDefiant release date hasn't been revealed just yet, but with such an accomplished and content-stuffed beta, I'm expecting it to launch this year. When it does arrive, I think we'll be met with an extremely fun competitive FPS game that will get an initial spike of players. Even if things tail off after that, though, Ubisoft should really look at how it's handled Rainbow Six Siege and apply something similar to XDefiant.
Siege is Ubisoft's biggest success story in the live service realm. After a bumpy start to life, Siege is now in its eighth year of support, with no signs of slowing down.
While other tactical shooters like CS:GO boast larger player bases, Siege still has a sizable community of passionate players across both PC and console, regularly adds new content such as operators or maps, and has a well-supported global esports scene too.
Despite not being some Fortnite-level live service goliath, Ubisoft has spent a lot of time, effort, and money into getting Rainbow Six Siege to the point it's at today. While it hasn't got everything right, its support for the shooter has been fairly unwavering.
There has however been plenty of discourse claiming that Ubisoft is a graveyard for failed multiplayer and live service titles. While that might be true in terms of axing projects before they ever see the light of day (such as this rumoured Splinter Cell battle royale), it's a bit of an over exaggeration when talking about those that did actually make it to launch. That over exaggeration is largely thanks to the infamous Hyper Scape.
Hyper Scape was a rather exciting and novel concept when it made something of a surprise launch in the summer of 2020. The fast-paced, Twitch-integrated battle royale launched to a lot of fanfare, but its player count and interest from big content creators quickly fizzled out. The game was axed after just three seasons of content in 2022. It is often held up as a depressing example of Ubisoft being terrible at supporting live service games.
But it does appear that Ubisoft has learned its lesson. Whether it's just to spare any more embarrassment from shutting down projects, or because it actually now believes in giving time and resources to live service titles to give them a chance of success, even struggling projects are avoiding the same kind of swift demise that Hyper Scape saw.
Rider's Republic and Roller Champions stand out as two exciting and ambitious projects that haven't quite set the world on fire. Yet both are, to varying degrees, still being propped up with new content. Sure, they aren't critically-acclaimed, shining beacons that make money hand over fist, but they are also not six feet under.
That bodes well for XDefiant. Even with all of it's community-facing communication, and the fact that there are plenty of disgruntled Call of Duty fans that it can poach as potential players, there is still no guarantee that XDefiant will come racing out of the blocks and become a new dominant force in the multiplayer shooter space. If it did initially struggle, there's a chance the Ubisoft of 18 months ago wouldn't hesitate to scrap it before it was given the time to mature and improve, like Hyper Scape.
The Ubisoft of today, however, seems much less trigger happy, and with what it's done with Siege over the last eight years, it already has an excellent strategy that it can repurpose.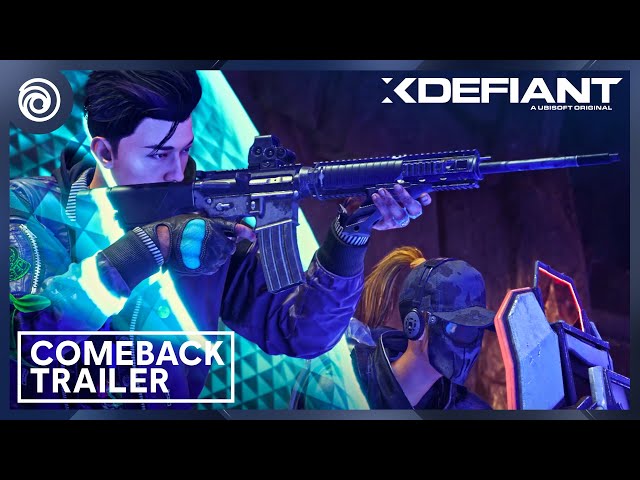 In five years time, if we're to look back at whatever fate descends upon XDefiant, I'm confident that it'll be closer to that of Rainbow Six Siege than the miserable demise of Hyper Scape. That's not to say it will definitely be some Siege-level game with dozens of XDefiant factions, a dedicated, healthy player base, and a well-supported esports circuit, but I'd say the chances of that are more likely than it quickly fizzling out into non-existence and having its servers switched off.
XDefiant has already shown great promise in the gameplay department, so hopefully it's able to get the Rainbow Six Siege treatment from Ubisoft to make it a true long-term success.