When is the Warhammer 40K Rogue Trader release date? Games set in the grimdark future of the Warhammer 40K universe always hit the spot where story and lore is concerned, and that's why we're excited for the Warhammer 40K Rogue Trader release date to deliver even more of the universe's story beats.
If you're as giddy with glee as we are about it all, then while you wait for the Warhammer 40K Rogue Trader release date, you can find out more about how Warhammer 40K Rogue Trader is the first CRPG in the 40K universe. For more Warhammer goodness, stay up to date on the Warhammer 40K Space Marine 2 release date to find out when you can step into the boots of the iconic Space Marines once more.
Warhammer 40K Rogue Trader release date
The Warhammer 40K Rogue Trader release date is Thursday, December 7, 2023, on PS5, Xbox Series X|S, and PC, as confirmed by Owlcat Games in the official date trailer.
The game's developer, Owlcat, generally releases its games around a year after they get announced. As such, this confirmed release date for Rogue Trader puts the official release just outside of this expected window of Q3 following the game's unveiling in June 2022.
With the Rogue Trader beta having happened in June 2023, it was clear that it was well on its way to a full release. Rogue Trader was first announced in June 2022, but we theorise that we could be looking at a Q3 2023 release date for Warhammer 40K Rogue Trader.
Warhammer 40K Rogue Trader story
Set in the grimdark Warhammer 40K universe of the future, you play as a Rogue Trader – a descendant of a powerful merchant family. Rogue Traders have been granted permission to explore space by the emperor and are tasked with expanding the Imperium's power while doing so.
You will explore many different worlds and make choices that decide their fate along the way, all while participating in turn-based combat. We also know you will encounter prominent groups, like the Sisters of Battle, Space Marines, and Aeldari.
From the release date trailer above, it's clear Owlcat Games seek to immerse you in the rich world of Warhammer 40K with an intriguing narrative, brutal combat, and suitable gritty environments.
Warhammer 40K Rogue Trader gameplay
Warhammer 40K Rogue Trader is a CRPG with a rich story and world, paired with intense turn-based action. Given this, Rogue Trader won't be for everyone; action-packed shooters like Darktide and Space Marine 2 certainly have a wider appeal.
With that said, if you're not traditionally a fan of CRPGs then this could still be enough to grab you, as Owlcat appear focused on building upon the deep lore of Warhammer 40K. After the massive success of Baldur's Gate 3 in 2023, hopefully more gamers are open to diving into a CRPG.
Nevertheless, the turn-based combat is brutal, with Space Marines dismembering enemies with heavy-hitting melee attacks, Psykers casting deadly powers.
That's not all though, as there's also space exploration and combat which takes the turn-based combat to a bigger stage. With both on-foot and space combat and exploration, there looks to be significant gameplay diversity.
You can see some of Warhammer 40K Rogue Trader's gameplay in the official feature trailer, which we'll link below.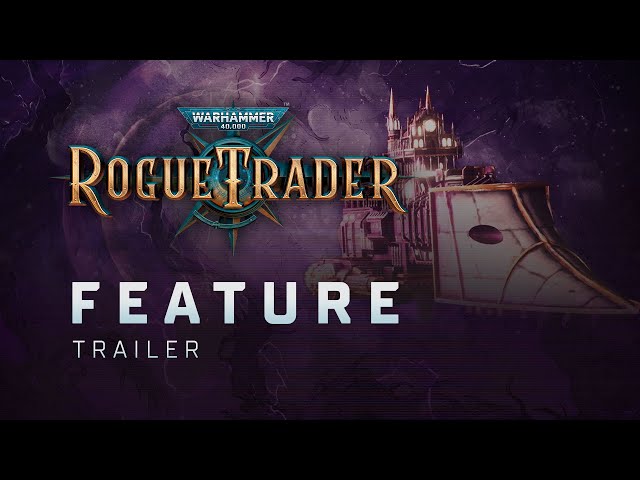 That's everything you need to know about the Warhammer 40K Rogue Trader release date, story, and gameplay. For more Warhammer, check out Warhammer 40K Space Marine 2. And if you're looking for the best RPG games, we've got that too.