I've been rather intrigued about Ubisoft's The Crew Motorfest – the third entry in its open-world racer series. To someone outside of The Crew world, it comes across as a wannabe Forza Horizon 5. But having been hands-on with a preview build of the game, I think I'll be eating my words. From the get-go, The Crew Motorfest wants to prove itself as one of the best racing games by showcasing its two greatest strengths – variety, and a stunning location.
Ahead of The Crew Motorfest release date, I got a chance to experience a few hours of gameplay in Ubisoft's beautiful open world of Oʻahu. Your introduction to this Hawaiian island is slathered in style, and had me jumping from one unique car to the next, with an always-changing backing track and environment. One minute, you're racing vintage vehicles around a mountainous loop with smooth classical music filling your ears. The next, Motorfest is blaring Royal Blood's heavy rock at you as you bounce down rocky terrain in an off-roader. Each of the various cars I got a chance to play with felt great to drive, some feeling hard to handle and drifting mercilessly as I got used to the steering, while others felt stuck onto the asphalt and forced me to push the stick with all my might.
After this initial highlight reel finished, I was introduced to the main hub of The Crew Motorfest and given the opportunity to select and customize an avatar before choosing one of three starter cars. Fortunately, I was given a lot of in-game currency to waste away on any of the cars or customizable elements on offer in the store, but even the first car I picked, the excellent BMW Z4 M40i, felt smooth as butter to drive toward my first destination.
When you first enter the open world of O'ahu, you're able to pick one of the many playlists to start taking part in events or challenges – known as Feats here – or you can feel free to explore. Like its predecessor, The Crew Motorfest makes exploration more interesting than Forza Horizon by allowing you to seamlessly switch between car, boat, or plane on the fly. I cannot stress enough how great this felt. I can't count how many times I drove off a ramp or a mountain and switched into a plane just before a suspension-busting landing.
The various regions of O'ahu are great to explore too. The desert-like and dark gray terrain surrounding the clouded heights of a volcano is matched by beautiful tropical views with small forests dotted around. Add in a music player filled to the brim with so many various tracks and artists that can be changed mid-drive and you've got a great open-world cruising experience.
I must admit, I spent most of my time taking in the views during my experience, but when I wasn't, I was playing the various events scattered around the map. Each of the playlists features roughly six events, each tasking you with completing a big challenge. It could be as simple as reaching the top three in a race or delivering a car without it being too damaged. Each event felt pretty standard for a racing game in terms of structure, but where things become really interesting are the themes.
Made in Japan will task you with racing Japanese cars through neon-lit towns with giant statues of dragons parading the sides of the roads, while Electric Odyssey features electric-powered vehicles whining their way around tracks adorned with bright purple modern art-style pieces. It doesn't change much of the gameplay, if at all, but it keeps the visuals different enough that each race feels somewhat distinct.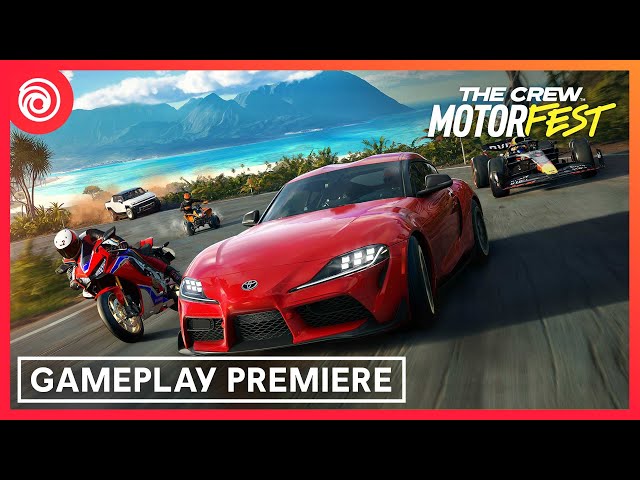 But damn does racing feel ever so good on its own. The hum of the electric engine, the weight as you drift around corners, and the thrill of just winning a race by a hair's length is exhilarating in The Crew Motorfest. This was my first time playing one of Ubisoft's open-world racers, and I was worried coming from the high quality of the Forza Horizon series that The Crew Motorfest would feel a bit cheaper, but it felt pretty damn incredible. I'm truly excited to play more of it. It might even be one of the best PS5 racing games and is a superb alternative for PlayStation players who aren't able to play the Xbox-exclusive Forza Horizon 5.
The only major worry I have for the game is its live-service elements and longevity. With so many live-service games fading away and being Thanos-snapped out of existence right now, having a triple-A-priced game featuring microtransactions at launch is always worrying. I spotted a bunch of great cosmetics locked behind a paywall during my preview, and I'd much rather have the full-content experience instead of Ubisoft adding things piecemeal. I know The Crew 2 attracted a decent fanbase, and that there is a big gap in the PlayStation market specifically for a great open-world racer, but I'm still a tad concerned. That being said, it is an early build and is subject to change.
Overall though, my time with The Crew Motorfest was surprisingly excellent. If things go well, it could truly be a one-stop shop for all racing game players to enjoy, especially those without Forza Horizon to enjoy. It remains to be seen how egregious or not the microtransactions are, but The Crew Motorfest has so far managed to capture the complete racing game experience, and I'm looking forward to seeing how Ubisoft handles it from launch day on.
Well, that's my experience with The Crew Motorfest for my preview. For now, you can find out the best Xbox racing games if you're looking for something to spend time with until Motorfest arrives, or check out the best Xbox open world games and best PS5 open world games if you want to explore open worlds that are just as beautiful as O'ahu.