The moment that all the Tekken 8 characters smackdown on PS5 will be legendary, and that anticipated time might not be that far away. Rumors surrounding the purported Tekken 8 beta continue to emerge, with the latest addition suggesting that the upcoming Summer Game Fest 2023 showcase will a golden opportunity to unveil the official Tekken 8 beta to fighting game fans everywhere.
As we head into battle for the Tekken 8 release date, a new rumor from Tekken franchise enthusiast 'VolSkimmer' claims that the Tekken 8 beta may drop during Summer Game Fest 2023. "Tekken 8 Beta possibly having a June 8 release date is HUGE […] June 8 is the start of the Summer Game Fest which means Tekken 8 is likely to show a trailer during the event," the leaker alleges.
Elaborating on this further in a video on their YouTube channel, VolSkimmer refers to sightings of a Tekken 8 playtest on Steam: "They [Bandai Namco] took it out, the second time they put it up the beta had a release date of June 8 [2023] […] June 8 is the same exact day as Summer Game Fest […] we want to keep in mind this beta has 'CNT' at the end of it."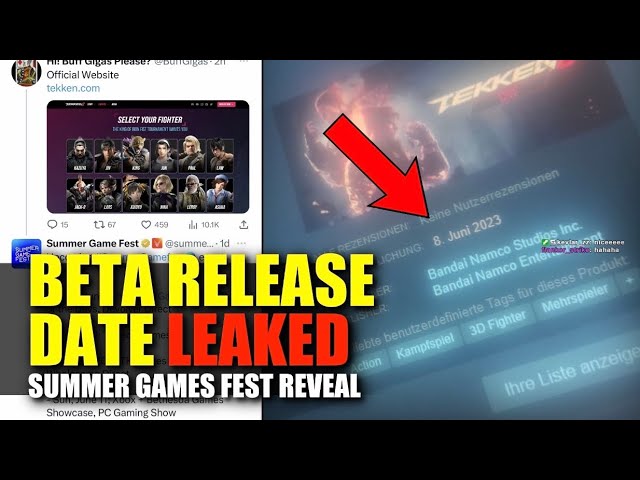 Supposedly meaning 'Closed Network Test', a leaked image of a potential Tekken 8 beta bears this alongside the game's title. VolSkimmer likens the situation to the rollout of the Street Fighter 6 closed beta ahead of its release. Alongside claims of the beta heading toward Tekken players, the video also details that three more fighters could be joining the Tekken 8 characters roster.
"There are a few discoveries that have been made on the official website […] 'HiBuffGigasPlease' found on the official website it has this 'select your fighter screen […] there is another row of characters and its six of them," VolSkimmer explains. While some Tekken fans may think new characters will take up these slots, VolSkimmer suggests that "Bryan Fury, Hwoarang, and Lily (aka Emilie De Rochefort) are missing."
Lili, however, was revealed to be joining the game's roster on Sunday, April 23, 2023, so it is possible this was VolSkimmer speaking in error. Nonetheless, there are still other fighters to appear in what could be one of the best fighting games around. We're hoping that Lei Wulong will return to the fold alongside everyone's favorite Kangaroo, Roger.
If the wait for Tekken 8 is just too palpable for you, then the good news is there are plenty of upcoming PS5 games on the horizon to enjoy.