Imane 'Pokimane' Anys is widely regarded as one of the most successful female streamers. Previously a League of Legends cosplayer, Pokimane sensed a gap in the market and dropped her Chemical Engineering degree to stream full time on Twitch. She's since forged a successful streaming career on the platform and become a popular content creator on platforms such as YouTube and TikTok.
The Moroccan-Canadian streamer is known for her League of Legends and Fortnite streams, although she regularly dabbles in the Just Chatting and IRL categories, inviting her followers to engage with her outside of gaming content. On YouTube, Pokimane has three channels. The 26-year-old posts gaming content on her normal channel, ASMR-related content on her second, and vlogs on her third.
Pokimane is also part of Offline TV, a group of content creators consisting of Pokimane, Jeremy 'DisguisedToast' Wang, William 'Scarra' Li, Lily 'LilyPichu' Ki, and Michael Reeves. While she remains a member of the collective, she moved out of the Offline TV house.
Pokimane started streaming in 2013 quickly became one of the top 100 most followed on the platform, earning her the Best Streamer of the Year award at The Shorty Awards in 2018. Although she's not picked up any other accolades, Pokimane has directly partnered with Twitch on a number of occasions and is now in the top 10 most followed channels on the platform.
Despite her success as a streamer, she often breaks the mould compared to others who have made it big on Twitch. Pokimane recently revealed that she feels like she "doesn't fit in" living in Los Angeles surrounded by other streamers and content creators and also admitted that she turned down a huge sponsorship deal worth $3 million.
Here we answer some of the most frequently asked questions about the biggest female streamer.
What is Pokimane's net worth?
Pokimane's net worth is estimated to be between $2-3 million. The majority of her net worth comes from her content creation career on both Twitch and YouTube, with revenue sourced from donations, ads, sponsored streams, and sponsored deals.
In an Offline TV video, DisguisedToast suggests Pokimane has the highest net worth of the group, noting her popularity on Twitch as a key factor.
How much does Pokimane earn?
Pokimane once earned the majority of her income directly from streaming. She has amassed over 8.3 million followers on Twitch, making her the biggest female streamer on the platform. Pokimane has previously revealed streamers earn around $10,000 per 3,000 subscribers, so it's likely that she's pulling in around $35,000 per month from her 9,500 subscribers alone.
A similar figure has been reported as part of a recent Twitch leak, which shows that Pokimane took home $38,217 in September 2021. The same leak reports that she took home $1,528,303.11 in gross revenue from Twitch payouts between August 2019 and October 2021. It should be noted that this figure doesn't account for user donations or other external revenue such as sponsorships.
The gross payouts of the top 100 highest-paid Twitch streamers from August 2019 until October 2021: pic.twitter.com/3Lj9pb2aBl

— KnowSomething (@KnowS0mething) October 6, 2021
However, Pokimane has stated that most of her income now comes from "sponsors, investments, and exclusive contracts," after the streamer capped her donations last year.
Pokimane also has over 6.69 million subscribers on YouTube and has amassed more than 592 million views in total on her videos. On a monthly basis, the creator is estimated to earn between $5,000-10,000 from YouTube.
There's also the small matter of donations and sponsorship deals to take into consideration as well. Sponsorship is by far the best way of earning revenue for content creators.
During a chat with the late Byron 'Reckful' Bernstein, Pokimane also revealed she turned down a $3 million sponsorship deal with an unnamed client. Although we're light on the details, Pokimane says she is "doing well enough" as a streamer and doesn't need to sign contracts she doesn't want to do.
That action alone suggests Pokimane is earning enough to live and stream comfortably every single day.
What is Pokimane's streaming setup?
PC: NZXT custom build

Monitors: BenQ XL2540 + one unknown brand monitor

Keyboard: HyperX Alloy Origins 60

Mouse: HyperX Pulsefire

Headset: HyperX Cloud Alpha

Gaming chair: Noblechairs Epic

Webcam:

Sony a6000

Microphone: Electro-Voice RE-20

Boom arm: RØDE PSA-1
Mixer: TC Helicon GoXLR
Misc: Elgato Stream Deck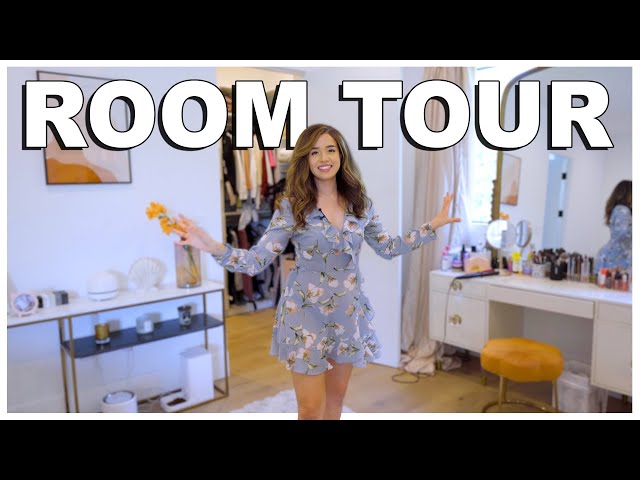 Like all the top streamers out there, Pokimane has a top-of-the-range setup for her streams. To ensure quality visual and audio settings, she uses the Sony a6000 mirrorless camera and the Electro-Voice RE-20, although she uses the M-Audio Uber Mic when she's doing ASMR videos.
Her HyperX sponsorship means all her peripherals are from the brand's latest range, although one of her monitors is from BenQ and widely regarded as one of the best out there for fast-paced competitive play.
Related: Who else makes the biggest female streamers list?
For her seating arrangement, Pokimane sits on a very comfy white noblechairs Epic chair.
Inside her rig, Pokimane rocks an Intel i9 9900K processor, a MSI MPG Z390 Gaming Pro Carbon motherboard, a Seasonic Prime Ultra 1000W Platinum power supply, and an NVIDIA RTX 2080Ti graphics card.
What are Pokimane's fortnite settings?
Pokimane has played Fortnite since its inception two years ago, but like all good players, she uses an array of settings to dominate her opponents and earn the coveted victory royale. Here's what they look like:
X Sensitivity: 0.1
Y Sensitivity: 0.1
Scope Sensitivity: 1
Mouse DPI: 800
Polling Rate: 1000Hz
To move around and jump, Pokimane uses the standard keys, although crouch is bound to left control. To build, Pokimane uses a Q, C, F, X, and T, and G to edit.
She plays in fullscreen, with epic view distance, medium shadows, high textures, and low effects and post processing. Anti-aliasing and vsync are turned off.
Is Pokimane on Twitch?
Yes, Pokimane is on Twitch and will be for the foreseeable. On February 8, 2022, she announced she had signed a new contract with the purple platform, despite having an offer from YouTube Gaming on the table. The Canadian cites Twitch's community, chat, and her history on the platform as a reason for re-signing her contract.
As it stands, Pokimane is the biggest female streamer on with more than eight million followers.
Did pokimane stream without makeup?
Yes, Pokimane has streamed without makeup on before. In November 2018, Pokimane started her stream early to walk her fans through her makeup routine but the experience turned sour for the streamer. Although Pokimane was met with a barrage of insults, a number of high profile industry officials and streamers jumped to her defence online, with some even posting before and after makeup selfies.
Like most things, Pokimane took it in her stride and posted more photos without makeup the following day. She tweeted: "I'm at peace with myself, my body & my imperfections, and I wish the same someday for anyone who feels the need to hate on someone else for such shallow reasons."
Is Pokimane on YouTube?
Yes, Pokimane is on YouTube and she currently has three channels – one for her gaming content, one for her ASMR videos, and one for her vlogs. The first has 6.69 million subscribers, the second has 775,000 subscribers, and the third has 481,000 subscribers.
Pokimane is also part of Offline TV. The group, which consists of Pokimane, Jeremy 'DisguisedToast' Wang, William 'Scarra' Li, Lily 'LilyPichu' Ki, and Michael Reeves, regularly create content together for YouTube.
Is pokimane on tik tok?
Yes, Pokimane is also on TikTok and has 6 million followers. The streamer used the platform to reveal she was getting her own Fortnite emote. The reveal tied in with a competition Epic Games were running to create new in game emotes.