Star Wars Outlaws already had us hooked when saw its galaxy-sprawling action and vibrant characters. Dropping players into an open-world adventure, one way that Ubisoft is aiming to make it one of the best Star Wars games is by returning to the original trilogy for inspiration. Whether it is all the Star Wars Outlaws weapons or Star Wars Outlaws map, creative director Julian Gerighty is aiming to please movie buffs.
Star Wars Outlaws is out to replicate the cinematography choices of the original movies. Gerighty, via EDGE Magazine, says the game is "set between Empire and Jedi, so we wanted to emulate that feel." To make it feel authentic, developer Massive is developing new technology for Outlaws "which emulates some of the lenses of the 1970s […] so you have the vignetting, film grain, lens breathing, the curvature of a thicker lens, the slight lens flares."
Gerighty expresses that "all of these things that are very subtle, but come together to give you a more cinematic experience." Creating a true Star Wars experience isn't a walk in the park, either. We've seen just how painstaking it can be with Star Wars Jedi Survivor.
Everything down to the ground is combed over in fine detail, as Gerighty explains "what really defines Star Wars' visual language is a process of reduction. There's this design lens that you apply, where everything has to be reduced to its essential properties." Cinematographer Gilbert Taylor shot the first Star Wars movie on 35mm film, using equipment like Dykstraflex Cameras, Mitchell VistaVision Cameras, and Panavision Silent Reflex PSR Cameras.
Long before the days of digital innovations, the technology and lenses of the time gave not just Star Wars, but movies of the time a textured and tangible look. You can feel it in the grain, the depth of field, and the lighting.
Objects in Kay Vess' inventory are designed with the challenges that propmakers in the 1970s and 1980s faced, taking ordinary things and making them feel like Star Wars. "I can even come down to something as granular as the industrial design of Kay's binoculars. There's a shape language there that is inspired by the '70s or '80s but is fundamentally almost timeless."
Furthermore, Gerighty stresses the importance of getting to grips with the creativity that Star Wars lore demands. "You can't understand the constraints, the design philosophies, and principles that go into creating something like a new gadget, or a pistol, or a creature. That's something we've had to learn," Gerighty says.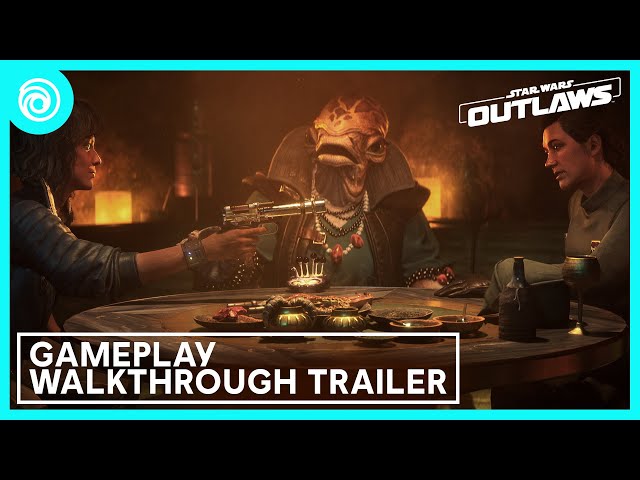 Games within the Uncharted franchise held cinematic ambitions in their design choices, and some titles like Ghost of Tsushima take that notion further by including an Akira Kurosawa-inspired filter. It'd be cool to see Outlaws toy with this idea, perhaps allowing players to choose an aesthetic based on one of the three original trilogy movies.
We know it's a more recent entry, but Dan Mindel's and Steve Yedlin's work on The Force Awakens and The Last Jedi is too beautiful not to get a mention.
Star Wars Outlaws is one of many upcoming PS5 games to look out for in the coming months, and we can't wait to see more of it. You can get the latest copy of EDGE Magazine here.