The wait is almost over for Star Wars Jedi Survivor. While you may have been playing Star Wars Jedi Fallen Order or Star Wars Battlefront 2 to tide you over, rejoice, because we've got more footage to lay our eyes upon. Star Wars Celebration 2023 is currently underway, with heaps of surprises coming out of the fabled LucasFilm event. Now, Cal Kestis himself is getting the fans hyped up.
That's right, presenting the final gameplay trailer for Star Wars Jedi Survivor, Cal Kestis actor Cameron Monaghan does the honours for legions of avid Star Wars lovers at SWCE 2023. We'll get the painful part out of the way first though – there isn't any blaster combat to catch a glimpse of. However, if you are eager to know what the blaster is capable of, then you'll want to read The Loadout's Star Wars Jedi Survivor preview from the recent Hollywood event. Nevertheless, there is still plenty to see when it comes to all the Star Wars Jedi Survivor characters.
Fallen Order favourites such as Merrin, Cere Junda, and BD-1 all get their moment to shine in the latest footage offering. Merrin in particular stands out, seemingly using the Force alongside Cal to defeat a monstrous enemy. Cere's role in Jedi Survivor is still mysterious but she appears here to relinquish wise words of advice to Monaghan's fierce Jedi Knight. There's even another appearance from the Han Solo-like character Bode Akuna, who could come out as a highlight in the full game.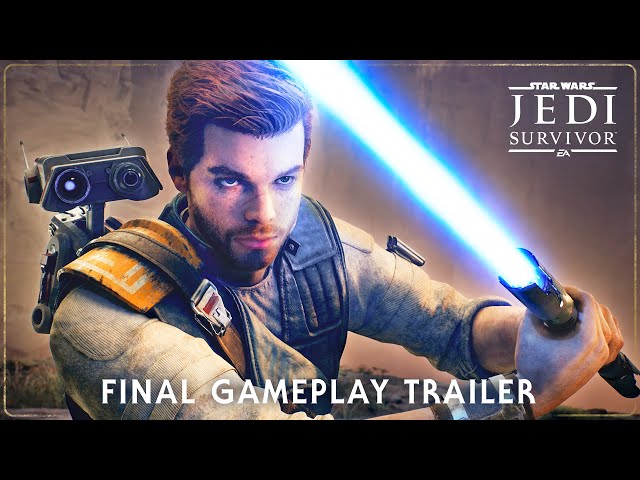 However, it is the renewed sense of power behind Cal's Lightsaber skills that is sure to light the galaxy ablaze. This time around Cal Kestis has multiple Lightsaber stances he can pull from and this trailer shows Cal dispatching waves of Stormtroopers and prequel-era Droidekas without breaking a sweat – something you can learn more about in our interview with the game's developer. You'll also be able to catch a peek at the Kylo Ren-infused crossguard stance.
Jedi Survivor's worlds are far more expansive too, and this trailer showcases parts of the planet Koboh – which was the focus of the recent Star Wars Jedi Survivor preview event. Featuring saloons and foes that would make Old West-era Clint Eastwood nervous, it's a good thing Cal's been whittling away at becoming one of the best Star Wars Jedi Knights we've ever seen.
The excitement doesn't end with this trailer, though. If you're eager to learn about everything that SWCE 2023 had to offer this year, then you'll want to check out all the Star Wars Celebration 2023 announcements, as we approach the Star Jedi Survivor release date.