Before games like Fortnite and endless Call of Duty titles consumed my online endeavors, I've always maintained an undying love for skateboarding games. Naturally, The Loadout and I are waiting impatiently for the Skate 4 release date, but this month marks a special occasion for Skate 3. With the beloved EA game celebrating its 13th anniversary, there is one part of Skate 3 that just doesn't quite meet the heights of its predecessor – even if the game had perfect mechanics.
Though new additions to the genre like the underrated Session Skate Sim offer up a welcome challenge mechanically, Skate 3 perfected the franchise's Flick-It control system. Pulling off 360 Flips and Nollie Inward Heelflips still delivers unparalleled satisfaction to this day, which is enhanced further by the welcomed 4K 60FPS upscale on Xbox Series X|S consoles. To take it to another dimension, now-defunct developer EA Black Box introduced Dark Catches and Underflips into the mix.
Dark Catches are just pure filth in the best way possible. Allowing players to capture the board in its upside-down state, bringing this onto a grind is a surefire way to feel like a legend. Pair this with full-body rotations and you'll be the stuff of TikTok debate for months to come. Skate 3 easily connected each of its core skating parameters together, supported by a tangible weight echoed in the vibration of your controller.
The game's mechanics are so excellently woven together that the birth of the 'Trick Lining' movement wasn't frowned upon for exploiting the game, but respected for its level of skill needed to pull it all together. Yet, while Skate 3 was exceptional from a control perspective, its location in Port Carverton just never met the grungey DIY spirit of Skate 2.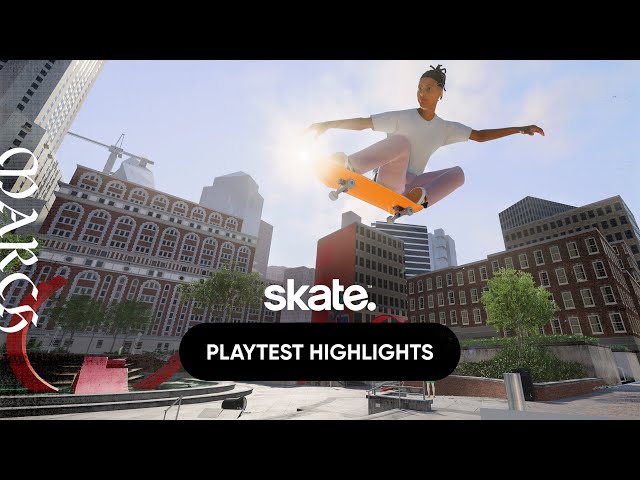 Skate 2's San Vanelona could take on any of the best Tony Hawk's Pro Skater or Underground franchise maps. Improving on the foundations of the original Skate game, San Vanelona is a gorgeous collection of cultural influences mingling with each other through superb architectural design choices.
Areas like Old Town proudly display blends of harmonious Gothic architecture reminiscent of Barcelona's La Sagrada Familia. Sunset Heights and Slappy's Skatepark champion the game's affinity for the late 80s and 90s skate scene, which is also reflected in soundtrack choices that consist of songs from Rage Against The Machine, Gang Starr, Nas, and Suicidal Tendencies. To escape the looming pressure in the atmosphere of corporate dread in the Financial District, the Waterfront District bears a glimpse into something close to tranquility. Throughout all these distinct biomes, there was a still sense of connectivity and continuity – which is severely lacking in Skate 3's world.
The ability to travel throughout all of San Vanelona at will, from top to bottom, also helps that notion. Skate 3's biome-like approach may offer more freedom to craft bigger neighborhoods and city landscapes, but the lack of unintrusive travel options ensures that they'll never feel cohesive. Aside from the Industrial District's grimy nature, Skate 3 needed the same vibrancy and visual creativity that Skate 2 enjoyed. Skate 3's Downtown District feels too sterile and clean to the point of becoming generic and uninspired.
However, there is hope yet for the Skate franchise. With developer Full Circle hard at work on the next entry, improvements to Skate's map ethos are already evident in the glimpses of pre-Alpha footage we've seen in playtest highlights. San Vansterdam contains what is set to be an ever-evolving city area, with players able to manipulate the world around them with enriched creative tools. I can already tell the Skate community is going to create dazzling things in San Vansterdam, with some clips rivaling the chaos seen in custom GTA 5 modes. You might even be able to sample it for yourself with Skate 4 playtest access.
If the next Skate game is able to combine the superlative mechanics of Skate 3 and the vibes of Skate 2 together, then we might just have one of the best games out there for skating fans – especially if they add more Them Crooked Vultures to the soundtrack.
Out of all the upcoming PS5 games set to release in 2023 and beyond, Skate 4 (or Skate.) is the game I'm itching to play the most. Yes, even more than Marvel's Spider-Man 2.