In case you've been living under a hermetically sealed, virus-proof rock for the best part of a year, the Overwatch League, like all things in 2020, suffered at the hands of the coronavirus pandemic. But while the league quickly transitioned to an online-only format, it was arguably the fans who suffered the most. Homestand events were all cancelled, and strict lockdown rules worldwide put a stop to most viewing parties.
But, it is also fans who are the most creative, most ingenious, and most passionate about finding a way of following their team when all avenues seem closed. Cameron Akitt is one such fan, and as the creator of Hangar 9, London Spitfire's official supporters' group, he helped bring people together when all seemed lost.
As a hard of hearing person, Akitt is pleased to have found a dedicated group of hard of hearing Overwatch fans within Hangar 9, but he is keen to emphasise that while the supporters' club fosters a great hard of hearing community, it's a place where everyone is welcome. And, like so many great ideas, he came up with it at the pub.
Back in 2018, he was one of two hundred or so Overwatch fans crammed into a London gaming bar to watch London Spitfire compete in the Grand Final of the inaugural Overwatch League season. While the team is based in North America and most of the players were Korean, this barful of Overwatch fans felt an affinity for the team named after their city, and their commitment to the Spitfire inspired Akitt to make things official.
"I think one of the great strengths of the Overwatch League is that it's truly global," Akitt tells The Loadout. "But there was a dedicated group of us who were Londoners who were going to all these viewing parties."
He didn't want to lose the global aspect of the Overwatch League, so he counts himself lucky that London is an incredibly multicultural and largely welcoming city. He feels that Hangar 9 perfectly "mirrors the fabric of London", creating a diverse home crowd who avidly support London Spitfire.
"We've got so many different spoken languages and sign languages within the organisation. We've an incredibly diverse leadership team with all sorts of sexualities, and gender expressions in gender identities. And we have a lot of women in games involved in Hangar 9… Most of the posts in our group are taken up by female gamers."
While viewing parties and homestand events came to a stop during the pandemic, the diversity of Hangar 9 has only grown due to their increased online events. In pre-pandemic times, the group's Discord server was only really used to arrange their pub meetups or viewing parties, but it quickly took on a new importance when such events could no longer take place.
While Akitt admits that the spirit of in-person events was difficult to capture online, Hangar 9 held competitions and fan tournaments over Discord, which attracted more fans to the club. These fans were from all over the world, wanting to be a part of events that would have otherwise been limited to those able to travel to London. Their pandemic activities have also resulted in splinter groups forming in other parts of the world, such as Canadian chapter The Avros, but there's still something about Hangar 9 that makes it unique – it empowers hard of hearing fans like Akitt himself.
Read more: Blizzard says accessibility is a "major focus"
This is because Akitt has developed his own version of Overwatch sign language, something that came about when he was trying to explain the scene's viewing parties to his housemate, who is profoundly deaf and uses British Sign Language (BSL) as his first language.
"To try and explain the game we had to create our own vocabulary which didn't exist," he says. "So we have to kind of set up base concepts and, you know, look at pictures of the heroes to give it visual context. Through my conversations with him about the game, and all the fun that I was having, the lexicon of new signs were being put together."
However, when he met with Overwatch fans at events that Hangar 9 put on, Akitt realised that different groups of hard of hearing fans had come up with slightly different variations on the signs, especially for the characters. While his version had already been widely accepted thanks to London Spitfire engaging with his Overwatch sign language explainer videos on social media, he loves meeting other fans who sign things slightly differently.
"It's really amazing," he explains, "seeing the Scottish hard of hearing and deaf Overwatch fans and those from Ireland and Wales or London, all having slightly different variations on what is a shared language, within our own micro communities."
Much like a regional accent, it's not uncommon for deaf and hard of hearing people to use different signs depending on where they come from. In Overwatch terms, the names of heroes saw the most variation between communities, as a sign name is based on someone's personality or physical traits. It often helps to lip pattern the person's name while signing to add context and aid comprehension.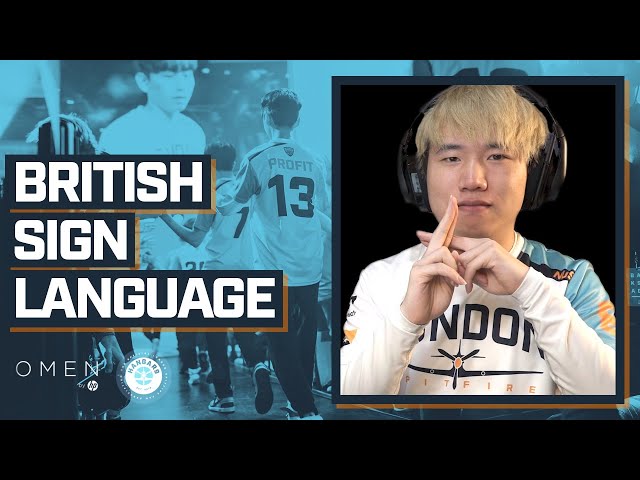 "It's a case of lip reading and then using inference," explains Akitt. "Like my Scottish friends do McCree with a hat coming down because he's cowboy. Whereas me and my friends in London do McCree with the gun, but we're very easily able to pick it up."
Unfortunately, the broadcasts that OWL produces – and Hangar 9 eagerly watches – are not the most accessible for the hard of hearing community. Akitt explains that while the gameplay is fairly straightforward to follow, the casters and hot desk sections of the broadcast can be "very tricky" to understand.
"YouTube's auto-captioning can be very hit and miss, especially in a live stream. There are so many turns of phrase and colloquialisms in Overwatch, so if you're talking about using a 'bunker' comp or GOATS, the captions don't quite keep up."
However, he believes OWL could be "a lot more inclusive" by taking inspiration from TV broadcasters; employing knowledgeable transcribers to write the captions rather than relying on Overwatch-ignorant AI, and incorporating sign language interpreters for hot desk scenarios.
Despite the issues with broadcasts, Akitt believes positive steps have been taken to make Overwatch more accessible in-game. "They do quite a nice job of kind of tiering the captions," he explains.
Adapting to the pandemic: Why OWL teamed up with CDL
Players can choose to have just essential information captioned, or character dialogue and voice lines captioned too. The pinging system works well too, with countdowns, call-outs, and directions all able to be accurately communicated over text.
"I do think there's room for improvement," he admits. "It's open to abuse. Lots of hearing players will spam voice lines, and that really messes up the captions because you miss important information."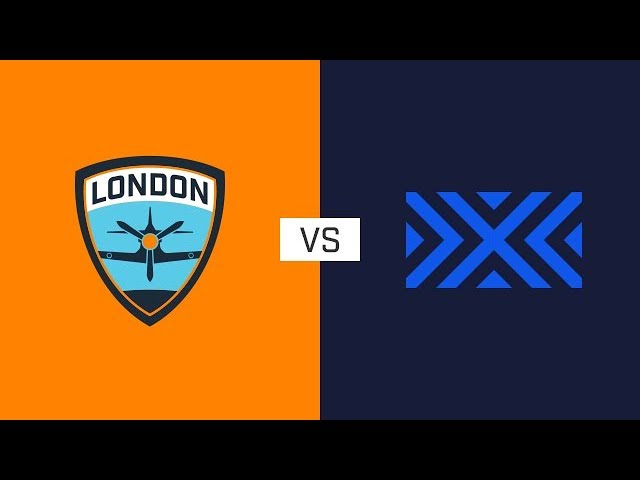 Akitt is very good natured and has an optimistic outlook on the issues he and other members of the hard of hearing community face while just trying to participate in their gaming hobby – whether that's watching and supporting London Spitfire, or playing themselves. But, there is also a resignation that he will have to put the work in himself as accessibility issues are so often overlooked.
"If you're deaf or hard of hearing, you're very used to having to look at something and draw your own conclusions and try and understand it," he explains. "It's not always the case that someone will explain or take the time to break down what's happening, so you've got to be quite quick to pick stuff up."
Increasing accessibility: how a blind streamer is changing Twitch
Akitt has been at the forefront of developing Overwatch sign language for years, but his skills of adapting to unprecedented situations have also proved invaluable in providing a safe space for London Spitfire's Overwatch fans during the pandemic, and he is looking forward to the future.
"My biggest hope is that myself and the other volunteers can continue to provide a space that is consistent, welcoming, and optimistic," he says.
In the midst of a global catastrophe, the Hangar 9 team has successfully adapted the club's philosophies for an online era, and hopefully Blizzard can return the favour by taking accessibility concerns into account for its broadcasts of the Overwatch League.