EA Sports' latest ice hockey outing is full of great new features and changes but among the most exciting are the NHL 24 ratings. Each and every year, the ratings list causes a great deal of discussion among the community as it highlights the best players in the game that you'll be chasing to add to your teams.
NHL 24 has now been officially revealed by EA Sports and it looks like it could be the best entry in years, with tons of great new features and improvements, including NHL 24 crossplay details. Be sure to check out the NHL 24 release date for more information on these updates, and our guide to NHL 24 early access to find out how to dive in ahead of launch.
NHL 24 ratings
The NHL 24 ratings are:
Connor McDavid – 95
Nathan MacKinnon – 95 (+1)
Auston Matthews – 94
Cale Makar – 94
Matthew Tkachuk – 94 (+4 confirmed)
Andrei Vasilevskiy – 94
Leon Draisaitl – 94 (+1)
Sidney Crosby – 93
Patrick Kane – 93
Roman Josi – 93
Victor Hedman – 93
Artemi Panarin – 93 (+1 confirmed)
Igor Shesterkin – 92
Aleksander Barkov – 92
Jonathan Huberdeau – 92
Nikita Kucherov – 92
Jason Robertson – 92 (+4 confirmed)
Kirill Kaprizov – 92 (+1 confirmed)
Alex Ovechkin – 91 (-1 confirmed)
Mikko Rantanen – 91
David Pastrnak – 91
Brad Marchand – 91 (confirmed)
Adam Fox – 90
Johnny Gaudreau – 90
Mitchell Marner – 90
Steven Stamkos – 90
Connor Hellebuyck – 90
Jacob Markstrom – 90
John Gibson – 90
John Carlson – 90
Clayton Keller – 89 (+1 confirmed)
Brady Tkachuk – 89 (+3 confirmed)
Johnny Gaudreau – 89 (-1 confirmed)
Kyle Connor – 89 (-1 confirmed)
This list of the top 34 players is based on the revealed ratings for NHL 24 as well as the previous game, as they are likely to be similar, give or take a few players. For example, Cale Makar already had high ratings in NHL 23 though, given he's the NHL 24 cover athlete with several trophies and awards under his belt, he could easily go up a point or two in rating. On the other hand, Matthew Tkachuk has a confirmed rating of 94, which is an increase of four points over his rating in the previous game.
While we're yet to get the majority of ratings officially revealed for this year's game, you can expect high ratings for players like Cale Makar, Connor McDavid, Auston Matthews, Andrei Vasilevskiy, and others. After all, these are the best of the best in the real sport too, with the top players having impressive track records.
Nevertheless, before the full list of official ratings drop, we've used our ice hockey expertise here at The Loadout to predict the best players, alongside the confirmed ratings. As always, there should be no definitive 'best player' in NHL 24, with the top rating likely to be shared by a handful of players. Not only is it hard to accurately quantify the performance of players on EA Sports' end, but it also makes the game more balanced for players so we're not all fighting for one player above all else.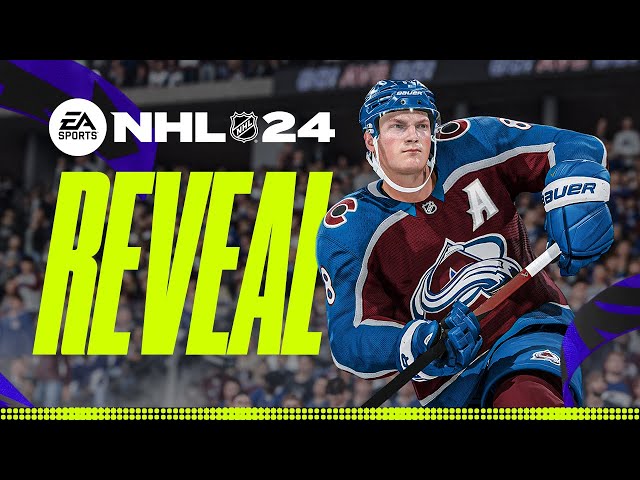 Connor McDavid
With persistent plays and great statistics, it's hard to argue against Connor McDavid's impressive performance in the NHL as of late. This is expected to be reflected in the NHL 24 ratings, likely taking top spot once again as the best player in the game. Like last year, don't be surprised to see McDavid popping up in a lot of teams.
Nathan MacKinnon
Nathan MacKinnon is another incredible player right now. Having trumped Auston Matthew for points in the 2022-2023 NHL season, we're now seeing this come to fruition in-game. In the NHL 24 ratings, it's been confirmed that Nathan MacKinnon has gained a point. With an overall rating of 95, MacKinnon will be one of the best players in the game, potentially beating Matthews, though we'll have to wait to see his rating before making any judgements.
Auston Matthews
Racking up points in the 2021-22 NHL season, Auston Matthew is set to continue his stellar performance this time around as well. While there has been some discussion around his contract with the Toronto Maple Leafs, he's set to stay around for at least a little longer to help lead the Maple Leafs to victory. Whether his official in-game rating will trump or match Nathan MacKinnon only time will tell.
Cale Makar
Cale Makar has gone from strength to strength with each season, having won the James Norris Memorial trophy, Conn Smythe Trophy, and the Stanley Cup all in one season for the Colorado Avalanche. There's a reason Makar is gracing the cover of the game this year, and it's likely to be reflected in one of the best NHL 24 ratings overall.
Matthew Tkachuk
Based on his rating in the previous game, you would not have expected to see Matthew Tkachuk quite so high. However, it's been confirmed that in NHL 24, Matthew Tkachuk has a 94 rating. This massive four-point increase pushes him right towards the top of the pack. Given his performance in the 2021-22 and 2022-23 seasons, his rise is earned.
Andrei Vasilevskiy
Andrei Vasilevskiy has been raising the bar for goalies and scored a high rating in last year's game which is likely to continue with the NHL 24 ratings. While he could gain or lose a point or two, he'll still be among the best of the best.
Leon Draisaitl
Joining Connor MacDavid as an excellent center and alternative captain behind MacDavid for the Edmonton Oilers, Leon Draisaitl has increased his great rating. After all, Draisaitl just had his best season yet, with a whopping 128 points in the 2022-23 season. Given that, it's no surprise that Draisaitl has risen up the ranks of the NHL 24 ratings, even if by just a single point.
Sidney Crosby
Sidney Crosby is still one of the best players in the NHL, having won the Stanley Cup three times in total, two of which were consecutive. With several other trophies and awards over his long career for the Pittsburgh Penguins, as well as a strong performance in the 2022-23 season, it wouldn't be surprising to see Crosby maintain his high rating among the best players in NHL 24.
Patrick Kane
While Patrick Kane is a free agent as of now for the upcoming season, it's hard to deny his talent on the ice. Like Crosby, Kane has also had a long career in the NHL, having played for the Chicago Blackhawks until signing with the New York Rangers. Once he's no longer a free agent, it will be easier to assess his ratings, though Kane's unlikely to budge.
Roman Josi
Defenceman Roman Josi has both set and broken numerous franchise records in his time in the NHL. In fact, in March 2023, Josi became the second-fastest active defenseman to reach 600 points in his NHL career, showcasing his raw talent in the position. Given his stellar performance, we could see Josi climb in his NHL 24 ratings.
Victor Hedman
Like Roman Josi, fellow defenseman Victor Hedman has had a very successful career, with several awards and Stanley Cups to his name. While his 2022-23 performance might not have been his best yet, it's hard to see Hedman losing his high rating, even if some of his stats fluctuate.
Artemi Panarin
Artemi Panarin's 93 ratings, an one-point increase since the previous game, also puts him in the running. While he had a rocky 2020-21 season, Panarin has been back on track ever since, with his 2022-23 performance being close to his best yet.
And there you have it, the latest news on the NHL 24 ratings and our predictions so you have a good idea of all the best players in this year's game. If you're looking to dive in without spending a dime beyond a subscription fee, check out the latest NHL 24 Game Pass details.