We've finally arrived at the silver jubilee of the biggest basketball simulation game around, and NBA 2K24 did not hold back when it came to delivering on that legacy. Recent standouts like last year's new MyNBA Eras feature have continued to improve, and even problem modes of the past have got some much-needed refinement this year. However, that legacy is in danger of being permanently tarnished by turning the game into a microcosm of capitalist greed.
We'll make sure to touch on all the highlights in this NBA 2K24 review, but we can't do that without addressing the harsh reality, for as many great things as there are to say about NBA 2K24, overbearing microtransactions might be.
Keeping things fresh in a sequel is always a challenge for developers, but sports games have a particularly time-sensitive challenge thanks to their strict annual release schedule. NBA 2K24 marks the 25th installment of a franchise that got started with the original NBA 2K on Sega Dreamcast in 1999 and has continued to move forward with the industry since then. Every single year, technology jumps ahead and developer Visual Concepts has done well to keep every release up to NBA 2K24 among the best in the genre.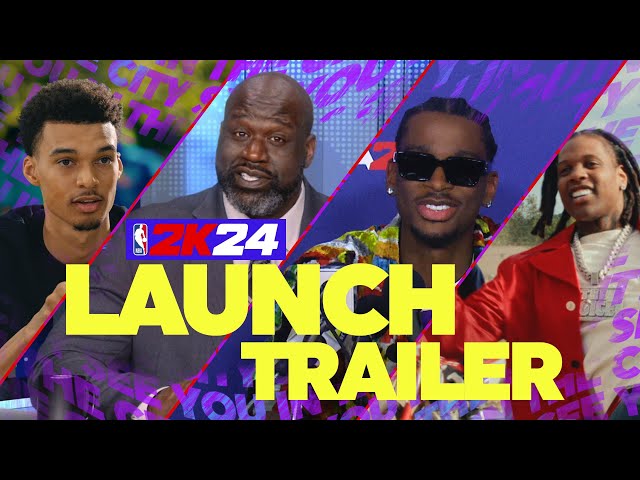 Some years have been a bit bumpy, but the NBA 2K24 gameplay shines as one of the leading examples of what this series has been doing right as of late. Pure gameplay feels like the natural fluid progression of basketball, and a variety of sliders and difficulty options allow players to keep things at their skill level. Less-skilled players can make every game easy and relaxed, and die-hard competitive players can keep things as challenging as they desire.
Nailing your timing when shooting is a constant challenge, but it always feels in line with the quality of the shot that's being made. If you're shooting a wild three while double-guarded, it's going to be very difficult to get your shot release timing perfect enough to make that shot. Meanwhile, layups and dunks feel as automatic as they would in an NBA game if the timing and positioning were in your favor. Advanced techniques, including more elaborate defensive strategies, can be honed in the 2KU Tutorial and players have a plethora of scrimmage court practice options throughout the game. All of this is accentuated by the high-quality presentation of the game-day experience that feels truly special whether you're recreating a modern-day game or the 1997 NBA Finals.
Perhaps most representative of the tech boost is the sheer visual quality that NBA 2K24 brings to the table. Advancements in graphics paired with the elaborate 3D scanning rigs used by Visual Concepts have once again delivered top-notch looks on the Xbox Series X. If you hop onto Instant Replay during a game, you can zoom in and see just about every pore and bead of sweat on each player.
NBA 2K24 can be an extremely fun game to play, but there's an elephant in the room that tends to step on your head every single time you open the game. NBA 2K24 wants you in MyCAREER or MyTEAM, and it wants your money. All of your money. You didn't pay them enough for this game. It'll never be enough.
As soon as you launch the game, you'll get a pop-up window to inform you "WHAT'S NEW IN NBA 2K24." I'm gonna save you some time because the answer is always going to be the same: something that will cost you money. Either they'll be advertising the next exclusive MyTEAM card set to drop or the next big thing in MyCAREER, and in both cases, the goal is to get you to spend more money.
Despite other improvements across the board in both modes, MyTEAM and MyCAREER have somehow become even more consumed than in past years by the desire to pressure players into spending extra money on the game. The most egregious example of that this year is the introduction of Level Skips and the Season Pass mechanic, which are tied to regular Seasons of live content dropped with new in-game rewards that reset every six weeks.
The drive for years has been to reach Level 40 every season for the top rewards, but this year you can just buy your way to Level 40. Wanna brag to your friends about the swag on your MyPLAYER? Hoping to shove your dream lineup of legends from MyTEAM in their faces?
Don't even bother to play the game, just give 2K a few extra bucks and you can have it all. The new Season Pass includes a Pro Pass for $9.99 and a Hall of Fame Pass for $19.99, but a new pass must be purchased every six weeks when the season resets. The less than clear NBA 2K24 Season Pass FAQ from 2K itself avoids saying this outright, but with everything (including the 15% XP Boost you get with the Hall of Fame Pass) expiring at the end of each six-week window, that is absolutely the case.
One of the biggest benefits of the Hall of Fame Pass is that it comes with 10 Level Skips to immediately upgrade your level in the game, but of course 2K doesn't want you to stop there. If those 10 Level Skips aren't enough, you can continue buying Level Skips for $1.99 each until you reach that glorified Level 40 reward.
If you're struggling to buy something in-game in either mode, you can also just buy a bundle of 700,000 NBA 2K24 VC for $149.99. That's the same price as the NBA 2K24 25th Anniversary Edition, which at least comes with a 12-month subscription to NBA League Pass. If you wanna be Level 40 at all times with no effort, just drop an extra $80 on the game every six weeks for the new season's Hall of Fame Pass and a few dozen Level Skips. NBA 2K24 is a microtransaction smorgasbord.
While there has been plenty of innovation when it comes to monetization, there has at least also been some innovation to NBA 2K24's two core game modes. In MyCAREER, including less complex quests and a more streamlined basketball-centric experience was definitely the right call. MyTEAM has been refined to make the interface faster and more approachable to players. There are real positives, both are still enjoyable to play, and at least NBA 2K24 locker codes will give you some freebies, but the only thing these two game modes are ever going to care about in their current form is making you spend more money.
If you're wondering where all the actual basketball is in NBA 2K24, there's an endless supply in just about every other area of the game. MyNBA Eras is back with The LeBron Era joining last year's lineup of The Modern Era, The Kobe Era, The Jordan Era, and The Magic vs Bird Era. Visual Concepts has once again delivered one of the deepest franchise mode experiences across all the best sports games, and players overwhelmed by customization even got the new MyNBA Lite mode which simplifies things while still delivering the franchise feel.
Another sequel to last year, The Jordan Challenge has been replaced by Mamba Moments with a deep dive into the historic career of Kobe Bryant. It's hard for any iteration of this mode to top what The Jordan Challenge delivered in NBA 2K23, but this is still a fantastically executed experience featuring Kobe's biggest games with custom commentary, video packages about each moment, and tough challenges to recreate his most prolific records.
However, the enjoyment you get out of Mamba Moments will probably be directly tied to whether Kobe Bryant being charged with sexual assault in 2003 (which led to a lawsuit settled out of court in 2005) tarnished his basketball career in your eyes.
Meanwhile, The W gives players something that many are surely clamoring for: a streamlined, microtransaction-free, mostly single-player career mode. You won't have to jump into The City or obsess over earning VC to upgrade your attributes as The W offers a fully contained WNBA career mode experience. Players can start as a rookie or an exciting overseas prospect, and the mode gives you simple day-to-day tasks before advancing your player into the next game.
The W Online also offers a streamlined 3v3 online experience within career mode, but it can be ignored entirely for players who prefer to stay offline. Counterpart franchise mode MyWNBA doesn't have an Eras equivalent so far, but the solid shell from MyNBA keeps the experience strong.
If you want to focus on enjoying basketball and don't intend to drop extra money after buying the game on MyTEAM or MyCAREER, these game modes and the standard Play Now exhibition mode are going to be your home court. You can happily pretend the microtransaction grind isn't there and just stick to the gameplay. At least, you can until the daily in-game pop-up tries to break your resolve. After hours and hours of playing and loving NBA 2K24 on Xbox Series X, it feels like the best basketball game in years is just a side dish to a greedy main course of microtransactions.
NBA 2K24 review (Xbox Series X|S)
With amazing visuals and presentation, brilliant gameplay, and a wide variety of modes, NBA 2K24 is one of the best sports games of the year and a standout in the NBA 2K series as a whole. However, innovations to its monetization have just made its microtransaction problem even more profound.