Everything is awesome in Bricklandia, but with Lego 2K Drive multiplayer co-op, things can be even more awesome. Whether you hope to race against random players online, or explore with your friends, here's everything you need to know.
As we approach the starting line, or the Lego 2K Drive release date as some may call it, we're hoping the game can race its way onto our best racing games list, Either way, we should have a lot of fun when the game finally arrives. So, here's all the details on the various multiplayer modes.
Lego 2K Drive multiplayer co-op explained
Lego 2K Drive features local multiplayer, as well as two online multiplayer modes: Play with Friends, and Play with Everyone. Local play features split-screen co-op, and the latter allows you to play online with others.
Firstly, the local multiplayer allows you to experience the story, Cup Series, and race modes with another player on the same device. On all platforms the game releases on, you can enjoy the various modes the game has to offer with another player locally, thanks to Lego 2K Drive split-screen. Not only that, but Nintendo Switch players can also use two consoles to play locally over the same network.
Play with Friends allows you to, well, play with your friends online. You can freely explore the various Lego 2K Drive maps with up to five other players, or take part in the various Cup Series modes, challenges across the different biomes, or race against each other to see who's the fastest. You can't unlock any new maps within Play with Friends' Shared World mode, but you can access any of the maps you've already unlocked during your story progression.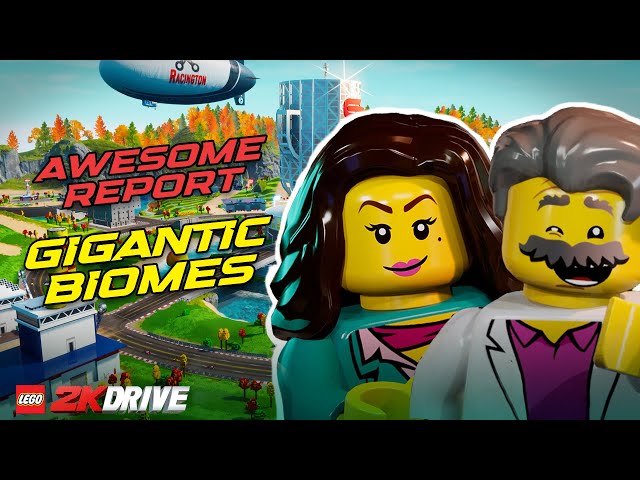 Finally, the last option is Play with Everyone. This will pit you against other players online close to your skill level to compete in both Cup Series and standard races. You can even invite two of your friends to join in on the competition. In Play with Everyone, you'll be unable to communicate with other races via voice chat, but you can use your console's internal voice chat to talk with your friends.
Both of the online modes support Lego 2K Drive crossplay, so you can play with friends or others on different consoles or platforms. However, Nintendo Switch players can only play with or against other Switch players.
That's all of the details on the Lego 2K Drive multiplayer co-op modes. Make sure to find out whether Lego 2K Drive is open world or not, and if you're hoping to practice your racing skills before the game releases, check out the best Xbox racing games and best PS5 racing games available right now.