If there's one thing High On Life is full of besides talking weapons and weird alien creatures, it's secrets – and players are starting to discover pretty big ones at the end of the game. In fact, High on Life has a secret ending and you're going to want to find it if you're trying to 100% the game. But, it's more than the "sequel bait" Squanch Games' achievements list wants you to think it is. This secret ending actually reveals quite a lot about why there are so few talking guns in High On Life's wild universe.
If you don't want to know anything about this secret ending, now's the time to look away. If you do want to know, however, keep reading.
In the High On Life secret ending, you find Clugg and subsequently watch Clugg get his brains blown out by Dr Gurgula. This mysterious figure is then quite quick to admit that he's responsible for the plague that wiped out the Gatlian race – and he's not even sorry about it. In fact, Gurgula is rather nonchalant about it all. The Gatlians weren't the key to his strange research and he tossed them aside as soon as they proved unhelpful.
Gurgula then goes on to explain how special human brains are, but how unexceptional humans are as a race, before teleporting out and away. Keeping everything very "on the nose", Kenny does mention that you're going to have to "wait for some sort of sequel" when it comes to finding out more. But, it's safe to say that this does raise quite a few questions. We want to know why Gurgula is experimenting on humans – and why he was experimenting on Gatlians – before all this, and we want to know what he plans to do next.
Either way, it's all pretty messed up. We know we said it isn't "sequel-bait", but it's clearly setting up some sort of narrative continuation for this universe and its' characters. If anything, though, we think this reveal adds a much-needed layer of depth to High On Life's story. It's just a shame it's hidden in a secret ending that's easy to miss out on experiencing.
If you want to know how to unlock the High On Life secret ending, you can find out more about that here. There are a few steps you need to follow and it's quite easy to miss if you've rolled credits already. However, this is something you're going to want to see with your own eyes.
If you want to do that, but you can't really be bothered to follow the steps above – and you're not so fussed about 100% completion, you can watch this video from High On Life content creator 'Rifle Gaming' below: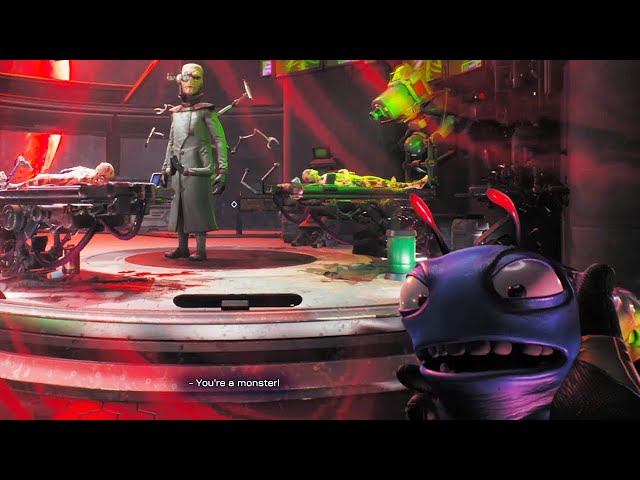 For a linear FPS game, there's a lot to do in High On Life – and a lot of jokes from Rick and Morty co-creator Justin Roiland to (maybe) laugh at. If you're looking for more information on all the High On Life bosses, or maybe you want to keep track of all the High On Life weapons and guns, you can find that here. For everything else, you can check out our High On Life walkthrough right here.