We know you might be out there struggling to find Fortnite Chrome Keys right now, but (as always) there's a lot to look forward to when it comes to Epic Games' shooter. So, while a few Fortnite fans have found a Lord of the Rings easter egg in the battle royale recently alongside the discovery that Crash Pads can yeet cars at over 500 mph in-game, it looks like they'll be able to go toe-to-toe with Darth Vader, Goku, Spider-Man, and more with… A Goat? Well, we weren't expecting it, but the Goat from Goat Simulator 3 is getting her own Fortnite skin.
If you're looking forward to Coffee Stain's next Goat Simulator game, you can pre-purchase it through the Epic Games Store to get your hands on the 'A Goat' outfit in Fortnite from September 29 at 08:00 PST / 11:00 EST / 16:00 BST. And, you don't need to worry about rushing to pre-purchase this game either. This offer is going to be available until September 29, 2023 at 20:59 PST / 23:59 EST and September 30, 2023 at 04:59 BST. That's right, you have a whole year to get a free Fortnite skin when you pick up Goat Simulator 3.
If you're someone who's less than fussed about Goat Simulator 3, but you like the idea of being a goat in Fortnite, then you will be able to pick up the 'A Goat' outfit from the Item Shop on November 26, 2022. This'll be just over a week after Goat Simulator 3 launches and there's currently no information available on how long it will be listed in the Item Shop for – or how many V-Bucks it will set you back.
Discussing the aforementioned Goat Simulator 3 skin coming to Fortnite, lead artist Elin Hamberg explained that "Pilgor looks different in her 'A Goat' Fortnite form" due to the fact that Coffee Stain's "signature approach to hyperrealism simply didn't fit in this bright and colourful game". So, "her arrival in this new world meant giving her a Fortnite twist, and muscles".
If you want to check out what the Fortnite-ification of the goat from Goat Simulator 3 looks like for yourself, you can get a glimpse of it in this short trailer below: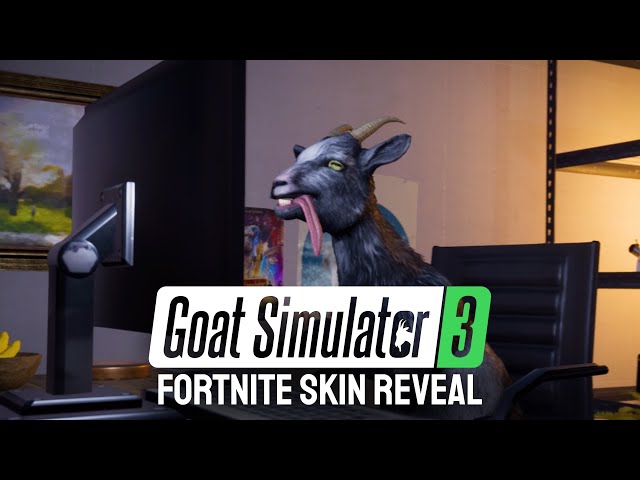 Yeah, it's not the worst skin, right? We're still in shock that the goat from Goat Simulator 3 actually has a name, to be honest. If you're just here looking for news on goats, you can find out more about the Goat Simulator 3 release date here – and an insight into what the Goat Simulator 3 gameplay has to offer.