Goat Simulator 3 is certainly a game we didn't expect to see on the 2022 release calendar – and not only because developer Coffee Stain Studios skipped 'Goat Simulator 2'. Back at Summer Game Fest 2022, we were treated to what initially looked like a reveal trailer for the long-awaited Dead Island 2, only for us all to be collectively trolled by the studio as a quartet of goats gatecrashed the party. Honestly, we couldn't have imagined a better way for Coffee Stain to announce that the Goat Simulator 3 release date is on the way.
From the Goat Simulator 3 announcement trailer, we saw our bearded friends packing an impressive array of weapons and other destructive devices. One can be seen with a twin-cylinder jet pack, another with laser eyes akin to X-Men's Cyclops. A third can be seen using a visual power that rapidly expands body parts, while the final of the four is equipped with not only a driving licence (maybe) but a big ol' rocket launcher.
Indeed, when the Goat Simulator 3 release date rolls around, it looks like we're going to have quite the suite of tools at our disposal to go ahead and live out our best bleating lives. But when can we expect armaggeddon to arrive?
Goat Simulator 3 release date
Goat Simulator 3 is set to arrive on the Epic Games Store, PlayStation 5, and Xbox Series X/S on November 17. The news was announced in the new 'Pre-udder Trailer', which features plenty of falling goats, as well as the odd teabag.
gOAT sIMULATOR 3 gAMEPALY
Our best look at what Coffee Stain has planned with Goat Simulator 3's gameplay was shown in the pre-udder trailer. Although, we haven't actually seen a proper gameplay demo yet.
The original trailer for the game showcased the world a bit more with a spoof on Dying Light 2's original trailer almost a decade ago.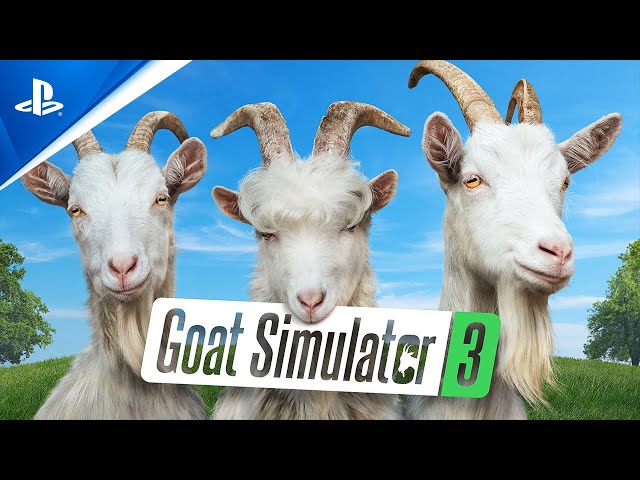 While you eagerly await the Goat Simulator 3 release date, be sure to check out some of the other best PS5 games out there to tide you over.