Fans of Coffee Stain Studios' cult hit Goat Simulator series have been chomping at the bit to see some Goat Simulator 3 gameplay since its reveal at Summer Game Fest 2022 back in June. Fortunately, the developer has remedied our collective gnashing with a brand new Opening Night Live trailer, and it looks as utterly ridiculous as we'd hoped it would.
Throughout the new Goat Simulator 3 gameplay footage, Pilgor and his squeamish band of renegades can be seen cruising around on a destructive rampage, be it on the back of a tractor, or while strapped to a jetpack.
Of course, while you're on a murderous rampage, you have to look the part, which is why the devs have added in plenty of drip for you to get your, well, hooves on. For example, one goat is dressed like a medieval knight with a satellite dish on its back, while another flaunts a bright pink tutu and paint buckets for shoes.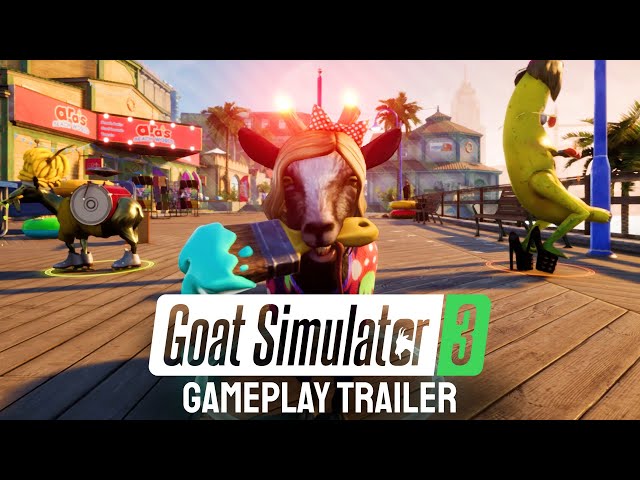 While being a roaming death machine – either solo or with up to four friends – is all well and good, but Coffee Stain is also adding in some structured fun in the form of seven multiplayer mini-games, spread around San Angora:
King of the Hill – Stay inside the castle to gain crowns. The player with the most crowns wins!
The Floor is Lava – Don't touch the lava! Use your parkour skills and climb as high as possible to escape the rising lava. Last one alive wins!
Car Derby – Drive into the rear of the other players vehicles to explode their bombs! Last player alive wins!
Prop Hunt – Classic hide and seek. If you are the seeker, find the other players by headbutting stuff. To hide, lick your desired prop. Move around when hiding to gain extra points.
Headsplat – Use your headbutt to paint the world! You get a point for each painted thing.
Hoofball – Get the ball in your goal to score points. The player with the most points wins, like usual.
Prop Golf – Get your prop to the flag ASAP! First player to reach the flag wins!
When the Goat Simulator 3 release date rolls round, it'll release on PlayStation 5, Xbox Series X|S, and on PC exclusively via the Epic Games Store.