Players have shredded up their foes in a third-person perspective for years in Fortnite, offering a different type of thrill than battle royale games like Call of Duty Warzone or Apex Legends. Though rumors of a Fortnite first-person mode have been rampant for months, that fresh spin on Fortnite is reportedly closer than ever. So, get ready to drop back into of the best battle royale games around, because the sweats are coming out to play.
Leaks surrounding the Fortnite FPS mode began circulating earlier this year, but Redditor 'Additonal_Example51' shares a series of screenshots allegedly showing it in action. Fans of games like Warzone may find Fortnite's version of FPS gameplay odd, as the perspective seems to adopt a far wider field of view than the default setting on the popular COD title.
However, we think cranking up your FOV is wise to give you a better lay of the land. Aside from using the best Fortnite creative codes, players have been using the tools within UEFN (Unreal Editor for Fortnite) to create a playable version of first-person mode, with varying results.
You can even give it a go yourself, as long as you have to Save The World mode – the original game that the battle royale spun off from. YouTuber 'GKI' demonstrates how to access it below.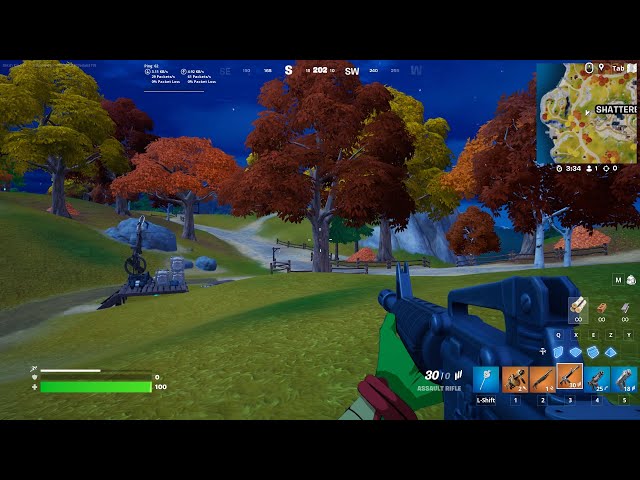 With new and returning additions to Fortnite such as the devastating pump action shotgun, using them in FPS mode would definitely be heaps of fun. We've been roaming around the jungle in Chapter 4 Season 3 as of late, using the vines and an unvaulted item to make a quick getaway.
However, you can see below that only a selection of weapons have emerged for purported demonstration of the first-person mode, including the likes of the Red-Eye Assault Rifle, the MK-Alpha Assault Rifle, and the Bolt Action Sniper.
The Red-Eye Assault Rifle has already given players a taste of mowing down enemies in first-person, and is often a reliable weapon to have in your arsenal.
First Person coming to Fortnite next chapter.
by u/Additional_Example51 in GamingLeaksAndRumours
It was claimed previously that players could activate FPS mode in the last update, but now the Redditor alleges the "next chapter" will see it come to fruition. Fortnite Chapter 4 Season 3 began on June 9, 2023, and won't conclude until August 25, 2023.
But if you are finding that too long of a wait, then we recommend checking out the best FPS games currently out there.