The FIFA 22 release date is one of the most anticipated bits of game news every year. Every year as the current FIFA cycle begins to wind down, football fans flock to see what will change for the next instalment – and this year is no different.
We know EA will continue to build on its four main game modes for FIFA 22: FIFA Ultimate Team (FUT), Volta, Career Mode, and Pro Clubs. Love it or loathe it, FUT is big money for EA, and it has become the cornerstone of developer's strategy for the football sim.
Alongside that, we expect FIFA 22 to really use the power of the PlayStation 5 and Xbox Series X|S. FIFA 21 received a new-gen upgrade for PS5 and Xbox Series X with some nice touches last year, but since FIFA 22 is the first new-gen FIFA game, expect more immersion, lightning-fast loading times, and improvements in the graphics and gameplay through its new HyperMotion technology.
Here are all the details we have on FIFA 22 so far, from its release date, right down to who is on the cover.
FIFA 22 release date
The FIFA 22 release date is set for Friday, October 1, 2021 on old-gen and new-gen Xbox and Playsation consoles, PC, and Stadia.
However, those who buy the most expensive version of FIFA 22, the Ultimate Edition, will get full access to the game four days earlier than everyone else on September 27.
EA Play members will be able to play a ten-hour early access trial of FIFA 22 on September 22, 2021.
FIFA 22 FUT WEb APP Release Date
The FIFA 22 Ultimate Team Web App will release date is September 22, 2021, the same day as the start of the EA Play early access period.
FIFA 22 Cross-play
FIFA 22 will not have cross-play. In a statement, EA Sports clarifies the situation:
"You will be able to match up with and against other players based on the version of FIFA 22 that you are playing.
"If you are playing the PlayStation 4 version of FIFA 22 you will be able to match up and play with and against other players who are playing on the same version of FIFA 22, regardless of whether they are playing on PlayStation 4 or PlayStation 5.
"The same is true for the Xbox One version of FIFA 22, where you will be able to match up and play with and against other players who are playing the same version on Xbox One or Xbox Series X|S.
"If you are playing the PlayStation 5 version of FIFA 22, you will only be able to match up with and play against other players who are playing the PlayStation 5 version."
FIFA 21 had no cross-play capabilities between platforms.
FIFA 22 cover
Kylian Mbappé returns as the cover star of FIFA 22. He features on both editions of the game, but with slightly different artwork on each. You can see both here.
FIFA 22 Ambassadors
As well as cover star Mbappé, five other elite football stars have been chosen as FIFA 22 Ambassadors:
Heung-min Son (Spurs)
Phil Foden (Manchester City)
Christian Pulisic (Chelsea)
David Alaba (Real Madrid)
Trent Alexander-Arnold (Liverpool)
FIFA 22 Gameplay
FIFA 22 gameplay will evolve a fair bit compared to FIFA 21. The highlight of new gameplay features is HyperMotion, which is a series of improvements that will run on new-gen versions of the game only.
There's more info on HyperMotion specifically below, but here are some of the gameplay changes coming to all versions of FIFA 22:
Goalkeeper Rewrite: A brand new goalkeeper system brings a new level of intelligence to the last line of defence, unlocking more reliable shot-stopping and smarter decision-making between the posts. Goalkeeper positioning personality replicates the different styles of keepers throughout the game – to represent the lightning-fast reflexes of world-class shot stoppers.
True Ball Physics: Real-world data imported into FIFA 22 takes the game's ball physics to a new level of realism. Tuned parameters including speed, swerve, air drag, air resistance, ground friction, and rolling friction mean every touch, trap, shot, volley, pass, and dribble will look, move, and fly like the real thing.
Explosive Sprint: A new gameplay mechanic that changes the dynamic of one-on-one situations, Explosive Sprint gives you more control over acceleration when dribbling or defending. Lure opponents in and choose when to unleash your full speed to get away from the defender as you drive your team forward in attack.
New Attacking Tactics: Set up your team with different styles in each half of the pitch with new attacking tactics that give you more control over how you play in FIFA 22: keep the ball in your half and explode into attack with fast build up in the opponent's, play direct from box to box, or line up in your own unique style.
Tactical A.I.: This new feature enhances every player on the pitch making them smarter, thanks to machine learning. It makes reactions quicker and decision-making smarter, with players better understanding their teammates and how to work together, as well as their opponents and their tactics. Tactical A.I. will also give players better personality when compared to FIFA 21.
Composed Ball Control: New Composed Ball Control animations are longer 2 touch animations that make controlling the ball more natural. This enables players to trap the ball in specific circumstances with more fluidity and precision both in responsiveness and visuals, allowing for the better setup of subsequent plays.
A brand new gameplay trailer was just released by EA as well, delving into some of these changes and new features in more detail: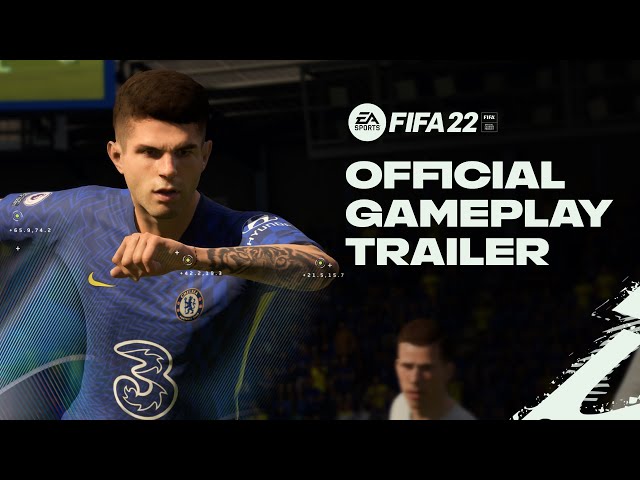 FIFA 22 HyperMotion
HyperMotion is a brand new suite of gameplay improvements coming to FIFA 22, but only for those playing on PS5, Xbox Series X|S, and Google Stadia.
HyperMotion uses the increased performance power of these systems to offer far more intricate, detailed, and realistic gameplay.
This includes machine learning and motion capture of actual 11v11 football matches being used to create hundreds of new animations, plus plenty of other features.
EA are calling this "the biggest animation refresh in FIFA history", with the data collected from this motion capture inspiring more than 4,000 new animations that cover set pieces, shooting, skill moves, passes, player movement, player reactions, celebrations, controlling the ball, two-player headers, falls, getups, dribbling, animation idles, shoulder challenges, seal outs, and more. 8.7 million frames of match data has also been captured to create smoother animations.
You can check out all of Hypermotion's features here.
FIFA 22 Ultimate Team
Ultimate Team has become a cornerstone of the FIFA series since its release as DLC for FIFA 09. Fans can expect FIFA 22 Ultimate Team to deliver brand new Icons, all-new Hero players, more customisation, and loads of fresh challenges to get stuck into.
FIFA 22 career mode
FIFA 22 career mode will introduce a new feature where you can create your own football club to take from "relegation candidates to global giants" in the Manager Mode.
In the Player Mode, EA is promising more ways to progress through your career and a more immersive experience.
FIFA 22 leaks
With the launch of the closed FIFA 22 beta came creators taking cheeky snaps and screenshots of the new game. This has led to EA closing the beta (for now), and we imagine a few slapped wrists. The leaks do create a huge amount of buzz around the game on socials though, so perhaps these leaks do play into EA's favour.
Here are all the FIFA 22 leaks we've seen so far:
For the stat fans amongst us, xG is now included in a players post-match analysis. How many sitters did you miss in the last match?
New & Updated heat maps are in FIFA 22.❗️❗️❗️

Expected goals are now included as a stat too! 📊#LangpardLeaks #FIFA22 pic.twitter.com/sTpsiawwTz

— KingLangpard (@KingLangpard) June 26, 2021
Player heat maps are also included in the post-match analysis, so you'll know if your friend has been slacking all game.
As EA fights to balance the game with each new release, it's been leaked that one OP skill move has been nerfed. We can expect more news on gameplay changes to come as we get closer to release.
Directional nutmegs have been nerfed 📉

Happy or not? 👍🏻👎🏻#LangpardLeaks #FIFA22

— KingLangpard (@KingLangpard) June 26, 2021
New formations are coming to FUT; deeper defensive set teams with fluid counter-attacking play will benefit from setting up with 3-5-1-1, 5-4-1 diamond, and 5-2-3.
NEW #FIFA22 Formations:

3-5-1-1
5-4-1 Diamond
5-2-3

Thoughts? 👀🤩 via @ChampVG pic.twitter.com/pjdFG9862h

— FUTZone- FIFA22, Goals, UFL, (@FUTZONECENTRAL) June 28, 2021
The Loadout is loving the new green look and feel that FIFA have gone for this year. No clues as to why…
#FIFA22 Official Icon + Background Image HD

Download Size: 39GB

📸 @playstationsize pic.twitter.com/n0VmwXDlTq

— FUTZone- FIFA22, Goals, UFL, (@FUTZONECENTRAL) June 23, 2021
Oh, and EA clearly want some because it might be adding Wealdstone FC's league to the game.
According to @FutWatch, new league codes have been added to #FIFA21 that include:

🏴󠁧󠁢󠁥󠁮󠁧󠁿 National League (5th division)
🇭🇺 Magyar Liga (1st division)
🇨🇾 Liga Cyprus (1st division)

Will we see @TheVanaramaNL in #FIFA22 Career Mode? 😍 pic.twitter.com/fI11nmjfM8

— FifaCMTips (@FifaCMTips) June 29, 2021
We hope we'll be able to spot the Wealdstone Raider with his pint in the crowd.
FIFA 22 preorder
You can pre-order FIFA 22 for PC, Stadia, and Xbox and PlayStation consoles right now, and there are two versions for you to chose from: the Standard Edition and the Ultimate Edition.
Here's a breakdown of all the benefits you get for pre-ordering each one:
| | |
| --- | --- |
| Standard Edition | Ultimate Edition |
| Team of the Week 1 player item | Team of the Week 1 player item |
| Kylian Mbappé loan item | Kylian Mbappé loan item |
| FUT Ambassador loan player pick | FUT Ambassador loan player pick |
| Career Mode Homegrown Talent player | Career Mode Homegrown Talent player |
| – | Ones to Watch player item |
| – | Four days early access (Sept 27) |
| – | Dual Entitlement – free PS5/ Xbox Series X|S upgrade |
| – | 4,600 FIFA Points |
There is also a limited time offer with the Ultimate Edition where you can receive one untradeable FIFA 22 FUT Heroes player item.
So that's all we've got on FIFA 22 for now, but we'll update this guide as soon as we get more!