What is in the Exoprimal roadmap? Capcom have already promised a plethora of upcoming content as part of the roadmap for Exoprimal, with details on three seasons and several other gameplay updates on the way. To help you keep track, here's the Exoprimal roadmap detailing all the upcoming seasons and content to come.
The Exoprimal roadmap promises to add even more variety into Capcom's competitive dinosaur co-op shooter, including new Exoprimal game modes and suit variants that could shake up the Exoprimal tier list. We've got all the details on Exoprimal updates for you here.
Exoprimal roadmap
The Exoprimal roadmap is as follows:
Season 1 – Friday, July 14, 2023

Savage Gauntlet game mode – Friday, July 28, 2023
Title Update 1 – Wednesday, August 16, 2023

Season 2 – expected October, 2023

Street Fighter 6 collaboration
Title Update 2

Season 3 – expected January, 2024

Monster Hunter collaboration
Title Update 3
Following the launch of Exoprimal on July 14, 2023, Capcom has detailed the upcoming updates and content coming to the game, namely Seasons, Title Updates, and Capcom Collaboration events. If all goes to plan, we should see a new Exoprimal Season every three months which will see us through to January 2024 with new variant suits, missions, and maps. However, you can check out our Exoprimal review to see how strong the foundations are for the roadmap to build on.
Read on below to find out more about each step of the Exoprimal roadmap, including the latest details on Season 1, Season 2, and Season 3 for the game. With all the new additions on the way, there's lots to look forward to.
Exoprimal Season 1 roadmap
The Exoprimal roadmap for Season 1, which launched alongside the game on July 14, 2023, sees new modes and variant suits arrive shortly after launch.
Savage Gauntlet
10 Alpha variant exosuits
New battle pass
On July 28, 2023, the Exoprimal Savage Gauntlet game mode arrived. This dynamic game mode is aimed at veteran players to put their high level exofighters and builds to the test. In Savage Gauntlet, you will compete against other players for the fastest clear time each week, with new challenges and rules with each reset.
While it's not quite as fleshed-out as fans were expecting, it's a great way to show off your skills and knowledge of the game as you compete for the top score each week under ever-changing conditions. There's even a leaderboards system for Savage Gauntlet, letting you fight for the top spot against the community across the globe.
Season 1 will also see Title Update 1 release on Wednesday, August 16, 2023. This brings 10 Alpha variant exosuits to the game that alter the existing suits with different weapons and tweaked abilities.
The Alpha variant suits are:
Deadeye: Burst Fire
Zephyr: Energy Chakram
Roadblock: Fortress Shield
Witchdoctor: Duality Beam
Barrage: Rocket Hop
Vigilant: Marksman
Murasame: Frost Glaive
Skywave: Thunder Clap
Krieger: Charge Shotgun
Nimbus: Double Barrel
While these are not entirely new exofighters, they will no doubt shake up the meta, hopefully giving the weaker suits the tools they need to shine. Many of these have been showcased on the Exoprimal Twitter account with short clips as well as on the official Exoprimal website. This is the last piece of new content for Season 1, giving players around a month to get used to these before the arrival of Season 2.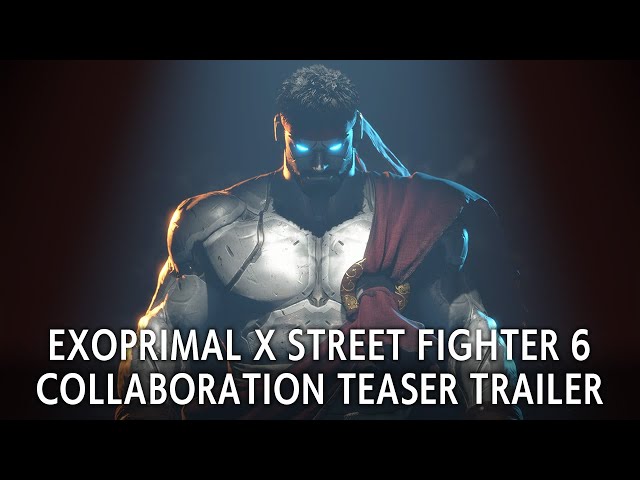 Exoprimal Season 2 roadmap
The Exoprimal roadmap for Season 2 will bring a new map, rigs, modules, and a new final mission stage as part of Title Update 2. It will also see the first Capcom Collaboration event, starring Street Fighter 6.
New map
New final mission stage
New modules
New rigs
Street Fighter 6 collaboration skins
New battle pass
Season 2's Title Update 2 sees the first new map come to Exoprimal, Ocean Platform. Capcom have not revealed much about this map besides the small thumbnail image that suggest an oil rig-like environment, so it's likely to be a very hazardous location to fight hordes of dinosaurs in. Hopefully you're not afraid of the ocean, otherwise there's more to worry about than deadly dinos.
Likewise, we also know there will be new rigs and modules available as part of this update, though Capcom have yet to reveal what they are. Nevertheless, these will add some much-needed variety and depth to our builds with more customization options during combat.
Lastly, Title Update 2 brings a new final mission stage, though we are yet to learn more. Similar to the additional rigs and modules, this should give the Dino Survival playlist more variety. With how chaotic and challenging the final missions can be, we're excited to learn more about this new mission type.
During Season 2, we're set to see the first Capcom Collaboration event. We're yet to learn exactly what this entails, but various Street Fighter 6 themed cosmetics have been revealed, such as a Ryu skin for Deadeye.
Exoprimal Season 3 roadmap
The Exoprimal roadmap for Season 3 reveals more variant exosuits, a Neo Triceratops, and the Capcom Collaboration event for Monster Hunter.
10 Beta variant exosuits
Neo Triceratops raid boss
Monster Hunter collaboration skins
New battle pass
First things first, Season 3's Title Update 3 is planned to add Beta variant exosuits. Similarly to Title Update 1 during Season 1, this will add new weapons and tweak skills for the existing suits to provide alternative playstyles for all our favorite characters.
Next, it's also set to bring the Neo Triceratops, which looks to be a new raid boss, similar to the Neo T. Rex that players can encounter in-game already. This will add another challenging encounter that will put both your skills and build to the test.
To wrap up the roadmap, we'll also be getting the second Capcom Collaboration event during Season 3, this time focusing on Monster Hunter. No doubt once we learn more about the Street Fighter collaboration, we'll have a better idea of what to expect.
Beyond the Exoprimal roadmap for the first three seasons, it's clear that Capcom are interested in supporting the game even further if it is a success. The official roadmap teases 'and more' to come in future updates.
That's everything you need to know about the Exoprimal roadmap according to official information from Capcom. With so much content on the way, this unique competitive dinosaur-slaying shooter could be one of the best co-op games. It's certainly tense enough to be best competitive FPS games right now, even if you're not here for PvP combat.