The Elden Ring patch notes for version 1.03 of FromSoftware's hit demi-god-slaying ARPG brought all kinds of bug fixes and balance changes to the game. While players were despairing over broken weapons being brought into check, the studio did offer something juicy in return – a brand new quest NPC. So, to help you out, you're going to need an Elden Ring Jar-Bairn quest guide.
Located in the village of Jarburg, Jar-Bairn is the nephew – be that through blood (clay?) relation or otherwise – of everyone's favourite pot boy, Iron Fist Alexander. As a reward for following this Elden Ring Jar-Bairn quest guide and becoming the ruler of the jar folk, you'll receive the Companion Jar talisman, which raises the potency of thrown jars.
However, this quest does have a couple of prerequisites which mean you won't be able to fulfil your destiny of becoming Jarburg's Potentate until much later into the game. Firstly, you must have cleared all three Volcano Manor hostile NPC invasion quests, and secondly you must have completed Alexander's quest line. If you want to avoid spoilers for these quests, then come back later once you've finished them.
Elden Ring Jar-Bairn quest guide
To reach Jarburg and begin the quest, players must hop down the tombstones jutting out of the cliff face just to the south of the Carian Study Hall. Jar-Bairn can be found sat at the top of a set of stairs leading up to one of the homes there. He will initially ask you to become Potentate to protect the jar folk from poachers, but alas, your hands are too rough for the job.
You'll then have to cycle through reloading at the Jarburg Site of Grace and chatting to Jar-Bairn again several times until he mentions that a new Potentate with silky smooth hands has arrived in the village. As it transpires, it's Diallos, but apparently he's down pretty bad and will no longer fight. Head deeper into the village, and you'll find the House Hoslow man tending to a jar in the shack at the very end of it.
After exhausting Diallos' dialogue options, reload once again and you'll find Jar-Bairn at the entrance to the village. Poachers had descended upon the village, and Diallos fought them off. Unfortunately, he sustained a mortal wound, and reloading once more after talking to him will see you standing over his dead body.
Related: Here's the best Elden Ring boss order
Talk to Jar-Bairn again and reload. You'll now find him perched upon the stairs once more. Give him Alexander's Innards, and he'll thank you before setting out on a journey. Reload one last time, and you'll find the Companion Jar talisman where he was sat.
For a more visual guide to this quest, check out this video from 'Games from Mars'.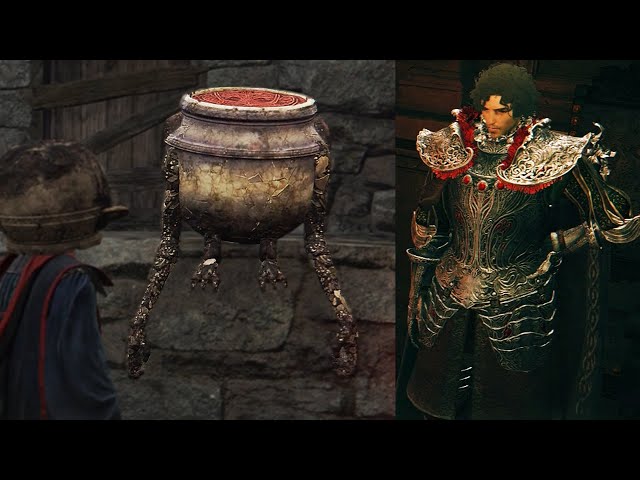 And there you have it, the complete Elden Ring Jar-Bairn quest guide. Although Diallos lived a pretty unfortunate life, we're glad FromSoftware gave him the hero's ending he absolutely deserved. For more Elden Ring quest guides, check out our Elden Ring walkthrough page.