We know it goes somewhat without saying, but Elden Ring is widely regarded as one of the best video games of all time – and it's accolade as The Game Awards' Game of the Year for 2022 is certainly reflective of that. However, for a lot of fans, it's also regarded as one of the hardest games out there. As a soulslike game from FromSoftware, this was always going to be the case. However, as Bandai Namco has recently revealed, it looks like this RPG's bosses aren't the only thing troubling players. What do we mean by this? Well, 14% of Elden Ring's deaths were caused by fall damage – and that's a lot of deaths.
As highlighted in this Elden Ring infographic from Bandai Namco, there has been over nine billion deaths in Elden Ring so far – that's 9,000,000,000 in numbers. Of these nine billion deaths, 14% of them – which equates to at least 1,260,000,000 – were due to fall damage and players falling to their deaths.
As you may already expect, the majority of player deaths in Elden Ring are the result of enemies and NPCs. As you can see below, they account for 69% of player deaths – with only 2% being caused by other Tarnished in the Lands Between.
Interestingly, 15% of player deaths were caused directly from status effects being left untreated; this includes things like poison, Scarlet Rot, blood loss, frostbite, Death Blight, and madness. We don't know the specifics, but it all sounds quite gruesome.
Elsewhere in the infograph, Bandai Namco reveal that Elden Ring's hardest boss (Malenia, Blade of Miquella) is the one Elden Ring players have tried to beat the most – which is roughly 329 million times. If you're someone who has followed this Elden Ring boss order and still struggled, you'll be pleased to know that Margit the Fell Omen is the second-most tackled boss clocking in at 281 million attempts. What does this all mean? Well, technically, it means that fall damage was more deadly that Elden Ring's toughest boss.
When it comes to spells and incantations, Rock Sling is the most popular spell cast with Crystal Torrent and Glintstone Pebble in second and third respectively. Blessing of the Erdtree is the most acquired incantation – which makes a lot of sense when you consider how effective it can be at healing you when you're in a tight spot.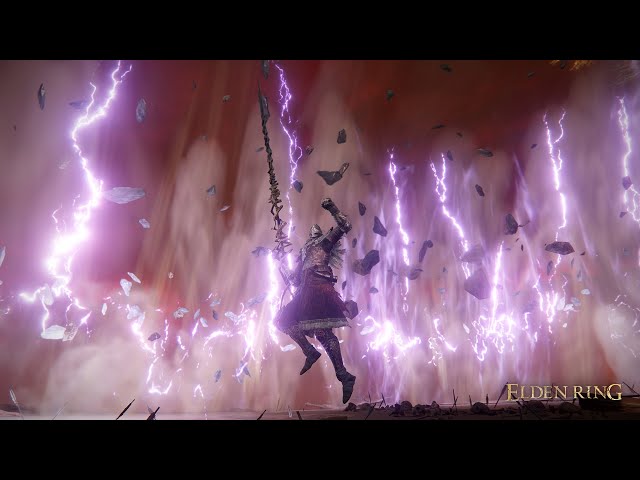 If you're looking for more Elden Ring, you're also not alone. We have everything you need to know about the Elden Ring Shadow of the Erdtree release date right here. This is one of the best RPG games out there – but, maybe it should look into introducing some sort of guard rail when it comes to big drops. Even the best Elden Ring weapons can't protect you from gravity.