Awesome Games Done Quick 2022 has been and gone, and needless to say it was an absolute corker. With the event celebrating its first year of being completely online by racking up a record-breaking $3.4 million in donations for the Prevent Cancer Foundation, the quality of its runs was matched only by the generosity of its viewers.
This year, we were treated to runs for a slew of current gen games, including Ratchet & Clank: Rift Apart, Returnal, and The Loadout's game of the year – Deathloop. Arkane's hit temporally-twisted FPS game was applauded for its innovation in our Deathloop review, yet what stood out at AGDQ was the innovative ways its runner, 'CreeperHntr', went about blasting through it at a blistering pace.
Naturally, we wanted to learn more about the run, the brains behind Deathloop's speedrunning community, and the ways in which both Arkane and publisher Bethesda had supported the runners in their game-breaking ventures. So, we went and had a chat with CreeperHntr himself.
A seasoned runner, CreeperHntr started out speedrunning back in 2014 after watching Summer Games Done Quick. The first game he truly dedicated himself to mastering was 2016's DOOM reboot, and has largely stuck to FPS games – particularly those published by Bethesda – since then.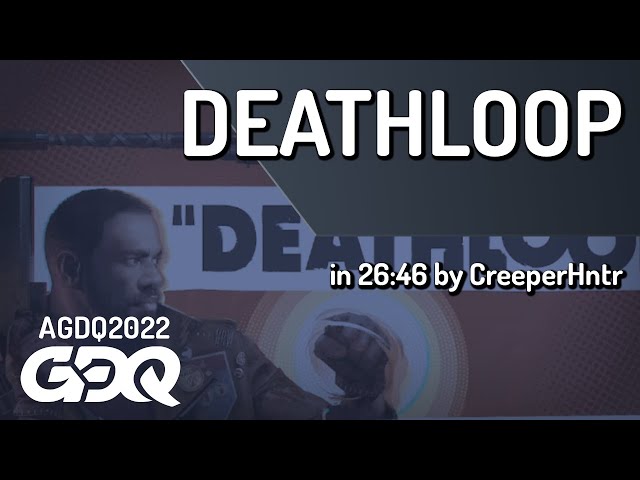 For CreepeHntr, the routing and glitch hunting aspects of speedrunning is what he loves the most about the form. Needless to say, with Bethesda games, the latter always results in some truly incredible skips. When it came to Deathloop, its relatively small community of runners looked to Arkane's previous titles for inspiration for their initial glitch hunting efforts.
"For me, I usually start by looking at what engine the game uses," CreeperHntr says. In Deathloop's case, this is the Void Engine utilised in other Arkane games such as Dishonored. Fortunately, a number of runners from Arkane's community came across to create a two-pronged attack, bringing with them their knowledge of older skips. Thanks to this shared knowledge between the runners, tricks like the 'bottle skip' – which allows cutscenes associated with picking up certain objects like the Hackamajig to be bypassed – was found.
One of the most incredible skips seen during the run is the 'LPP skip'. At one point, CreeperHntr plops down a ballistic turret next to the safe in Colt's room. In the moments that follow, another Colt spawns next to the turret, which it gladly fills with lead, subsequently spawning an invisible Colt while the runner is busy clipping his way into the safe itself.
After grabbing the LPP from the safe, CreeperHntr blows up a mine – enabling the ability to move around with access to the UI during what the game is registering as the cutscene – and assassinates the remaining visible Colt before finally grabbing the LPP (which has already been taken) one more time to trigger the quest's progression. It's a lot, we know – you should watch the run after you've read this.
The creation of such a spectacle, CreeperHntr explains, was due to the efforts of runners 'seekerTV', 'zood', and 'cearadeath' – all of whom feature prominently on the speedrun.com leaderboards. What was originally just a simple clip into the safe to grab the LPP before watching the cutscene, turned into a series of consecutive manipulations to get out of watching it entirely.
"We thought maybe we could use a Reprise to get out of the cutscene, but that didn't work because you don't take damage when you're in a cutscene," CreeperHntr recalls. "I really don't know why they tried using a turret – if I had to guess it was because it spawned another Colt. So they were like 'okay, well this is an enemy turret, so theoretically it should just shoot a friendly Colt. And it did."
However, the end point of the cutscene must still be triggered in order to advance the quest, prompting the remainder of the skip. Indeed, the chaos we see on screen is actually the result of incredibly logical, step-by-step troubleshooting from the runners involved – the science behind the magic. All of this effort scored the runners a solid one-minute time save. To us, it might not seem much, but in a game of seconds the LPP skip is invaluable.
Thanks to tools like 'lean clipping', 'bottle skipping', and 'grenade jumping', Deathloop's runners have been able to orchestrate huge time saves since its release – the LPP skip being a more modest one – in an incredibly short period of time. Grenade boost past a long conversation with Juliana at the beginning of the game? Two-and-a-half minutes saved. Clip in and interact with the terminal in Karl's Bay? Completely bypass having to do any of the legwork in the lead up to killing Frank.
Due to the community's efforts, the run itself has been quickly optimised. Just three days after the game's September 14 release date, CreeperHntr posted a run that took 49 minutes and 30 seconds. A day later, an entire loop had been erased from the run, and he returned with a time of 31:59.
By the beginning of October, Deathloop was being cleared in sub-20 minutes. The current Any% record – set by seekerTV on October 20 – stands at just 17:13, with no one yet to come close to it.
Having been nominated for game of the year at The Game Awards 2021, while picking up the accolade in the all-important 2021 The Loadout Awards, it seemed a dead cert that Deathloop would make its Games Done Quick debut at AGDQ 2022. With a Prey run at Harvey Relief Done Quick 2017 under his belt, CreeperHntr knows what it takes to get into the event, and says there was no guarantee that the game would be accepted.
"I had the fastest PB that had been submitted for Deathloop," CreeperHntr says, "so I was pretty confident that I was going to get in [if it was accepted]. But you never know – sometimes they don't take new games. It depends on if the runs are interesting enough, because they're ultimately trying to make entertainment to raise money to help people."
Fortunately, not only did CreeperHntr get the greenlight for the event, but he was actively supported by both Arkane and Bethesda. On the day of the run, the official Deathloop account sent out a tweet urging its followers to watch along – a gesture CreeperHntr was delighted by.
"I tweeted out the run," he recounts. "I closed my phone. I did the run. And then I looked at my phone and I had like 200 notifications – 'what the hell just happened?' And then that's when I saw the tweet. I had no idea they were going to do that. I was very, very surprised, and very, very happy about it."
Tune in for @CreeperHntr's Any % run for @GamesDoneQuick!

May time be on your side. https://t.co/YYJ3BU8z4l

— DEATHLOOP (@deathloop) January 9, 2022
CreeperHntr tells us that both developer and publisher have allowed the route to flourish, only stepping in here and there to patch out some of the really game-breaking interactions, or things which would encroach on multiplayer. He notes that devs will pop into runners' Twitch channels from time to time – this was especially the case when the game first launched – to check in on the runners' efforts. After all, what better form of free post-launch QA is there than a bunch of people intentionally trying to break your game?
Among those often present in the runners' chats is Joe Leiter, senior QA tester for Bethesda. As part of the role, Leiter spent a great deal of time speedrunning Deathloop in the lead-up to launch, making him the perfect guest to have on the GDQ couch. CreeperHntr was eager to get him involved, but initially didn't make contact as he felt Leiter would be too busy – that was until Leiter messaged him a few days prior to the event asking to get in on the action. Naturally, the runner accepted Leiter's request, and the rest is GDQ history.
With another run on the GDQ stage now under his belt, CreeperHntr says he plans to learn the routes for all of Arkane's games, but first he plans to conquer the upcoming Serious Sam: Siberian Mayhem. The pursuit of perfection does come at a cost, however, as he admits that once a game has been sped through, "it gets really really hard to play casually."
For Deathloop, the runner initially tells us that he reckons he could go back to playing it the way the devs intended, before quickly backpedalling with a chuckle. "I say that [I could go back], but I just bought a console copy and then I immediately started speedrunning it." So who knows? Maybe I'm lying to myself."
Indeed, the speedrunning nectar is an addictive one, and should you, dear reader, wish to sup from its chalice then CreeperHntr's advice is simple: "Find a game you love, and just try it." From there, he suggests hunting down the game's community and getting involved, with most (if not all) communities welcoming fresh blood. Right now, the Deathloop community sits at around ten members, having dropped off since its initial post-launch flurry of activity, though it remains active and open to new members.
Deathloop's GDQ run is certainly a special one. It celebrates the connection between developer, publisher, and player, while treating us as viewers to some truly amazing entertainment. It's also a recognition of the immense amount of work the game's modest band of runners have put into meticulously routing it in a short amount of time.
If you want to check out more of CreeperHntr's speedrunning pursuits, then check out his YouTube channel, or if purple's more your colour then drop by on Twitch.