Warzone players are always looking for a new breakout weapon that enters the Warzone meta and can hold its own. And, the AX-50 is one of the latest weapons to be able to hold its own in a fight. But, what is a good AX-50 Warzone loadout with the best attachments and set-up for the battle royale?
Well, with so many different possibilities it can be hard to really nail down a set-up and class build that you want to use. However, there are a number of solid recommendations out there that can make the sniper one of the strongest weapons you can use in a match of Warzone.
This guide will cover the different options within the class set-up and give a solid recommendation for what to use. Below, you can find our choice for the best AX-50 Warzone loadout and what attachments to run with it.
Best AX-50 Warzone loadout
'JGOD', who always has a keen eye for great loadouts in Warzone, recommends a solid class set-up thanks to the recent AX-50 buff. Here is what you need to know about the best AX-50 Warzone loadout:
Muzzle: Lightweight Suppressor
Barrel: 17.0″ Factory Barrel
Laser: Tac Laser
Stock: Singuard Arms Assassin
With the buff making the weapon hit-scan this build is all about improving the other aspects of the sniper rifle, as bullet velocity and range isn't a focus.
The Lightweight Suppressor will obviously keep you off the map and ensure you can stay alive longer, without suffering from the negative effects of the weapon that usually comes with a suppressor.
The Factory Barrel improves your movement and aim down sight speed, with the Tac Laser and Singuard Arms Assassin also improving the weapon in similar ways.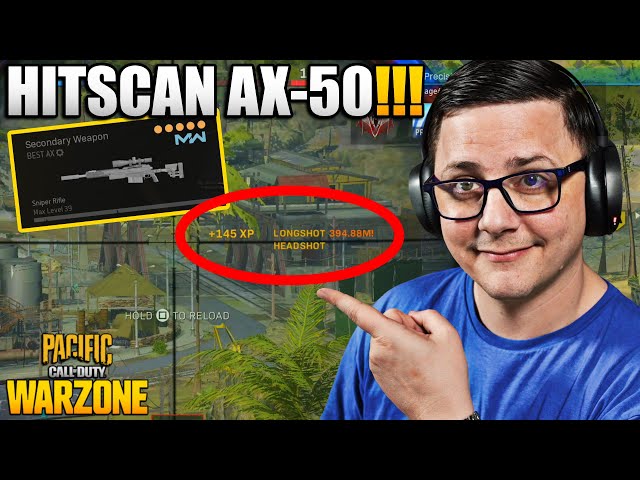 AX-50 Warzone Loadout Secondary
With a sniper rifle, you are going to want an SMG to cover your back and a good choice is the Cooper Carbine as it covers all the other ranges that a sniper rifle isn't as effective at.
If you do want to run with it, check out our rundown of the best Cooper Carbine Warzone loadout, to pick a good set of attachments for the weapon.
AX-50 Warzone Loadout Perks And Equipment
As for the perks, you are going to want to run with the strongest perks at the moment, which are Double Time, Overkill, and Combat Scout. On top of that, a stun grenade can help you out in close-range fights that sneak up on ou and protective equipment like a Claymore and Proximity Mine can help protect your back while you are sniping.
While the AX-50 is one of the best Warzone guns to use, it shouldn't let you down when in a fight.