Call of Duty's next seasonal update for Modern Warfare 2 and Warzone 2 is almost upon us, and there's quite a bit to look forward to. From a brand-new Warzone 2 map Vondel, to six multiplayer maps in MW2, there's going to be a lot of new ground to tread – and, you'll be able to use new operators and new weapons to do it. However, if you want to climb the Warzone ranks, you'll be pleased to know that the Warzone Season 4 Ranked rewards include a weapon blueprint for the best Warzone 2 SMG out there right now.
As per this mammoth Call of Duty blog post, that details everything coming to both MW2 and WZ2 at the start of Season 4, the Warzone Ranked Season 4 rewards include a "Pro Issue Lachmann Sub Blueprint" – alongside a large decal cosmetic and a weapon charm. You can unlock this blueprint by finishing in the top five a total of 25 times during the season. So, it isn't the hardest thing to achieve if you play smart and safe.
If you're someone who uses the best Warzone 2 Lachmann Sub build – or the best Modern Warfare 2 Lachmann Sub build, for that matter – this is going to be a reward worth chasing. If you jump into Modern Warfare 2's Ranked mode during Season 4, you'll also be able to unlock a "Pro Re-Issue Vaznev-9K weapon blueprint", a new seasonal weapon camo, and more cosmetics. All you need for that weapon blueprint is ten wins, which really shouldn't take you too long.
While we're still not sure whether Ranked is saving Warzone 2's status as one of the best battle royale games out there right now, there is quite a lot more coming to this free-to-play multiplayer shooter that might. You can see a run-through of the new content roadmap below: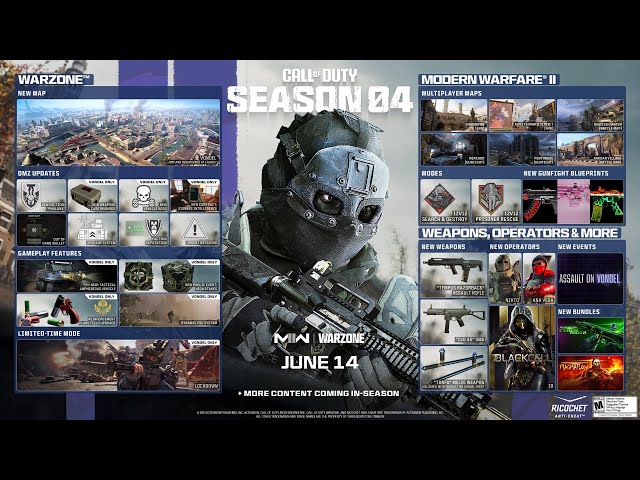 New-mode Lockdown is expected to arrive in-game on June 28, bringing the action of MW2 multiplayer mode Hardpoint to the new mid-size battle royale map Vondel. Dynamic fog updates are coming to Vondel in DMZ, too – something which should add some interesting drama to games on the map. Call of Duty is also introducing a TAV – Tactical Amphibious Vehicle – to this canal-based map, while also removing the oppressive sandstorms on Al Mazrah.
If you want to know more about all the new Modern Warfare 2 guns and weapons coming to Warzone 2, you can find out that information here. Modern Warfare 2 is also delivering a classic Modern Warfare map alongside an SMG you might recognise if you're a series veteran. So, it's not all about the battle royale game.
The Warzone 2 Season 4 release date is almost upon us and we're hoping the upcoming patch notes contain something that will help this game rise to become one of the best competitive FPS games again. We should learn a little more at Summer Game Fest on June 8 – and you can find out more about all the confirmed games right here.