Modern Warfare 2 Season 4 Reloaded is here, bringing an unexpected The Boys crossover and fresh multiplayer delights along with it. While Infinity Ward gives its 6v6 playlist an injection of life with the new Vondel Waterfront map, Modern Warfare 2 fans aren't taking too kindly to this latest Call of Duty locale.
Following Vondel's Call of Duty Warzone debut, the Netherlands-inspired map is giving way to a spin-off map, Vondel Waterfront, for close-quarters multiplayer skirmishes in MW2. Despite taking influence from Vondel's vibrant architecture, COD players like 'No_Rich5432' believe it to be nothing than a copy and paste job: "Ctrl C + Ctrl V = NEW Multiplayer Map."
The map appears to share an aesthetic similar to that of Himmelmatt Expo, but is far more contained. Calls for more intense playlists have been rife as of late, so it is surprising that Vondel Waterfront isn't satiating that need for players from the map's initial preview. Instead, in lieu of highly requested maps from previous COD eras, players like 'OviDgl' vocalize concerns for future seasons.
"At this point, the maps are a joke. They added classic maps like Afghan, Highrise, Quarry, and even Terminal to freaking Warzone. They are so disconnected from the player base," says the Redditor.
Ctrl C + Ctrl V = NEW Multiplayer Map
by u/No_Rich5432 in ModernWarfareII
Maps like Shipment and Shoot House from Modern Warfare (2007) and its 2019 reboot consistently appear in the game's multiplayer, but other classic maps are still waiting in the wings. Whether we'll see coveted maps return when the Call of Duty 2023 release date arrives, which is rumored to be Modern Warfare 3, remains to be seen. And some lucky people have seen it already.
However, it isn't out of the ordinary for Call of Duty games to retrofit campaign locations, many of the best FPS games opt for the same approach, and some players such as 'Djabouty47′ are willing to Vondel Waterfront a fair chance: "Yeah it's copied from Warzone, but they did do a lot of adjustments to the map. Let's just see if it plays well first.'
Vondel Waterfront is described "an intensified focus on the Floating District, here labeled as the Vondel Waterfront and adjusted for an optimized Multiplayer experience", according to a recent COD blog post. Though the location might be familiar for Warzone veterans, Activision highlights key changes made to the Vondel POI that should ensure unique multiplayer encounters:
The Waterfront District features four buildings that Operators can move within, compared to the ten traversable buildings in the Floating District.
Two of these traversable buildings have new coats of paint: The Red and Blue Houses are the Multiplayer map's two most prominent power positions.
The navigable waterways throughout the Multiplayer version have been streamlined for a more predictable flow.
Some architectural changes have been made (i.e. deck adjustments in some places, additional borders around the map's edges).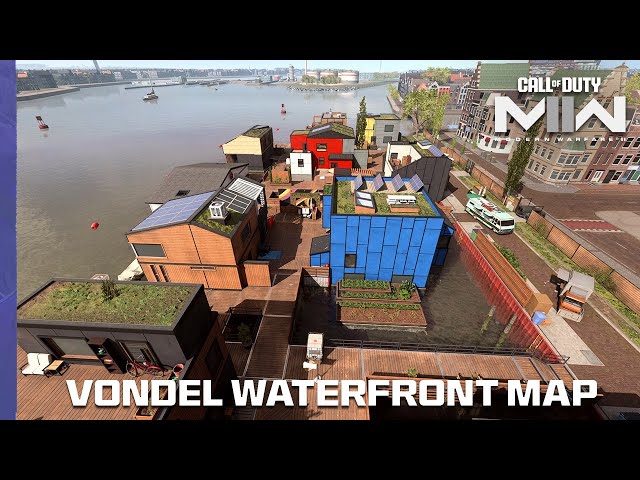 There are four different spawn points to learn too, which will be utilized across Domination, Hardpoint, and Search & Destroy. So before you consider whether Vondel Waterfront will be worth a test for yourself, you'll probably have more fun after glancing this MX Guardian unlock guide for maximum carnage.