The MW2 Season 4 Reloaded release date is fast approaching and Call of Duty has just confirmed what players can expect to see from The Boys collaboration that was teased at the start of the current Warzone season. If you like the Prime Video series, you'll be pleased to know that The Boys' own Homelander is joining Modern Warfare 2 and Warzone alongside Starlight and Black Noir. While this is, of course, exciting enough on its own, we also know when the The Boys bundle release date is set for – at least, when the crossover event officially starts. The Warzone Season 4 Reloaded release date can't come soon enough, right?
Ahead of the Season 4 Reloaded update, which is scheduled to begin simultaneously in Warzone and MW2 on July 12, The Boys itself has confirmed that Starlight, Homelander, and Black Noir will all be joining Call of Duty as playable operators in the upcoming The Boys crossover event.
If you want to get a glimse of the three in-game ahead of a more substantial announcement, you can check that out below:
As you can see below, this information was revealed through a mock press conference – which fits in well with The Boys' meta commentary on the superhero genre and the world – in which Black Noir – who comically doesn't speak – confirms that the trio will appear in Call of Duty. Then, the Vought News Network confirms the date of the upcoming update when Black Noir is asked when the skins will be available.
At the moment, we don't know if that means all three skins will be available on the same day or not. However, the release of collaborative event skins has often been staggered in the past. So, we would expect these three to also be released consequentially – and not all at once.
Wrapping things up, the video confirms that Black Noir's blades "make the cut" – which is as good as we get to confirmation that there will be full bundles available. Although, this isn't too surprising given Call of Duty's past when it comes to collaborations like this.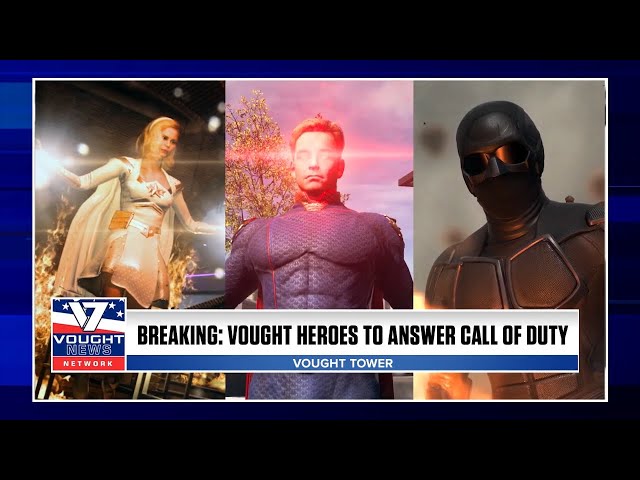 With this exciting announcement coming just a matter of hours before the update, we should learn more about what these The Boys bundles come with shortly. Will there be blueprints for the best Warzone guns available? We can hope so, but only time will tell. We know we think MW2 should embrace its roots with classic guns in this update, but we'll take a cool collaboration like this for now.