Battlefield 2042 is set to release with three modes: All-Out Warfare, Hazard Zone, and Battlefield Portal. All-Out Warfare are the traditional modes we love and Hazard Zone is a new multiplayer experience that we still know very little about. But what is Battlefield Portal?
Well, Battlefield Portal is Ripple Effect Studio's love letter to fans. The mode puts the power of custom modes back into the hands of fans, allowing you to create crazy custom games with the assets of four Battlefield games: Battlefield 2042, Battlefield 3, Battlefield 1942, and Battlefield Bad Company 2.
Fans will be able to not only enjoy custom games that'll pit World War Two soldiers up against modern Battlefield 2042 specialists, they'll be able to create them too using a web app that even includes visual scripting elements. In other words, you can create your own war, with your own rules.
But there's so much more to the mode than just the above. If you're looking for answers on things like the Battlefield Portal release date or even the Battlefield Portal trailer, we've got you covered.
What is Battlefield Portal?
Battlefield Portal is a mode built around custom modes. Like Fortnite Creative, fans will be able to create their own modes using a web app called Builder. Here, you'll have the option of building around templates, like traditional Rush or Conquest, or building your own mode from scratch.
In the Builder, players will be able to pick from one of 13 Battlefield Portal maps, and countless Battlefield Portal weapons, Battlefield Portal vehicles, and Battlefield Portal gadgets. In other words, you'll be able to pit Battlefield Bad Company 2's Wehrmacht against Battlefield 3's USMC. You'll also be able to see who wins in a fight between several EOD bots and a tank.
Like Fortnite Creative, the best maps will be showcased online by the developers, giving long-term creators the credit they deserve.
Battlefield Portal release date
When is Battlefield Portal coming out? The Battlefield Portal release date is the same as Battlefield 2042's release date – October 22.
Since Battlefield Portal is a mode of 2042's, you'll be able to enjoy custom games alongside All-Out Warfare and Hazard Zone on launch.
Battlefield Portal trailer
If you're looking for a Battlefield Portal trailer, we've got good news for you – it's bloody fantastic. You can watch the trailer, which aired at EA Play below, but be warned: it's full of stupid battles that you'll absolutely want to recreate when the game launches later this year.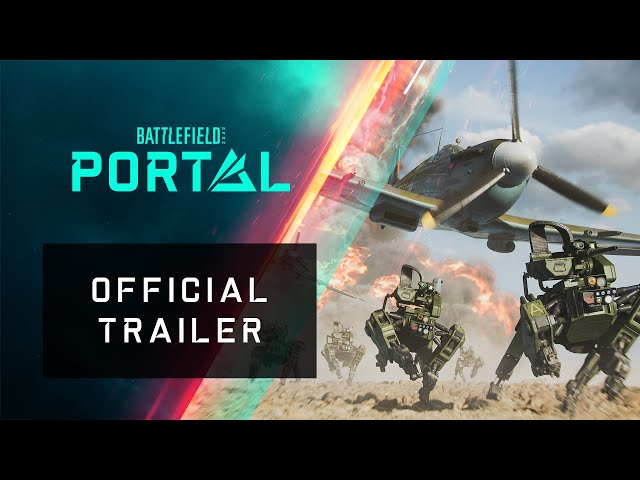 Can you make a battle royale in Battlefield Portal?
No, you cannot make a battle royale mode in Battlefield Portal. Since Portal is an experience editor, not a map or level editor, it's simply not possible.
In an interview with The Loadout, senior design developer Rob Donovan says Portal doesn't have the specific tools needed for that mode. Instead he hopes fans get creative and develop the next big game mode.
Will you earn XP while playing Battlefield Portal?
Yes, even though Battlefield Portal is focused on custom modes, you'll still be able to earn XP for the main game.
That's everything we know so far about Battlefield Portal. We'll update this guide if we hear anything new.