If you're sitting there as a fan of the Assassin's Creed series, but you're not excited about Assassin's Creed Mirage, then you should be. It's that simple. Assassin's Creed Mirage has more than one homage to the series' origins on offer and one of the most exciting things about this upcoming action-adventure game is that Ubisoft is dropping RPG mechanics in favour of a gameplay style akin to the earlier games in the series. That's right, we're getting a classic stealth-based experience again; this slick stealth gameplay is going to benefit from the return of one highly-anticipated feature: eagle marking.
Yes, you're reading that right. The feature that went AWOL without much of an understandable reason in Assassin's Creed Valhalla is returning in full force in Assassin's Creed Mirage. Yeah, we can't wait for the Assassin's Creed Mirage release date.
In a Developer Trailer Breakdown following the release of the Assassin's Creed Mirage Cinematic World Premiere trailer, Ubisoft News' Yousseff Maguid spoke to creative director Stéphane Boudon, narrative director Sarah Beaulieu, and art director Jean-Luc Sala about what we saw and what we can expect from this upcoming release.
Towards the end of the trailer breakdown, during a shot showing Basim's eagle Enkidu soaring above Baghdad, Boudon confirmed that players "will be able to control [Basim's] eagle" – just like you can control Senu in Assassin's Creed Origins, Ikaros in Assassin's Creed Odyssey, and Sýnin in Assassin's Creed Valhalla.
Adding to this, Boudon also confirmed that "the possibility of marking the enemies with your eagle" would be returning as a feature in Assassin's Creed Mirage. If you skipped out on Valhalla after Odyssey, you might be surprised to learn that – for some unknown reason – Eivor cannot use Sýnin to mark enemies in-game.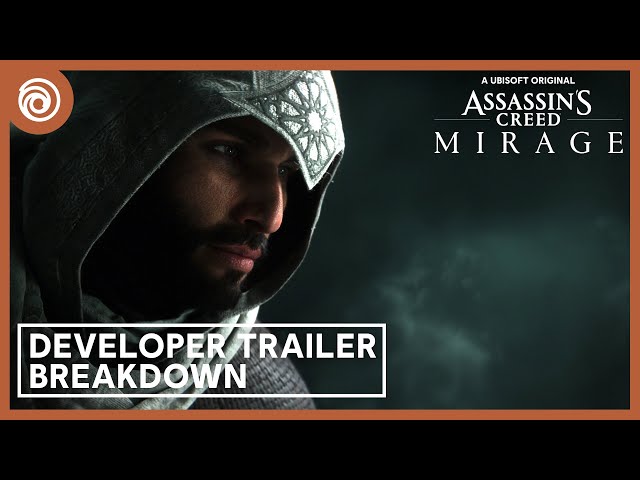 Perhaps this is something to do with the fact that bird companions like Ikaros and Senu literally have eagle vision, but Synin is a raven – which, we suppose, is logical.
In any case, Ubisoft is setting this sequel up to prove that Assassin's Creed Mirage's Basim is a better assassin than Ezio. With eagle-marking being reintroduced alongside smoke bombs and poison darts, we're really in for one of the best Assassin's Creed experiences to date with Mirage.
That's not all Ubisoft has up its sleeves, either. If you're looking for more information on Assassin's Creed Infinity's Project Hexe and Assassin's Creed Infinity's Project Red, you can find that here. We also think an Aztec Assassin's Creed game makes perfect sense and you can find out more about that right here.