It's the climax of the League of Legends calendar. It's the biggest, most-watched event in all of esports. It is, of course, the League of Legends World Championship.
Worlds sees the planet's best League of Legends teams of the year battle it out and become world champions. Worlds 2021 was one of the biggest yet, breaking esports viewership records. 2021's thrilling five-game final between DWG KIA and EDward Gaming saw over four million people tune in at its peak – and that's not counting the Chinese audience.
The entire tournament spans more than a month from the play-ins to the grand final so there's a lot of top-tier competitive League of Legends to whet appetites. But if you've never tuned in before, or want some more information about what is the esports calendar's biggest event, we've got you covered. From dates, to format, to previous champions, here's all the info you need around LoL Worlds.
When is League of Legends Worlds?
Riot has yet to announce the dates for LoL Worlds 2022.
The 2021 League of Legends World Championship was scheduled to take place from October 5 to November 6, with the final scheduled for that final day, November 6. The tournament was originally supposed to be spread out across five different host cities – Shanghai, Qingdao, Wuhan, Shnzhen, and Chengdu – but the ongoing pandemic has meant Worlds 2021 will now be hosted in Europe.
Related: The League of Legends ranking system explained
It was later confirmed that Iceland would be the host nation for LoL Worlds 2021, which made sense considering the infrastructure already in place from Riot hosting MSI in Reykjavik earlier in the year.
Like with MSI, fans weren't able to attend in-person.
League of Legends Worlds 2022 location
LoL Worlds 2022 is set to take place across three North American countries: Canada, Mexico, and the USA.
As it stands, here are the cities and venues where each stage of the tournament will be played:
Play-Ins: Liga Latinoamerica Arena, Mexico City, Mexico
Group Stage and Quarterfinals: Hulu Theatre, New York City, USA

Semifinals: Scotiabank Arena, Toronto, Canada
Finals: Chase Center, San Francisco, USA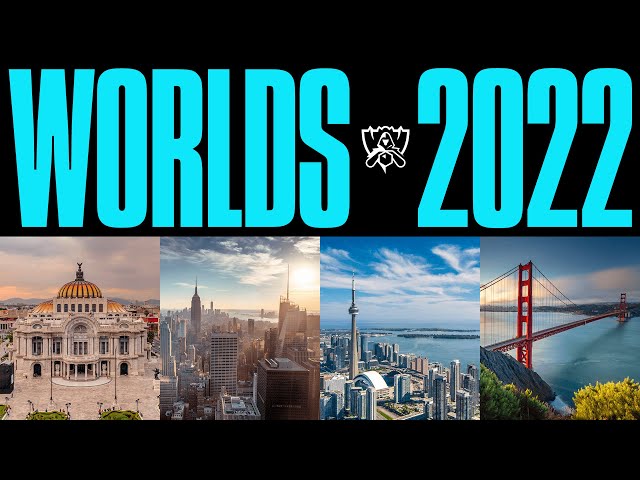 League OF Legends Worlds 2021 schedule
This was the full schedule for Worlds 2021.
Play-in Stage: October 5, 2021
Group Stage, Round 1: October 11-13, 2021
Group Stage, Round 2: October 15-18, 2021
Quarterfinals: October 22-25
Semi-finals: October 30-31
Finals: November 6, 2021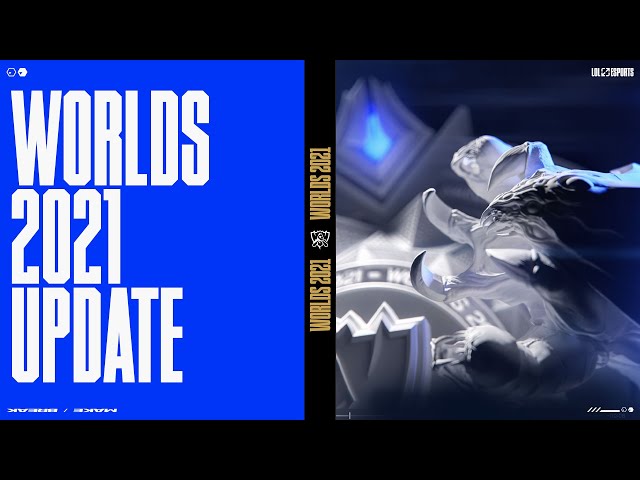 What is the League of Legends Worlds prize pool?
The League of Legends World Championship has an initial prize pool of $2,225,000. This is likely to grow, however, since Riot Games often adds a percentage of in-game sales from Championship skins.
Which teams are in League of Legends Worlds 2021?
Usually the 16 spots in the League of Legends Worlds group stage are filled by the 12 top seeded teams from China, Korea, Europe, North America, Vietnam, and the Taiwan / Hong Kong / Macao / Southeast Asia region, with the remaining four spots in the group stages being filled by the four winners of the play-ins.
The teams which win the previous year's Worlds, as well as the current year's MSI, also grant their regions one extra spot. As DWG KIA won Worlds 2020, and Royal Never Give Up was victorious at MSI 2021, the LCK and LPL had four representatives at this year's Worlds.
This is what the seeding looked like for LoL Worlds 2021:
Four teams each: LPL (China), LCK (Korea)
Three teams each: LEC (Europe), LCS (North America)
Two teams each: PCS (Taiwan / Hong Kong / Macao / Southeast Asia), VCS (Vietnam)
One team each: CBLOL (Brazil), TCL (Turkey), LJL (Japan), LLA (Latin America), LCO (Oceania), LCL (Commonwealth of Independent States)
Here are the teams which originally qualified for the LoL Worlds 2021 Group Stage:
DWG KIA (LCK)
Gen.G (LCK)
T1 (LCK)
Edward Gaming (LPL)
FunPlus Phoenix (LPL)
Royal Never Give Up (LPL)
MAD Lions (LEC)
Fnatic (LEC)
Rogue (LEC)
100 Thieves (LCS)
Team Liquid (LCS)
PSG Talon (PCS)
And here are the teams which originally qualified for the LoL Worlds 2021 Play-Ins:
Hanwha Life Esports (LCK)
LNG Esports (LPL)
Cloud9 (LCS)
Beyond Gaming (PCS)
Unicorns of Love (CIS)
Infinity Esports (LATAM)
Galatasaray Esports (TR)
RED Canids (BR)
DetonatioN FocusMe (JP)
PEACE (OCE)
As you may have spotted, there are only 22 teams listed here instead of the usual 24. Sadly, for the second year in a row, the two representatives from Vietnam's VCS missed out on LoL Worlds due to coronavirus travel restrictions.
2021 league of legends worlds play-ins groups
These were the League of Legends Worlds play-in groups:
GROUP A
LNG Esports
Hanwha Life Esports
PEACE
RED Canids
Infinity Esports
GROUP B
DetonatioN FocusMe
Cloud9
Galatasaray Esports
Beyond Gaming
Unicorns of Love
The best four teams from the play-ins qualified for the group stage.
2021 League of Legends Worlds Groups
Here is how the 2021 League of Legends Worlds groups turned out:
GROUP A
DWG KIA
Cloud9
Rogue
FunPlus Phoenix
GROUP B
EDward Gaming
T1
100 Thieves
DetonatioN FocusMe
GROUP C
Royal Never Give Up
Hanwha Life Esports
PSG Talon
Fnatic
GROUP D
Gen.G
MAD Lions
LNG Esports
Team Liquid
2021 League of Legends Worlds Knockout Stage
Quarterfinals
With the top eight teams decided, it was time to move into the Knockout Stage of the tournament.
The quarterfinals had its fair share of storylines: MAD Lions would get its shot at redemption against DWG KIA after losing at the 2021 Mid-Season Invitational. Meanwhile, Lee 'Faker' Sang-hyeok would go toe-to-toe with Jeong 'Chovy' Ji-hoon – the man many have touted as the next major LoL star.
EDward Gaming (3:2) Royal Never Give Up
Gen.G (3:0) Cloud9
T1 (3:0) Hanwha Life Esports
DWG KIA (3:0) MAD Lions
Semifinals
Heading into the semifinals, DWG KIA would face off against the team it had 3-1'd in the 2021 LCK Summer Playoffs, T1. For many, this was the unofficial final of this year's Worlds.
On the other side of the bracket, EDward Gaming had already cemented its best ever finish in the tournament after six Worlds showings, but wasn't ready to settle for a top four spot.
DWG KIA (3:2) T1
EDward Gaming (3:2) Gen.G
Finals
This year's finals saw EDward Gaming cause quite the upset. With DWG KIA the firm favourite, most expected the LCK representative to sweep the Chinese first seed aside. However, after an immense five-game series, EDG secured the LPL's third Worlds title in four years.
EDward Gaming (3:2) DWG KIA
How do I watch League of Legends Worlds?
The League of Legends World Championship is broadcast on the official Riot Games Twitch channel. There will be complete coverage of the whole tournament, from play-ins all the way to the final.
Alternatively, you can view all the action from the League of Legends website, where you can also sign up for Pro View. This allows you to watch the action unfold in real-time from whichever angles and perspectives you want, including a POV from any of the players in a game.
Who has won League of Legends Worlds?
The current League of Legends Worlds champion is LPL team EDward Gaming. It took down previous world champion side DWG KIA 3-2 in the 2021 Worlds final in Shanghai.
EDG midlaner Lee 'Scout' Ye-chan was crowned Worlds final MVP.
Historically, T1 (previously SK Telecom) is the most successful team of all-time with three Worlds titles.
These are the teams that have won the League of Legends World Championship:
| | | |
| --- | --- | --- |
| Year | Team | Nation/Region |
| 2011 | Fnatic | EU |
| 2012 | Taipei Assassins | Taiwan |
| 2013 | SK Telecom (T1) | South Korea |
| 2014 | Samsung White | South Korea |
| 2015 | SK Telecom (T1) | South Korea |
| 2016 | SK Telecom (T1) | South Korea |
| 2017 | Samsung Galaxy | South Korea |
| 2018 | Invictus Gaming | China |
| 2019 | FunPlus Phoenix | China |
| 2020 | DAMWON Gaming | South Korea |
| 2021 | EDward Gaming | China |