As with any Street Fighter game, there are a host of alternate costumes for you to equip that offer a different vibe, style, or just look that fits the character you want to play as better. With Street Fighter looking better than ever, you can now see this classic and brand-new Street Fighter 6 alternate costumes in higher detail than ever before.
For the most part, everyone has seen a radical redesign in Street Fighter 6, so if you are playing them in Street Fighter 6's Battle Hub or Street Fighter 6's Fighting Ground, you will find them looking quite different than they did in Street Fighter 5. Some of these costumes revert to these character designs, while others offer a completely new look, especially for some of the new additions to the roster.
Street Fighter 6 alternate costumes
The Street Fighter 6 alternate costumes are:
Classic Ryu costume
Classic Ken costume
Classic Chun-Li costume
Classic Guile costume
Classic Zangief costume
Classic E. Honda costume
Classic Blanka costume
Classic Dhalsim costume
Classic Juri costume
Classic Cammy costume
Classic Dee Jay costume
Street Kimberly costume
Street Jamie costume
Street Luke costume
Classy JP costume
Classy Marisa costume
Classy Manon costume
Traditional Lily costume
You can see them in more detail below: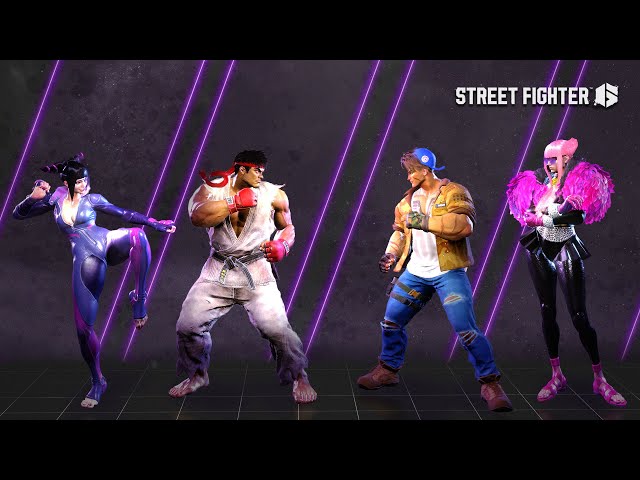 Classic Ryu
Ryu's classic costume can be chosen within Street Fighter 6.
Classic Ken
While Ken may look better than he ever has, his classic costume is there for those who want him to look as you remember him.
Classic Chun-Li
Chun-Li's classic costume can be equipped in the game.
Classic Guile
If you would prefer to see Guile's muscles close up, then his classic costume is for you.
Classic Zangief
Zangief's classic shorts, wristbands, and hairy chest can be equipped instead of his redesigned looks.
Classic E. Honda
E. Honda gets his classic costume and outfit back in Street Fighter 6.
Classic Blanka
Blanka doesn't look too different to his original costume already but you can get his original look.
Classic Dhalsim
Dhalsim can also be brought back to how he looked in previous games.
Classic Juri
Juri's new costume is great, but if you fancy the original bodysuit, you can get it.
Classic Cammy
Cammy has seen the most radical redesign in Street Fighter 6, but you can get her original costume back.
Classic Dee Jay
Dee Jay's original look can also be equipped in the game.
Street Kimberly
Kimberly drops her ninja garb for classic street clothes with her alternate costume.
Street Jamie
Jamie probably has the costume that looks the closest to his base outfit, but if you want something that fits the streets more, he is a good option.
Street Luke
Luke's jacket can be added to his attire to give him a bulkier look.
Classy JP
JP already looks pretty fashionable out of the rest of the lineup, but you can give him an even classier look with his overcoat and hat alternate costume.
Classy Marisa
Marisa dresses up for a classy affair with her alternate costume.
Classy Manon
Manon comes in looking glamorous in her alternate costume.
Traditional Lily
Lily's alternate costume is a more colorful attire, blending together both orange and green.
That covers all the Street Fighter 6 alternate costumes. If you like one of these outfits in particular, why not take a look and see if that character ranks well against everyone else with our Street Fighter 6 tier list for competitive play?