Star Wars Outlaws appears to be really pushing the boundaries of what a Star Wars videogame can be. We thought that Star Wars Jedi Survivor was huge, but Outlaws is on another level. Ubisoft touts it as the first open-world Star Wars game, and aside from getting up to all kinds of mayhem on the ground, the Ubisoft Forward presentation reveals that Star Wars Outlaws space combat is going to test your might against the Empire's toughest forces.
Following its reveal during Summer Game Fest 2023, developer Ubisoft Massive (of The Division franchise) appears at Ubisoft Forward to reveal a slice of galactic gameplay. With a "huge amount of resistance and forces in your way", space combat is part of an important way "to de-escalate or escape" conflict, according to to game director Mathias Karlson.
Getting into conflict will be inevitable though. Even within the criminal underworld on planets like Toshara, the Empire is looming, and triggering the game's GTA-style wanted system may require you to flee into the skies.
Amazingly, this is done completely seamlessly, with no loading screens or jump cuts in the process of boarding your ship on the surface of a planet and flying it all the way out of the atmosphere into space. Seamless space flight is a feature that dazzled players in the procedurally-generated No Man's Sky, but is absent in upcoming space RPG Starfield. Outlaws will admittedly be on a smaller scale than both games in terms of overall size, but to see Ubisoft push itself to implement this feature has surprised and delighted fans.
Creative director Julian Gerighty reveals that lead character Kay Vess' ship is known as The Trailblazer – "an EML 850 light freighter from the republic era." For our new Star Wars protagonist, The Trailblazer is "home", but is also a means of defeating your enemies.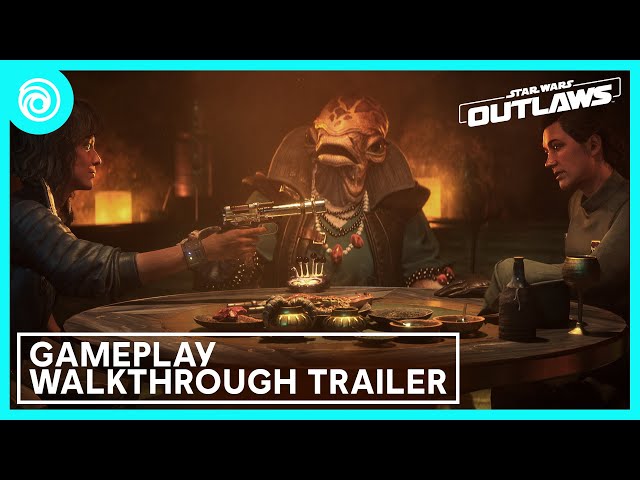 Equipped with a Hyperdrive, missiles, and what appears to be a variation of repair functions, Gerighty says that players can expect a "seamless experience of going on foot to your speeder, to your spaceship out of the atmosphere." Space combat will include "intimate dogfighting" that can evolve into an "epic level with bigger ships, but also for discovery and exploration," explains Gerighty.
According to Karlson, Star Wars Outlaws "takes place in the original trilogy era", with the "Empire at the heights of its power." Whether you can swap out The Trailblazer for other ships, or iconic spacecraft from the original trilogy, is yet to be confirmed. We'll be keeping an eye out to see if we can pilot Boba Fett's legendary Slave 1 – but he might put up a fight for it if he's in the game of course.
The Star Wars Outlaws release date seems far, far, away right now but we're sure you'll agree this is one of many upcoming PS5 games to put on your calendar going forward – especially with the Star Wars Outlaws voice actors list confirming the return of fan favorite in Star Wars lore.