The legacy of Payday 2 is impressive, with a decade worth of heists and good times to look back. Now, the new dawn of crime begins with Payday 3, as we approach the Payday 3 release date. Before the open beta begins soon, developer Starbreeze Studios shares a new look at crew members Pearl and Joy, as well as the Payday 3 roadmap.
Familiar faces return in Payday 3 as our beloved heist crew hits the streets of New York City, but this time around, they'll have two new additions casing up the joint with them. That's where Pearl and Joy come in, a dynamic duo worth considering as Payday 3 early access approaches. Payday veterans will recognize Joy as a supporting character from the franchise's past, but now she's getting promoted to take part in the action itself.
Starbreeze Studios describes Pearl as "an expert con artist and infiltrator who is as comfortable running scams on the street as she is rubbing elbows with the rich and famous." With a penchant for leaving "nothing to chance", Pearl "plans for every contingency, even the rare occasions where she has to pull out her own weapons."
Joy, on the other hand, "is a genius hacker and security expert who is now an official part of the crew." Known to be a "merciless heister" in the Payday universe, Starbreeze expresses that "Joy is a dangerous combination of strength and subterfuge. With no respect for the law and a twisted sense of humor, Joy is a wildcard character who ends up being an ace during any heist."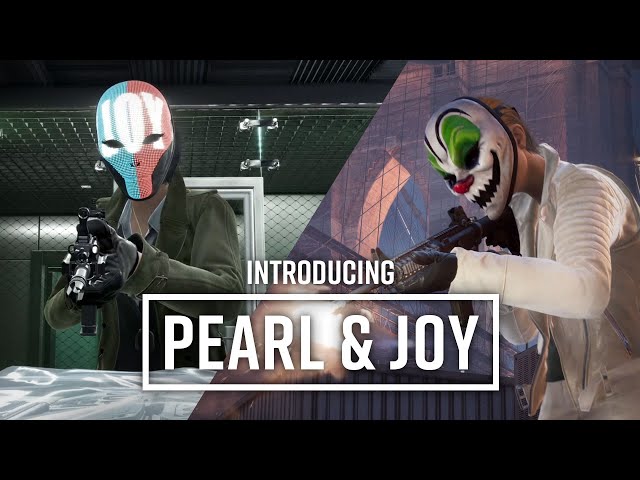 With Pearl and Joy joining in on the fun, the developer also announces the Year 1 roadmap for players to get a sense of what to expect. There will be 4 major DLC drops, which are as follows:
DLC 1 – Syntax Error set for Winter 2023
DLC 2 – Boys in Blue is set to release in Spring 2024
DLC 3 – The Land of the Free will release in Summer 2024
DLC 4 – Fear and Greed set for Fall 2024
According to a statement from Starbreeze, players can expect "seasonal events, new playable characters, new enemies, new weapons, Unreal Engine 5 upgrades, cosmetics, quality-of-life improvements, new features, and much more."
In the meantime, before Payday 3 arrives, check out The Loadout's Payday 3 preview, where we got hands-on with the game at Starbreeze Studios HQ.