Dallas and the gang return for a new score in Payday 3, but the stakes this time around are higher – especially for console players. The PS4 and Xbox One remaster of Payday 2 didn't quite satisfy the itch of fans back in 2015, but developer Starbreeze Studios is intent on squashing the worries of PS5 and Xbox Series X|S owners with the highly-anticipated sequel. While getting hands-on with the upcoming co-op game, brand director Almir Listo and producer Andreas Häll Penninger tells The Loadout how Payday 3's console release is going to step up to the mark.
Leaving Diesel Engine 2.0 behind for the enhancements of Unreal Engine 4, like the returning Payday 3 characters, the game is suited and booted for a sturdy console launch. Backed by at least "18 months" of post-launch support, Listo explains that "I think the beautiful answer to your question this time around is the fact that it plays as well on consoles as it does on PC, in our opinion. And that's been one of our north stars [for development]."
With a focus on giving PS5 and Xbox players the feeling of "console parity", the fact that Payday 3 is launching alongside its PC counterpart at launch is a huge step-up compared to Payday 2. "[We need to] ensure that console gamers out of the gate get the same experience, or as similar as possible, as the PC players do because ultimately it's going to be parity, right? So it needs to work. And it needs to be as fun on either platform." Payday 3's journey to console has been a core goal from the genesis of the project – an achievement that Penninger stresses the importance of.
No matter which platform you're on, Payday 3 also supports crossplay and cross-platform progression – a serious step up from its predecessor.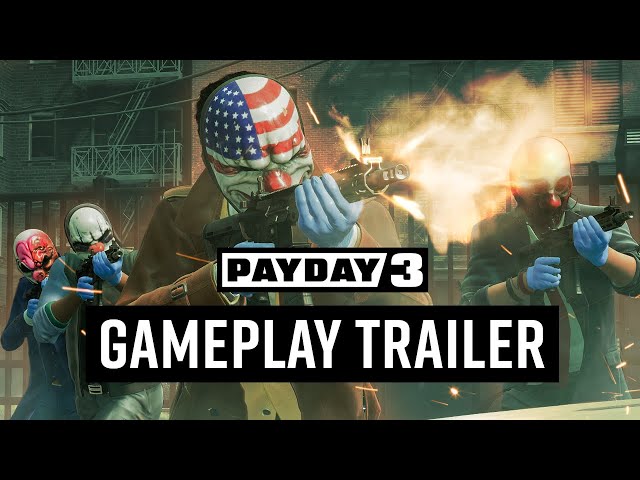 "Our perspective, compared to Payday 2, is that we had a [console] development strategy from the get-go. So even for our internal milestones that we reached at the end, there's a consistent quality between the platforms [going forward]," Penninger says. Intended to bring together squads of four, the game's launch on Xbox Game Pass puts it in a great position to rally new players together. However, Listo believes that Payday 3 can be enjoyed just as much on your own. That comes down to balancing Payday 3's gameplay loop, which introduces new phases to pace the action.

Listo expresses that it is "not a horde shooter in the same sense as Payday 2 where you can get dozens of enemies thrown at you. In Payday 3 they are fewer [enemies] but they are deadlier, and they take more damage from you. The shooting and combat mechanics of Payday 3 and the AI are all aspects that have been improved because it is ultimately a new engine." The law is just as formidable in Payday 3, but they won't be deploying excessive force immediately. You'll be navigating new ways of avoiding confrontation – but we all know a heist has to go loud eventually.
"The law enforcer AI is more focused on getting you into custody, but they are also more respectful of their environment. If there are civilians around you, they will be more careful, they will stop throwing grenades, and they will not try to hurt the civilians," Listo explains.
Players will notice that their AI crew is deadlier in solo play, utilizing an aggressive demeanor to protect them. "They can support you in various ways. They will know if you have low HP and give you a medic bag. If you're low on ammo, they will give you an ammo bag. And you can also utilize them for carrying [money] bags. There are a lot of ways that you can still get your payday if you're playing by yourself," Listo adds.
Getting to grips with the art of the perfect heist can be daunting, but Penninger relays that a series of tutorials will be available in the launch build of the game. "There will be four tutorials at launch […] the goal is to teach any player the most fundamental features and mechanics before they get started. So our hope is that it sets you up for success no matter if you want to play alone or with your friends," shares Penninger. The tutorials in question will cover both 'mask on' and 'mask off' gameplay, as well as combat and crowd control.
The Payday 3 release date has been a long time coming, with a decade having passed since the release of Payday 2. It could just be one of the best Xbox FPS games to release in 2023, but you don't have to wait to see how it is shaping up. Check out The Loadout's Payday 3 preview to see how we got on with the game's refined approach to securing the bag.