What is Steph Curry's NBA 2K24 rating? NBA 2K24 is almost here, but fans won't have to wait for launch to learn about the top player ratings. Once again, the most prolific three-point shooter in NBA history finds himself among that top tier of players. The NBA 2K24 Curry rating has the franchise looking about as consistent with that decision as he is from the three-point line, and there's plenty of reason for that.
In addition to the NBA 2K24 ratings for top players being revealed, 2K has confirmed where Steph Curry stands among the top three-point shooters in the upcoming release. It's never an easy task to be the defending NBA Champions during a season, but Steph Curry continued to show out and led the Golden State Warriors as far as the conference semifinals to prove he's still as deadly a scorer as ever.
NBA 2K24 Curry rating
The confirmed NBA 2K24 Steph Curry rating is 96, which is the same rating he was given in last year's game. The point guard is the joint second-highest rated player in 2K24, sharing his 96 rating with four other players.
Every NBA great has their own particular strength. For some it's dunking or defensive prowess, for Steph Curry it's being an assassin from the three-point line. That's not exactly news to most fans, but it's something that's keeping him atop the NBA 2K24 ratings just like the last several years. Curry has been 93 OVR or higher every single year since NBA 2K16, and experience seems to have only made him better. With the news now official, the NBA 2K24 Curry rating puts him at 96 OVR for the third straight year.
At 35 years old, Steph Curry is heading into his 15th NBA season with basically every three-point shooter record you can think of. On the road to his fourth NBA Championship two seasons ago, Curry became the NBA's career leader for three-pointers in both regular season and playoffs basketball. Not only did Curry help the Golden State Warriors secure the NBA Championship in 2022, but he also ended those playoffs as the NBA Western Conference Finals MVP and NBA Finals MVP, the same year he'd earned the NBA All-Star Game MVP honor earlier that season.
Of course, following up on that success is easier said than done, even for a scoring legend like Steph Curry. Fortunately, he had the prowess of Klay Thompson and Andrew Wiggins at his side as they combined for 23 made three-pointers in a single regular season game, the most three-pointers made by a trio in NBA history. Curry also managed to tie Michael Jordan for the second-most 50-point games after turning 30 years old and became the second oldest player in NBA history to record at least 30 points and 15 assists in a game. Later that season, he surpassed the Jordan record he'd tied and put himself instead tied with Wilt Chamberlain for most 50+ point games after turning 30 years old.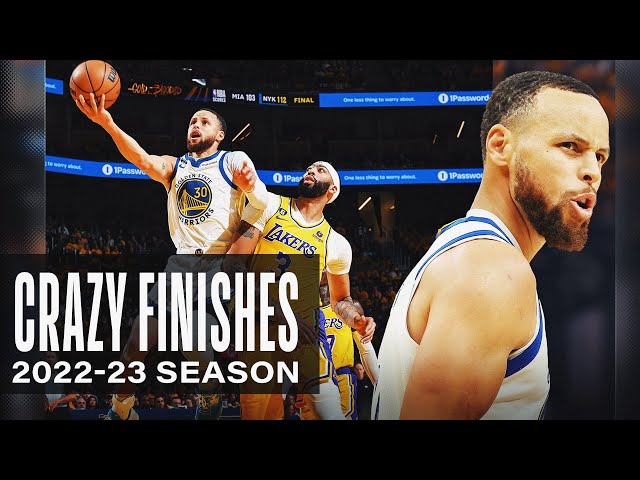 Curry and the Golden State Warriors rolled their way to the NBA Playoffs last season, and the last game of the first-round playoff series against the Sacramento Kings included one of his most prolific performances. In the final game of that series, Curry scored a playoff career-high 50 points to lead them to a 120-100 victory. It made Curry the first player to score 50 points in a Game 7, passing Kevin Durant's previous record of 48 points. Of course, the league is full of devastatingly good players, as Jayson Tatum broke that record two weeks later with 51 points in Game 7 of the Eastern Conference Semifinals.
While the Western Conference Semifinals saw Curry become the first NBA player in history to score 4,000 career three-pointers, it wasn't enough to topple LeBron James and the Los Angeles Lakers. His 32-point effort in their final game wasn't enough, and the Warriors were eliminated from that game.
Heading into a new year, there's no doubting Curry's skill. He's just shy of the top spot in the NBA 2K24 ratings, and Curry is the only player in the game with a perfect rating of 99 in three-point shooting with the closest player being his teammate Klay Thompson who only has a 93 rating in three-point shooting. There will eventually come a time when Steph Curry isn't the most deadly three-point shooter in the game, but it's definitely not going to be this year.
So, what else can you expect from 2K's new basketball game, aside from more Curry dominance? Well, NBA 2K24 crossplay is probably the biggest talking point aside from ratings, and NBA 2K24 MyTeam is going to benefit from that (and lots of new gameplay improvements) greatly.