Hyper Scape Season 2 has been announced, introducing a host of changes to the game and a brand new battle pass.
A new landmark is being added to the map, Memorial. Judging by the trailer, it looks like Unity Hill is going to be removed to fit the new site. Players will be able to get their hands on the Atrax in Season 2, a new weapon that fires bursts of green sticky explosives. The reload time seems much longer than a lot of Hyper Scape weapons, so you'll want to take it for a spin in the Testing Ground before jumping into any fights in Neo-Arcadia.
Platform is the name of the new hack arriving mid-season. This hack lets players create a horizontal platform in mid-air, and it's perfect for hopping across buildings and disrupting fights taking place on the ground. Platform will only be available for a limited time, and while it may not seem incredibly useful in Crown Rush, it'll shine in the new mode: Floor is Lava. As you probably guessed, Floor is Lava introduces deadly magma to the game, which makes any non-molten platform extremely useful.
Season 2 also sees the return of Crown Rush (Solo), Turbo Mode, Faction War, and even more modes as the season progresses. Hyper Scape is finally introducing a ranking system, with players receiving new ranks based on their ten best matches. Work your way up from Bronze, Silver, Gold, Platinum, and Diamond, all the way up to Champion.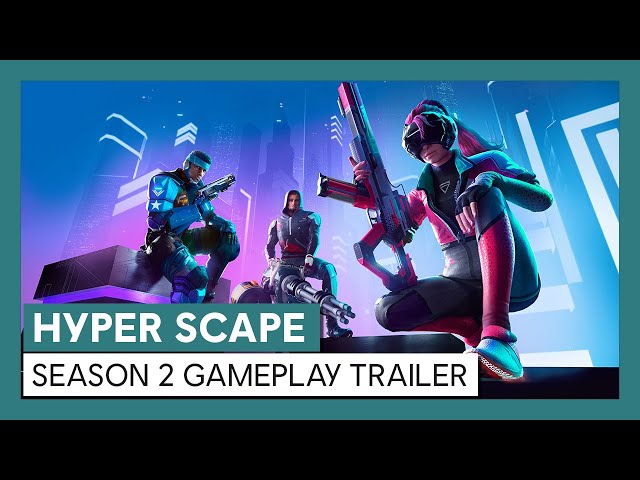 Signing into Hyper Scape each day will grant players a Daily Gift. This freebie can include items like cosmetics and Battle Points. There's also the free and premium 100-tier Battle Pass coming to the game, giving players the chance to unlock new weapon skins, cosmetics, deployment pods, and more. Owners of the premium Battle Pass will have the chance to unlock exclusive Assassin's Creed themed items, bringing the assassin's flair to the world of Hyper Scape.
Project Tower is the name of the special event starting October 4, running from 11:00-12:00 PT (14:00-15:00 ET/18:00-19:00 BST). If you've ever wanted answers about the glitches found on the streets of Neo-Arcadia, this event may shine some light on this mystery.
Hyper Scape Season 2 will be available October 6 on PC, Xbox One and PlayStation 4. If you want to revise all the options on the table, you're going to want to check out our Hyper Scape hacks and Hyper Scape events guides.