Do you remember Creative Assembly's Hyenas? Well, we're not going to blame you if it slipped your mind, but it should very-much be on your radar again. It might not look like a game that's going to take the top spot on anyone's list of the best games of all time, but this extraction shooter could be one of the best co-op games on the horizon – we don't say that lightly, either. Don't believe us? Well, a new Hyenas gameplay trailer has just dropped and it looks like a strange blend of Apex Legends, Escape From Tarkov, and a little bit of Rainbow Six Siege for good measure.
As alluded to above, Hyenas is a hero-based extraction shooter where players are thrown into squads of three – in a game where five squads go toe-to-toe with one another – to steal valuable memorabillia from themed Plunderships. It's a game where you get in, shoot the place up, grab the loot, and then leave. Sure, this is something of a simple concept – and one we're seeing more and more of in the industry. However, Hyenas is throwing a rather colorful, over-the-top twist on things that make it something of a stand-out shooter in the genre.
From what we can see, Hyenas is adapting the traditional Escape From Tarkov formula with an Apex Legends twist that low-key gives us Rainbow Six Siege vibes. It's chaotic, colorful, and clearly looks like quite a lot of fun. You're going to have to take advantage of strange gadgets in a highly mobile first-person shooter that isn't just about getting kills. You'll need to work as a squad to stay alive – while also riding your luck a little, by the looks of it. However, it does look like you're going to have quite a few tools at your disposal.
We know that's a lot, but it really does look like a wonderful mash-up of all of those things. You can read a little bit more about it in this SEGA press release right here.
If you want to check out some gameplay ahead of Hyenas' appearance at 2023's Gamescom, you can below: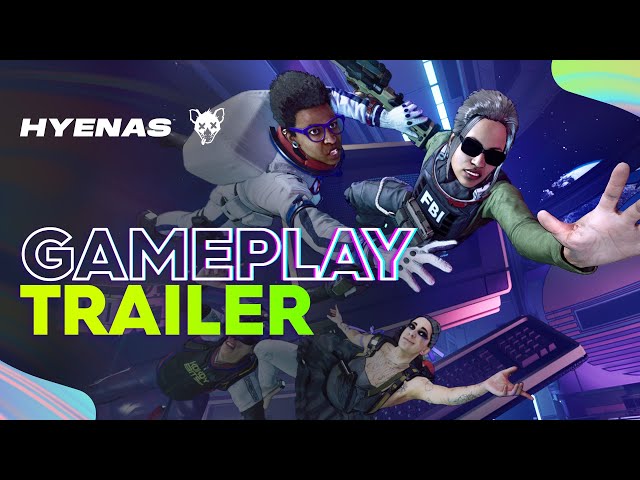 Those of you lucky enough to be at Gamescom this month will be able to get hands-on with Hyenas, and we're also expecting to see quite a lot more gameplay footage release over the course of the event. If you want to know a little more about this game, you can check out the latest on the Hyenas release date here and why Hyenas needs to focus on its tactical FPS features, not it's flashy marketing.
Is Hyenas going to be one of the best FPS games of all time? Well, we don't think it's fair to judge a game before we've got our hands on it. However, SEGA's colorful shooter does look like it has the potential to be one of the best competitive FPS games out there when it drops. With fast-paced firefights, abnormal abilities, and a selection of "Zero-G" sections to scramble through, this is going to be a unique mash-up of mechanics that could breed greatness.
Only time will tell, though. PC players can register for a closed beta playtest on Steam here. Everyone else will just have to add this one to their list of the most interesting upcoming PS5 games and intriguing upcoming Xbox games in the meantime. We could see a beta on consoles in the future, but – as we said a moment ago – time is the one that will tell. Developer Creative Assembly isn't sharing anything on that just yet.