Rockstar Games isn't holding back in the latest GTA Online weekly update, as the GTA 5 developer unveils a wealth of rewards to claim. Of course, the new batch of GTA content isn't like any ordinary update, as the open-world developer ensures the game has enough substance to occupy all of Los Santos. Whether you're looking for new clothes, a cash boost, or the desire to take out your foes – this update is worth tuning in for.
Players returning to the standalone GTA 5 multiplayer game are in for some delights, according to GTA Forum admin 'Spider-Vice'. Sharing information on the latest GTA weekly update, the admin claims that "Rockstar's giving everyone some related bonuses this week, from weed farm bonuses to short trips, biker resupply missions, and more! Call up OG friends Franklin and Lamar for some action this week, as it'll be worth it." Yes, to celebrate a particular date this fine April, Rockstar will guarantee your profits for jobs within narcotic production are well rewarded.
But you'll also see some great rewards just for playing the game and getting involved. Spider-Vice details the following rewards will instantly available upon logging in:
2x GTA cash and RP on Short Trips with Franklin and Lamar
2x weed production speeds within weed farms
2x supplies for participating in biker resupply missions
3x GTA cash and GTA RP on Lamar contact missions
Hop on to GTA Online to claim the high flier chute bag and the pastel green smoking jacket
We all know that buying Shark Cards is a last resort in GTA Online, so reaping the benefits of a significant GTA cash boost is always a welcome addition from Rockstar Games. Just be prepared for the biker supply missions as they will make you run the gamut through tasks such intimidate target[s], bar fights, and or sabotaging armoured trucks. Though, if you're wearing the aforementioned smoking jacket, you'll be oozing confidence in your endeavours.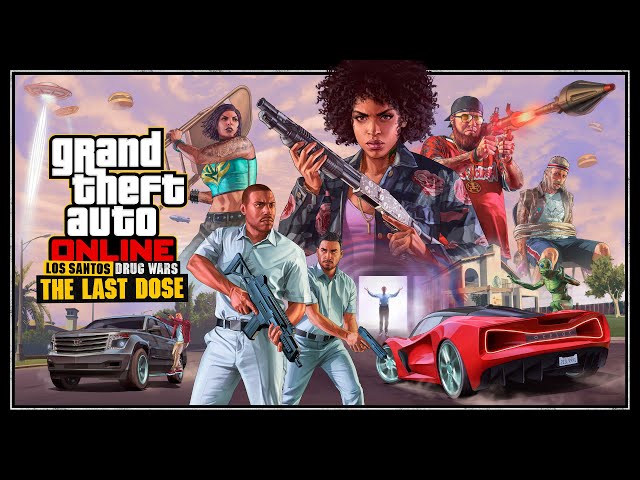 Furthermore, players can also expect two new deathmatch modes, which the admin purports will be enhanced by the current in-game boosts: "[These] deathmatches, alongside the community series, will be on 3x GTA cash and RP rewards! RC bandito races will be on 2x."
The best beverage in Los Santos, Sprunk, also gets some love in this update. If you're keen to rep some exceptionally bright green clothing, then logging in will grant you the Sprunk chute bag, biker sell missions will give you the Sprunk varsity jacket, and becoming an associate or bodyguard will offer up the Sprunk cap.
With all your new clothing, you'll probably have a good chunk of change left to spend. The most annoying vehicle in GTA Online has changed price recently, while changes to the GTA Online Twitch Prime Gaming rewards will shake up Los Santos forever.