If you're someone who enjoys spending their time playing some of the best soccer games out there, you'll be pleased to know that EA Sports is starting to lift the lid on FC 24 – the title that's going to usher in next era of soccer games from the veteran developer. We might not have any gameplay footage to talk about just yet, but what we do have is information on who the FC 24 Ultimate Edition cover athlete is – or rather, cover 'athletes'. Erling Haaland isn't alone this time around.
EA Sports has confirmed that the FC 24 Ultimate Edition cover athlete is Erling Haaland, alongside these professional soccer players:
Marta
Mia Hamm
Marcus Rashford
Rudi Voller
Pele
Zinedine Zidane
Bukayo Saka
Andrea Pirlo
Johan Cruyff
Alex Scott
Ronaldinho Gaucho
Alexandra Popp
Juan Roman Riquelme
Didier Drogba
Leicy Santos
Jude Bellingham
David Beckham
Vinicius Jr
Erling Haaland
Sam Kerr
Leah Williamson
Marquinhos
Youssafa Moukoko
Alexander Isak
Selma Bacha
Alexia Putellas
Virgil Van Djik
Son Heung-Min
Trinity Rodman
Federico Chiesa
Enzo Fernandez
If you want to take a look at this for yourself, you can below:
If you're wondering why some of these players look a little off, it's clear that these are in-game renders of the players – as opposed to the photos that EA Sports usually uses with FIFA games. We don't know why that is just yet, but it could be EA Sports flexing its muscles a bit when it comes to the character models it's going to take advantage of in FC 24.
However, there are some interesting names in there. Notably, the presence of the retired Alex Scott and Mia Hamm seems to confirm that we're getting women's icons (or, at least hero cards) for FC 24's iteration of Ultimate Team – something EA Sports has never done before.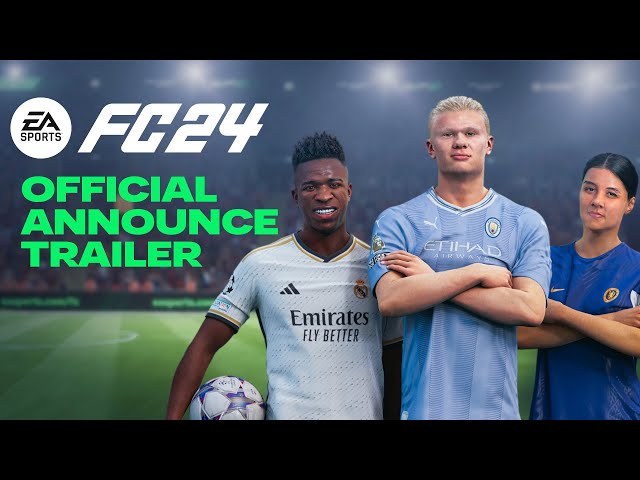 The arrival of this announcement comes just days after EA Sports' interesting HyperMotion V technology reveal and the recent launch date leaks. So, it's safe to assume that we're going to get something of an official announcement about this game very shortly. The full reveal is on July 13, so keep your eyes out then.
If you're looking for something to listen to while you wait for more information on the FC 24 release date and what could possibly be one of the best PS5 soccer games and best Xbox soccer games we've ever played, you can check out our 24 predictions for the EA FC 24 soundtrack right here.