Pro Clubs has been quite a big part of EA Sports' soccer games for some time now and it sounds like it's going to be a big part of FC 24 when that drops. In fact, it might even be better – if you can believe that. EA Sports consistently delivers some of the best sports games available and it looks like it's sticking to that with FC 24. The new FC 24 Pro Clubs Leagues introduce a new level of competition alongside a new progression system for you and your squad to chase after.
Following confirmation that FC 24 crossplay features will be available in Pro Clubs, EA Sports has also confirmed that a new seasonal league format will be coming to the popular mode in FC 24.
Completely overhauled, the new Clubs League system will allow players to unlock themed rewards in a League that starts with a phase akin to the Divisions you're used to. However, it will then head into a Promotion phase where you can climb up the game's Divisions. Then, at the end of each season, you might find yourself in some Playoffs – which will be the games you want to get your whole team together for.
Here's where you'll earn your trophies – and bragging rights, of course – alongside new rewards every season. With any luck, this should provide Pro Clubs players with a more exciting climb to the top of the leaderboards. It certainly sounds like it will make some of those Pro Clubs games a lot more intense.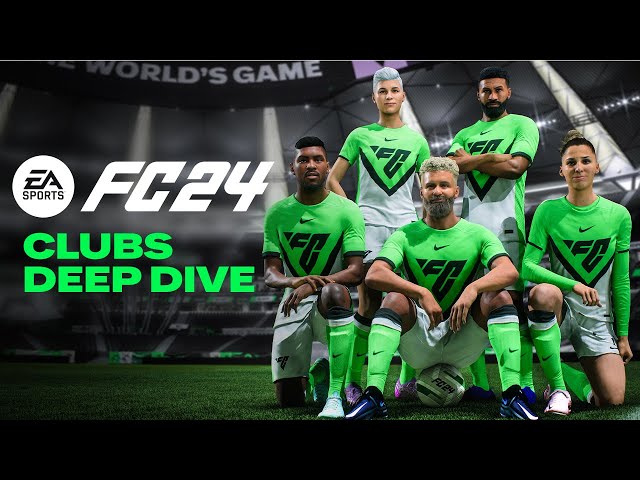 As you can see above, there's also new progression system for your Club: referred to as Fans and Reputation.
Every time you play a Pro Clubs game, you'll start picking up Fans. This will then grow your club's Reputation, which will improve the size of your stadium, the cosmetics you can equip in your stadium, and how good the AI players around you are. If you and your friends are regular Pro Clubs players, you shouldn't find yourself waiting too long to see some improvements.
If you want to know a little more about the FC 24 PlayStyles you can earn and take advantage of with your custom player, you can here. You can also check out more about how Volta isn't dead just yet right here – even though, maybe it should be.